CNers have asked about a donation box for Cloudy Nights over the years, so here you go. Donation is not required by any means, so please enjoy your stay.


0
William Optics Megrez 80 SD II & Icarus Mount
Discuss this article in our forums
William Optics Megrez 80 SD II & Vixen Icarus Mount

Greetings all. I decided to try and slap together a little "First Impression" article regarding my latest toy: The William Optics Megrez 80 II & Vixen Icarus mount. Well, let's get started, shall we?
A little about me and my experiences
I have been into Astronomy and "scoping for about 3 years and have recently returned after a 6 month hiatus from the whole thing. It's good to be back! Anyways, my first telescope was an Orion 6" dobsonian with a few supplied eyepieces. I jumped right in with that unit and learned a lot about the skies and how to find stuff. I liked its ease of use and relative portability but did eventually grow tired of lugging the tube around the yard. Plus, I did not feel it was very car friendly either and my best view spots require a little travel so I ended up selling it to a guy I work with. Next came a cheaper refractor ( not Sears cheap, but still cheap ) on an EQ mount. This was a disaster in most respects. It was heavy, clumsy, loaded with false color and other psychedelic visual effects, and became a burden to use. Not to mention the mechanical quality that was on par with a free toy you win at a carnival. I thought you were supposed to look forward to hobby time, not dread it. Well, that setup is long gone and that's what set me up for the my purchase that just arrived today.

If there are a few things that I feel have to be conveyed properly to "newbies", they would be this:

* Buy a manageable telescope! You will hate toting around the light "howitzer" and setup time will often exceed your attention span. You can always go bigger later. If you do all of your viewing from a dark-sky backyard, then you are lucky and can probably skip this statement. Bottom line: Think "portable"!

* Understand what an EQ mount does before buying one. They can be downright funky and never quite seem to "turn" the way that you want them to. Most of my viewing is point and go, and you can't really do this with an EQ mount very easily. Plus, a good quality EQ mount will almost always be more expensive than the scope itself so that $300 refractor "deal" combined with an EQ mount becomes $800++ bucks before you blink an eye.
* Don't go crazy with eyepieces right away. Learn the sky, learn to regularly locate common objects, and learn to "see" while viewing the skies. Yeah, you know how to see already, but I became a much better "telescoper" once I understood averted vision and learning to concentrate better. It took me months and months of galaxy hunting and then once I saw my first one, they became as easy as the moon! OK. Not that easy but you get the point. Anyways, just use supplied EP's when you first start, then you can add some monsters like Naglers and all that. Your newbie eyes will not appreciate the better EP's until you get to be a better viewer. By all means, use good EP's just keep it simple at first and don't over spend on them.

Ok, enough babbling - let's get to the fun part!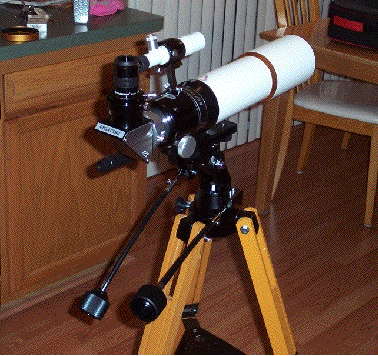 Here is a picture of my latest setup. Read on for my initial "take" on it.










I purchased this entire setup, including a Celestron eyepiece kit for $958 bucks to my door. It was a "turn-key" deal so to speak. I got the scope, finder & bracket, awesome diagonal, nice focuser, mount & tripod, and 5 Plossls with a barlow and 7 filters. Oh yeah, a nice scope case and a great EP case to boot. I considered this very reasonable for all of these items!

I was extremely pleased with the Telescope and accessories right out of the box. The scope is a beauty. Perfect mechanics and "feel" combined with a high-end look were a great way to start the new relationship. I then unpacked everything and started to sort through all of my new stuff. Man, at 34 years old I still exhibit a child-like glee when I get new stuff. You just can't beat new toys and the sheer excitement of their arrival J
Vixen Icarus alt-az mount with wooden tripod legs
First off, the mount came with no instructions, unless I missed them. Not a biggy, but it took me a few minutes to figure out all of the little details and construction. Still, I got it assembled without fuss or swearing and gave it the once over. The mount itself seems very solid and capable. The slo-mo controls are smooth and predictable. The quick-pan is also nice to use with just enough movement without feeling like it's going to go flinging all over the place. The "accessory" tray was a little cheesy. It doesn't have much to it and I doubt I would set an EP on there. Maybe a flashlight. Maybe not. The tripod legs were decent but not sensational. I felt they could have been a little more "beefy". It is not furniture grade by any means, but I wanted portability and easy lugging and I got it. Once assembled with a scope on it, the mount seemed just fine for the task. It wasn't ultra rock solid, but it did respond well to minor bumps and shakes. For a smaller refractor like mine, this mount will certainly be an OK choice and it won't affect your net worth if ya know what I mean. The key is the fluid movement and solid feel to the mount controls. IMO, that's a priority over having maple trees as tripod legs. It's easy to use/carry too.
William Megrez 80 SD II Telescope & Accessories
This scope looks and feels terrific. It seems to have been built with great care and I enjoyed just looking it over and playing around with the knobs and screws and stuff. Cool. The supplied diagonal was also a great piece with attention to details abound. The 6x30 finder is serviceable and does have a little "illuminator" built into it. What a far cry this was when compared to my other refractorÉ. Unbelievable! You've probably seen other William's reviews and I'll just "second" what most of them had to say. The mechanical quality of their telescopes are top notch and I suspect will last a lifetime.
A quick Moon view / Snowy weather. Of course!
I believe it is a rule somewhere that the very day a new scope arrives you are all but guaranteed to see bad weather for a while. Well, it was windy and snowy here in upstate, NY and the cloud cover was at least 70%. Not ideal conditions but I was determined to get this sucker on that moon. So, I did catch a few minute break in the clouds and quickly got the scope pointed at our closest stellar buddy. Oh yeah, just an FYI: I ended up using the attached L-bracket on the scope and used just one of the mount's screws to hold it. No problem. I was going to get rings but decided to try this as others apparently have used a similar quick-mount solution. It was about 30 degrees out and fairly windy. I only gave the scope about 5 minutes to get acclimated since my viewing window was going to be short. I used the 15mm Plossl first and was greeted by a nice shot of the moon. I found that focus was very well defined and that it was easy to find good focus. The focuser on this thing kicks, it's as simple as that. I played around a bit with focus to try and see what "color" this scope would show. From what I could see, once you nailed the focus down there wasn't much of any false color present. You can get a little when coming in and out of focus and this was not an ultimate test for this, but all signs pointed to very good optics. Remember, my last refractor was pretty bad with false color and I am not anywhere close to an expert on the subject. I will get some more airtime with this unit and make another assessment. I couldn't get any star views or other objects on a night like tonight so we'll have to wait for a follow up report for that. Still, it's nice to whip the new scope right out of the box and see a crystal clear, contrasty image with no "funky" issues. Just as I was about to switch to another EP, the clouds decided that my night was over and started to cover my target. Figures. At least I got a quick peek and was able to operate the unit as a whole for a little bit. I have confidence that this setup will do me just fine and the sky is the limit here.
Overall Initial Impressions

To sum it up, I am just thrilled. This is the nicest piece of equipment I have ever owned and even better it will get used as much as possible. For under $1000 dollars total expenditure this package represents a great value. It is easy to use and therefore will get used which is half the battle. There are no signs of junky parts or poorly executed details. The scope especially is world class. The mount, while not a museum piece will serve its purpose without complaint and provides nice feeling controls. The EP kit, IMO, is a great buy and takes care of several magnifications to get you started. Read on for a detailed fact sheet on exactly what I received:

* 80mm / F6.25 Megrez SD II Telescope
* 6x30 illuminated finder and bracket with two batteries supplied
* 2" di-electric diagonal
* Dust caps
* 2" focuser ( crayford )
* Soft backpack style carrying case for scope, finder, & diagonal.
* Excellent set of owners manuals & papers

* Vixen Icarus alt-az mount
* Slo motion controls
* Accessory tray
* Wooden tripod legs
* All hardware

Celestron EP kit

* 32mm Plossl
* 15mm plossl
* 9mm plossl
* 6mm plossl
* 4mm plossl
* 2x barlow
* 7 different filters
* Hard carrying case with keys


Thanks for reading and Happy Viewing!



Scott Beith and JerryStellar like this
Article: William Optics Megrez 80 SD II & Icarus Mount