CNers have asked about a donation box for Cloudy Nights over the years, so here you go. Donation is not required by any means, so please enjoy your stay.


0
William Optics Megrez 80mm SD
Discuss this article in our forums

William Optics Megrez 80mm II SD Package - August 2005
Is it a Jack of all trades and Master of none- Or is it simply the best deal ever offered in an 80mm refractor package.

I finally bought a new scope in August 2006, after reading reviews, analyzing specifications, talking to a wide variety of experienced users online, and getting the approval from my "finance manager". I choose the William Optics Megrez 80mm II SD Package for $599. The limited time promotion included the 80mm Semi-APO 500mm focal length refractor with rotate able 2 inch crayford focuser and 1 - inch adapter, the WO 2 inch dielectric 99% reflective diagonal with a 1 - inch adapter, the 6x30 illuminated finder scope, the custom bracket to fit the finder scope, and a backpack style WO bag with custom cut foam to hold everything plus spaces for eyepieces. Shipping was free, and there was no sales tax to me, so it really was $599 for all of the listed items.

The search began when I realized that I wanted something portable enough to take with us on a trip planned for Hawaii next year, but good enough to not outgrow in a year or two. Since I have a Canon 20D DSLR and a nice sturdy tripod I originally looked at spotting scopes, of all different prices and sizes, and quickly realized that the best bet would be something that could use standard 1 - inch eyepieces with a standard t-adapter / t-ring camera connection, which meant I was really looking at a telescope optical tube assemply (OTA). Reflectors were too big, and impractical, and while compound OTAs (SCTs, Maks, etc) were compact, but provided too narrow a field of view (and too much power for general spotting scope use), so I ruled out both options and began looking at refractors. It seemed like a short tube refractor would be the best bet, set up on a standard camera tripod. I could use it a telescope, a spotting scope, and a camera lens. But would be a Jack of All Trades, Master of None-

I looked at the reviews short tube achromats, and the 80ED refractors of various manufacturers, searching for something good at a reasonable price (my initial price point was about $500). Short tube achromats were inexpensive, but many online reviews indicated that false color was an issue, and that their inexpensive design, fit and finish, and quality control left a lot to be desired. I read good reviews about the Celestron and Orion 80ED scopes, raving about great astronomical views with little or no false color, and better, but not great craftsmanship. They sounded good but they were much longer than what I wanted, and they were sold at an attractive price point but didn't have everything I would need. By the time I added on a good diagonal, a finder scope and appropriate bracket, and a decent bag to carry it in, the cost was much higher, and well over my budget. I spotted the William Optics Package deal, a limited time offer of $599 for a "Semi-Apochromatic" short tube refractor, which included everything I needed and wanted.

I was worried about the false color of a "semi-Apo". Is it an APO or not- Is there false color or not- I read the reviews about the superb quality of the William Optics products, and quite frankly could not afford one of their Apochromatic scopes, and decided that this was the deal for me. I emailed William Optics directly and got very fast replies to all my questions. I then ordered the package, directly from the WO website, since I was already impressed with the personal service I had received from WO. I was absolutely shocked when David Yang called my house wanting to explain some things, and talked briefly to my wife. He tried back again, and I finally reached him. We talked for a bit, as he wanted to make sure that I knew what I was getting for my money, and wanted to answer any questions I might have. He genuinely cared how I planned to use the scope, and suggested that I also order the 1.25" VR-1, violet reduction filter to go along with it in case I found that the violet fringing was too distracting, which I bought including no additional shipping charges. He informed me that the scope was being checked out at that moment for quality control purposes, and it would ship out UPS that night. The scope arrived via UPS as promised, and was packaged very nicely. They had won me over in the customer service category already, and at the very least I was extremely impressed with the entire purchasing experience.

I had a chance to check everything out, and was very impressed with the quality of all of the components. There are no plastic or cheaply made parts on this telescope anywhere. Everything is machined metal, with a solid feel to it. Even the backpack style bag was very well made, including perfectly cut foam that fit every item snugly. The 2 inch crayford focuser rotates smoothly, and precisely. The finish on the scope and all other parts is of a quality that one would expect on a scope that is much more expensive. Quality Control had clearly checked each item, and passed (at least that's what the stickers said). The white finish is elegant, and the gold cap and trim is very classy looking. The finder scope was already placed in the bracket which is nicely manufactured, and fits and looks perfect for this telescope. I looked through the finder scope, and it has a very clear and crisp image and crosshairs. Having never seen an illuminated finder scope, I was eager to try it. I tried it with the batteries in, positive side up, just like I was reminded over the phone, and gently turned on the switch. I didn't see anything light up. I tried again, this time in a darker environment, and even tried it with the batteries in the wrong way and still, nothing lit up. I thought that perhaps they were bad, and sure enough, my voltmeter read next to nothing on both of the 3 volt lithium CR1632 batteries.

A quick email to WO, had two more on the way without even a question, which arrived in two days and worked as expected. They have since worn out, and I found that these batteries are simply not available anywhere locally in the Chicago area. A simple Internet search provided dozens of places that sell these, including EBay sellers, and other inexpensive online battery specialty stores. I found a place that offered 20 batteries for $7.95, and they came within a week. I am set for a while, even if I leave it turned on, which I am known to do. Adjustment of the alignment of the finder scope is accomplished easily with three nylon tipped thumbscrews, which turn smoothly and will not mar the finish. The eyecup is a super soft rubber design, and it came with nicely made soft rubber caps, for both front and rear elements, that fit nicely. And most importantly, the views through the finder scope were crisp and clear. I have to admit, that I was a bit shocked to see that the finder bracket and scope retailed for $69 and $79, but they are clearly worth it. The illuminated crosshairs glow a pleasant red color, which are bright enough to see easily in even moderate light (with fresh batteries) yet are not so bright as to have any effect on your night vision. The only complaint I have is that I realized that the bracket slides around a bit too easily due to its nice felt lined contact plate. There is no way to get it into the exact same spot each time its taken off and remounted, so it takes a few minutes to align it each time. The other problem I discovered was that the thumbscrew was not attached. After dropping it once in the dark on my deck, I decided to remedy both problems with a single piece of black electrical tape attached over the felt on the base. By cutting a small slit in the tape, I could now retain the thumbscrew without worrying about dropping it so easily. The tape also provided a bit more gripping action to the scope which makes it less likely to move around than before.

I attached the telescope to the standard --20 camera mount on my tripod. The attached L-Bracket is very solid, and nicely finished in black paint. I then removed the 1 - inch adapter from the focuser and attached the 2 inch WO dielectric diagonal. The diagonal is a top quality, very nicely manufactured machined all metal design. I have read review on this diagonal, which said that it was one of the best out there. It sells for $200 on its own, and I can see why. It too came with its own 1 - inch adapter, and nice fitting end caps. The only decent quality eyepiece that I initially had was a 26mm Meade 4000 series plossl given to me as a gift by a very dear friend. Thanks again - you know who you are. I was very pleased with the daytime views, and found that the focusing was so smooth, that even on this short focal length design, focusing it was a pleasure. It was very easy to glide into focus from either direction, and quite easy to tell when precise focus had been achieved. So far, everything looked good.

Now it was time to test the image quality, so I looked at the chimney on the roof two houses away. I could barely see some Chromatic Aberrations, including slight purple color fringing just on the edges of the highest contrast areas. But I really had to look hard to see it. It was there, but at this power, 19X, it was virtually impossible for me to see much less find offensive or distracting. It was time to see if the camera could see it. I hooked up the Canon 20D using a T-adapter, and T-ring, and found that I really had to go to the end of the focuser travel (which is quite long) in order to reach focus. I was able to focus, but only after nudging out the 1 - inch adapter, and T-adapter, rather than seating them all the way in as I originally did. It made me a bit nervous having my expensive DSLR hanging there, but the copper tension ring in the focuser held the T-adapter very securely. (Note: I have since acquired the WO 2" photo adapter and it is well worth it, since it matches the scope in quality, fit and finish) I set the camera to aperture priority, automatic white balance, and shot a picture. Then I took out the WO VR-1 filter and attached it to the t-adapter and shot a picture. The views were of course much greener than before, as all the purple highlights had been filtered out, but the Canon adjusted white balance automatically for me. The results of the pictures are show below with the non-filtered view on the left, and the filtered view on the right. These images are cropped and sized to 100% pixel size, and clearly show the extent to which you can expect to see (or not see) the chromatic aberration when shooting in daylight with a prime focus setup.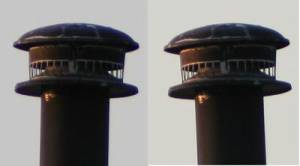 UPDATE TO ORIGINAL REVIEW:

Since this review was originally published on Astromart, I have tried several other eyepieces, including the Televue Plossls in 15mm, 11mm, and 8mm, as well as an Antares 6mm volcano top ortho. I also now have a Celestron Ultima 2X Barlow (that actually results in 2.5X for me). I have found that visually the scope handles magnification well all the way up to its theoretical maximum (160X) which is accomplished by using the TV 8mm, barlowed at 2.5X, for a magnification of 156X. I realized that the collimation was a tiny bit off, and adjusted it slightly by slightly loosening and tightening the three nylon collimation screws in the optical cell holder.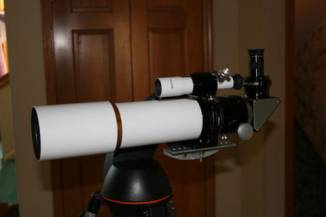 I have also taken my original Celestron Nexstar 114GT, and sold the OTA, eyepieces, and red dot finder, leaving me with a lightweight GoTo mount to modify into a reasonably stable mount for the scope. The resulting package works surprisingly well, with a bit of wobble at high powers due to the flex in the tripod, but this combination at this price, is performing well above what I expected it would.

While viewing at high power its clear that false color is present, yet manageable, and isn't really a problem below 75X, and with the additional Violet Reduction filter, it is capable of very nice views up to 156X. I was able to see much more detail on Mars than I ever expected, especially since this is not designed to be a high power planet buster. On the other side of magnification, the views of open clusters, are mesmerizing. Being able to see the entire Plaiedes cluster, or Double Cluster with sharp edge to edge views is wonderful.

I realized after I added it all up, that even though this deal is no longer available, it was an absolute steal, and I would suggest that if anyone is selling one used it is likely to be an excellent deal. If you were to take the $599 price, and subtract the following items: Diagonal - $199, Finderscope and bracket - $148, Carry Bag - $65, it ends up that the OTA with focuser only really costs $187. Now considering that the focuser can be purchased for Synta scopes (like the Orion or Celestron 80 ED) for $199 with a $100 finderscope bracket included, that means that I only paid $88 for the tube and optics!

This is truly one of the best deals I have ever seen in astronomy and ever purchased!


SUMMARY
Overall fit and finish: Excellent, because every component is nicely crafted and manufactured.
Optical Quality: Again, excellent, because it appears to have very good optics.
Focuser: Outstanding, since the nicely machined smooth, fully rotatable crayford style focuser is a joy to use.
Diagonal: Again, outstanding, since its manufacturing and optical quality are superb. I can see why these sell for $200.
Finder scope and bracket: Very nice, although it would be nicer to have a larger finder scope, the 6x30 fits nicely with my travel needs, and the lighted crosshairs is just plain cool to use. Mounting it to the scope is quick and secure, but I wish it had a slot to position the same each time, which would prevent having to realign it each time.

Backpack bag: Very nice, as it has custom cut foam for everything included, and removable eyepiece pieces for enough 2 inch and 1 - inch eyepieces to satisfy most users. I'm not sure how the foam will hold up over time, but the bag is a very durable heavy gauge well sewn nylon design.

Overall, I would highly recommend this package to anyone who has similar needs to mine. It will truly be a Jack of All trades for my needs, including being a high quality but not overly expensive travel scope, a very nice spotting scope, and a nice 500mm fixed focal ratio camera lens. In the future, I will be set when I hope to someday buy a larger scope, as this will serve to compliment it nicely as a piggybacked guide scope, widefield scope, or entry level astrophotography scope.

Below is a picture of the Moon and Mars - Note: the levels were adjusted to show Mars better.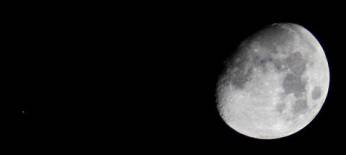 Article: William Optics Megrez 80mm SD