CNers have asked about a donation box for Cloudy Nights over the years, so here you go. Donation is not required by any means, so please enjoy your stay.


0
Tasco Model 10E Solarama
Discuss this article in our forums
Tasco Model 10E Solarama
Excellent New Refractor for Exploring Space
As the new year approaches, 1966 promises to be an exciting one in the fields of Space and Astronomy. It has been nearly five years since President Kennedy proposed landing men on our nearest stellar neighbor. In June of this year, Astronaut Edward H. White become the first American to walk in space and in August , Gemini 5 spent a record 8 days in space. Although unable to join in these feats of accomplishment in body, the average citizen can still 'accompany' our astronauts into space at least in spirit. This can be done with one of the professional-caliber optical instruments available today for nothing more that a modest investment in capital and a weekend trip to the nearest downtown shopping district.
One such offering is Tanross Supply Company's excellent 1966 model Tasco Model 10TE Solarama, a 76.2mm achromatic refractor of 1200mm focal length, imported from Japan. As with Tasco's other high quality astronomical telescopes, the amateur telescopist would be well pleased with included accessories, including a wooden tripod with equatorial mount, a selection of eyepieces, a solar screen, barlow lens and prism diagonal, all boxed in an attractive wooden chest.
This author's sample was purchased off-the-shelf at Daytons for the price of $199.95. Initial opening of the chest revealed that the telescope and tripod were well packed in typical fashion for this type of offering...wooden cradles lined with green felt pads and strips, and each accessory individually wrapped in several layers of thick shipping paper. No damage was noted on any painted or metal surface.
The optical tube assembly is of typical construction for today's refractors...long seamless metal tube painted in white enamel with black trim. The main objective is comprised of a fully coated air-spaced Fraunhofer doublet lens mounted in an advanced push-pull cell system that is protected by an oversized lens shade. The inside of the tube is painted flat black and is well baffled. The machined rack and pinion focuser is smooth in operation and holds the eyepiece with two locking screws spaced 120 degrees from each other. It also features a locking screw to hold the rough draw tube in place for fine focusing or extended observing. The finder scope is of a generous 6x30 type.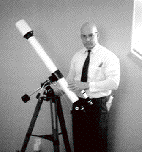 Figure 1. Here the writer demonstrates by comparison the compactness and portability of the telescope.
The equatorial mount is of heavy painted cast iron and features a latitude adjustment with stop screw, accurate setting circles and smooth slow motion controls operated with typical flexible cables. The wooden legs are adjustable in height and are tipped with pointed metal caps.
The supplied eyepieces include the standard SR4mm, HM12.5mm and H20mm, all of the .965 inch barrel size. It should be noted that although most telescopes of Japanese manufacture exhibit excellent optics, the serious observer would do well to substitute the supplied eyepieces with those of the highest quality, such as available from the Unitron Corporation, Zeiss or GOTO. For purposes of this this review, however, all observations were performed using the stock eyepieces without diagonal or barlow lens.
Assembly was easily accomplished by reference to the supplied instruction manual and was ready in under fifteen minutes for the first night's observing session. It should be noted that the total weight of 22 pounds makes the assembled unit very portable and a joy to transport to the observing site.
Initial testing was accomplished under decent sky conditions, unusual for Portland, Oregon at the end of December. Calm, magnitude 6 skies, with a slight fog, eliminated much of the 'twinkling' common at this author's 500 foot elevation. After an initial polar alignment, it was off to view the heavens. Star testing at 300 power on Capella showed a strong, perfectly round airy disk with well-defined diffraction rings on both sides of focus. Saturn at 96 power showed good surface color banding and crisp ring definition. The detail revealed along the Lunar terminator at 60 power was very impressive for a telescope of modest 3 inch aperture. Although no match for the largest common amateur instruments, such as the 6 and 8 inch reflecting telescopes, surprisingly good views were obtained of favorite deep sky targets as well as the naked eye Andromeda Galaxy and Double Cluster.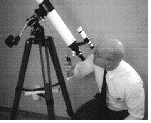 Figure 2. Here the writer shows the ease of adjusting the scope while observing.
Observing with the highest powers was also pleasurable with this instrument. Objects stayed in the generous 35 degree AFOV for seconds at a time. This was further aided by the rather quick dampening time of vibrations in the 3 to 4 second range...much better than the usual 5 to 8 seconds on similar instruments. This is due in large part to the design of the tripod which uses heavy metal clamps and screws to adjust height yet provide a steady viewing platform.

To sum up, the Tasco Solarama offers the amateur astronomer superior performance in a compact long focal length achromatic refractor. It is doubtful that a better instrument could ever be offered to the public that combines this telescope's main features of quality construction, portability, optical performance and price. It is highly recommended.

Keith Gordon
Oregon
December 1965

Article: Tasco Model 10E Solarama