CNers have asked about a donation box for Cloudy Nights over the years, so here you go. Donation is not required by any means, so please enjoy your stay.


0
12" F/5 Guan Sheng
Discuss this article in our forums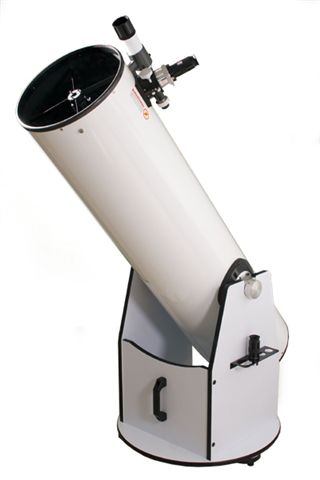 I've been an observer for 32 years.
My main interests are cometary observation, and planetary sketching.
I've owned about a dozen scopes in that time.
I do most of my observing from my home in suburban Caulfield, Victoria, Australia.
The skies are light polluted, but on most moonless nights, I can detect stars down to magnitude 5.5.
In 2005 at our annual Xmas starparty, I had an opportunity to look through a 12 inch F5 Guan Sheng Dobsonian and was very surprised.
In January of 2006 I went out and purchased one myself.
These scope are sold through out the world, under varies different brand names.
Hardware
The scope is big, and difficult to handle on for one person....
The tube is 1450 mm long, and has a diameter of 331mm.
The tube is made of rolled aluminium.
The weight is approx 19.5 kgs
The scopes has a 8x50mm finder which is of fair quality, nothing special.
The focuser on my model is a "Crayford" style, and is very smooth.
The secondary mirror and spider is very adjustable, and again of good quality.
The spider vanes are very thin, 0.75mm on average.
The primary mirror is housed in an open cell, very similar to the Novak systems available.
The mirror rests on a 9 point floatation.
The primary cell is very adjustable.
The tube interior is painted black, but can be improved upon.
I lined my scope with "Zeiss" flocking paper, and improved contrast greatly.
The mount is made of laminated chipboard, and the motions in either direction are smooth.
Optics
Both mirrors are made of BK7 optical glass.
The primary is 302mm in diameter, and 30mm thick.
The secondary is 70mm across the minor axis.
I tested the scope over a four week period, and found the optics to be very good, to excellent.
I startested the scope extensively, and found the mirror to be extremely smooth, with the slightest under correction..
I couldn't put a figure on it, GS, advertise 1/12 wave.
Planetary images were rock hard.
I tested the scope against my friends 12.5 Inch premium Dobsonian, which sports a "Swayze" mirror, and we couldn't split the images over four different nights.
On one particular night of excellent seeing, I had the magnification up to 500x, without any image breakdown.
Our local club Telescope guy ran a series of tests on the optics, the main one being a Double pass Ronchi test, against a certified optical flat.
He informed me the mirror was very well corrected, and very smooth.
He didn't believe the price I paid for the entire scope.
In summary, this scope has been a huge surprise.
My experiences with "light Buckets" previously were not great.
My intention was to use this scope for deep sky observation only, as I already have a Zambuto equipped premium scope for Planetary work, but it's a lot more than that.
Since purchasing my scope, I have looked through fourteen of these instruments at our club nights, and the images in all of them are almost identical.
Guan Sheng seem to be producing a great mass-produced scope.
Regards
Con Stoitsis
Director
Comet Section
Astronomical Society of Victoria Inc
Melbourne, Australia
Article: 12" F/5 Guan Sheng