CNers have asked about a donation box for Cloudy Nights over the years, so here you go. Donation is not required by any means, so please enjoy your stay.


0
15" Teeter Dob
Discuss this article in our forums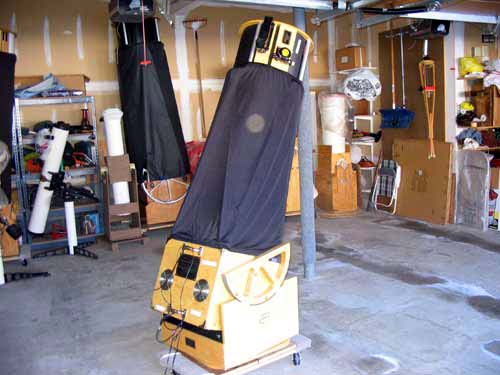 15" Teeter Scope
 
In the summer of 2003 I was thinking of purchasing a little more friendly and easier to use large Dobsonian telescope. I wanted a scope that had plenty of aperture, easy to assemble and disassemble, and not need the use of a ladder when the scope was pointed toward zenith. The scope had to have everything top notch, meaning an excellent mirror, focuser, dew controls, digital setting circles, and excellent woodwork and construction. I decided on a 15" f/4.5 telescope and started checking out different manufacturers like Obsession, Starmaster, McTelescopes, and Teeter's Telescopes. I had heard many good reports about R.F.Royce mirrors and decide that would be my primary mirror. Obsession Telescopes didn't use this that mirror manufacturer, and Starmaster was back logged using Zambutto mirrors which I would have settled on. My only two choices were McTelescopes and Teeter's Telescopes.
Rob Teeter of Teeter's Telescopes found out I was interested and invited me over to see his work. I already looked at McTelescopes but I was impressed by Rob's detail of finish. I was able to sit down and design a telescope that would offer top performance in a solid beautiful package. The components of the telescope included a 15" f/4.5 Royce mirror. 1/20 wave Antares diagonal, Feather touch focuser, Telrad, Sky Commander digital setting circles, dew heater for the telrad and diagonal, three fans, two to blow across the mirror, and one to blow behind the mirror, wood finish and brass fittings throughout. The wood and finish are first rate with Gloss Marine Spar Varnish coatings. For moving the scope around wheel barrow handles are included, and a shroud to block ambient light.
This is one terrific performing telescope and very user friendly. Everyone has raved about the images and how good this scope looks. Some observers think Rob Teeter over builds his scopes, but that is a matter of opinion. Rob will build you a scope with either 1/2" or 3/4" wood construction, it's usually your preference. The corners of the box are protected by brass fittings, the fans are covered by brass grills, and any exposed are in brass to make a truly beautifully looking scope. Rob uses Moonlite ball and socket truss tube connectors, and Astrosystems spider and diagonal holder with thumbscrew adjustments (however, ProtoStar diagonals and spiders are now standard). He will also use other manufacturers equipment if you request it. I also had him line the inside of the upper tube assembly with low-pill black velvet to absorb any possible glare.
Now when I have star parties for kids or the general public, I don't need to worry about someone falling off a ladder, and it's also easier and less tiring on myself not having to climb back up the ladder to make adjustments. Because I don't have to climb steps and the scope is easier to move around I can see more objects within a set time frame than using the larger telescopes. If I come to an interesting object that I need more aperture I can go to my larger scopes.
In a dark sky you can see objects 15 magnitude or fainter, and the movement of the telescope in all directions is very good. The movement is right ascension or right to left motion is just as easy and as smooth as any scope made, but in the declination the tension of movement requires a little more effort but it's what I need because of the heavy eyepieces and binoviewer I use. This is a wonderful planetary scope even though it's only an f/4.5 ratio due to the top quality mirrors used. I don't have a motor drive on this scope but by using a binoviewer and widefield eyepieces it's easy to keep a planet or object in the field of view by its smooth easy movement. I have had this scope at 365x on a good night and the images were pinpoint and rock steady. Widefield views of star clusters and galaxy groups because of its short focal ratio is another plus for this scope. Panning with a wide field eyepiece through the milky way region is just fantastic, just so many cluster, nebula, and stars from horizon to horizon.
The telescope sets up in 10 minutes, and breaks down even faster. Total weight of the bottom part of the telescope including the mirror is about 75 pounds. I'm looking forward in the coming years of enjoying this wonderful telescope because of its ease of viewing. Pinpoint images, and great construction. I also want to thank Rob Teeter for sending me pictures and emails through all the building stages until completion.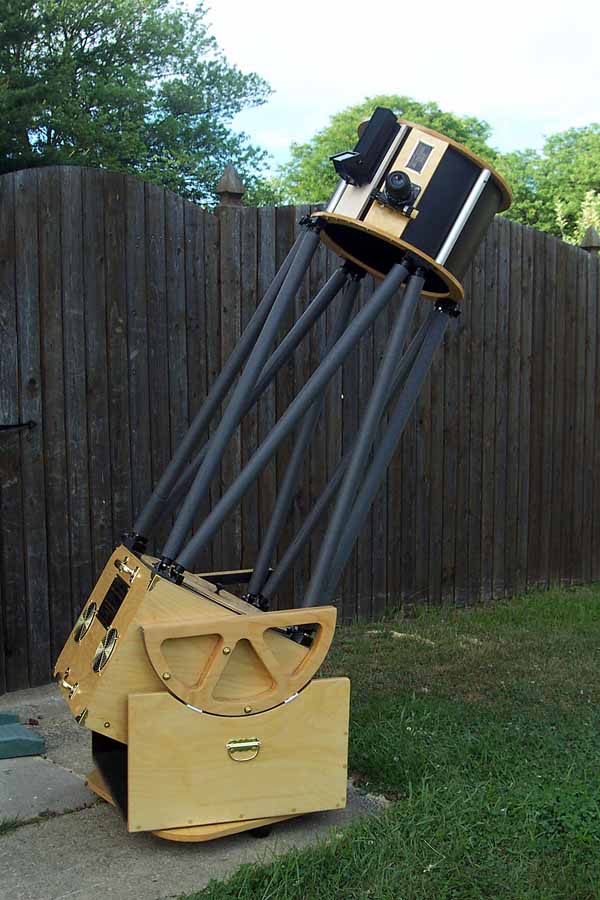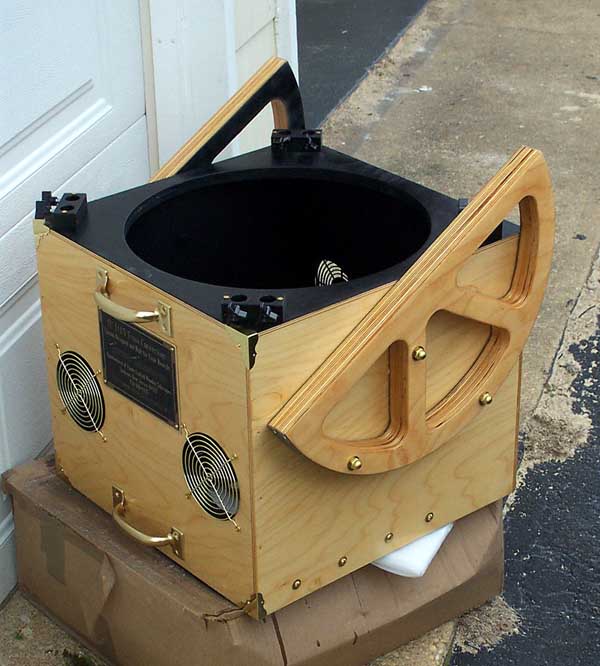 Article: 15" Teeter Dob