CNers have asked about a donation box for Cloudy Nights over the years, so here you go. Donation is not required by any means, so please enjoy your stay.


0
22" f/3.6 Ultra-Portable Dob
Discuss this article in our forums
David Lukehurst 22" f/3.61 Ultra-portable Telescope,
By Bart Wide, September 11
th
2008.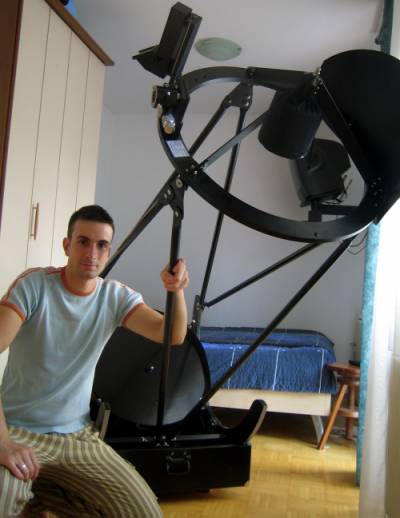 I have fairly intensively searched for a custom and premium telescope maker to craft me a telescope according to the desired specifications. I was looking for a telescope with as large primary mirror as possible that would still fit into my car and that I would be able to manage without major effort alone as well. That meant 28 inches for the side of the bottom square of the collapsed telescope and 18 inches in height without the trusses.
I was tempted by a 24 inch f/3.3 telescope, but the size and fear of coma lead me to a different decision. Although, in retrospect, I think that coma would not be a problem with such a telescope but portability would be unless it were a rather ultralight than ultraportable telescope. The costs might be soaring high and the investment itself might have been a bit more risky considering that premium telescope makers practically do not offer such big telescopes in such design.
So, a 22 inch f/3.6 ultraportable telescope in the likes of Obsession's checked and tested ultracompact design is what I decided for; ultraportable in terms of a very collapsible telescope, not necessarily feather light but certainly durable, usable and manageable. The only telescope maker among quite a few I asked, willing to craft such a telescope, was David Lukehurst from Nottingham, UK (
http://www.dobsonians.co.uk/
). David was really friendly and accommodating. In a series of e-mails, we discussed the general design and specifics of the telescope. He was also helpful in choosing particular elements "" for instance the possibility of using a binoviewer. After almost everything was laid out, I placed an official order by settling the first half of the amount (3,125 GBP "" there were no VAT expenses).
The optics were ordered at Nichol Optical managed by John Nichol in the UK (
http://www.nicholoptical.co.uk/
). John was also very friendly and helpful to deal with. In a matter of two and a half months, he finished the f/3.61 mirror out of Suprax (borosilicate) to a precision of 1/8 lambda P-V of surface accuracy, 1.8 inch thick. The coating process took somewhat longer but all in all, I think, the finished mirror was delivered to David fairly quickly compared to some delivery times of other premium mirror makers. Upon the arrival, the mirror was lacking coating in 3 thin lines at the edge of the mirror, each a third of the circle apart. John assured me that the mirror is held in these three places during coating and as I agree with him, this will hardly contribute to the loss in light gathering power. When testing the optics, John applied the following optical tests: Autocollimation (double pass null test) against a Grubb-Parsons Master flat, Ross null test using an interferometrically certified compensating lens (Ceravolo optical systems), qualitative test. He figured the mirror to match or better computer generated image showing surface accuracy of 1/8 wavelength as he assures in his certificate.
David then finished the telescope in a matter of 2 weeks and in four months total the telescope was finished and deliverable.
The telescope consists of following materials: steel, plywood, formica, teflon, laminate. The construction is perhaps more wooden than metal but in essence a balanced mixture of both. The telescope is well protected and seems to be fully weather resistant "" apart from the mirrors of course. The primary mirror rests on an 18-point mirror cell and the collimation bolts underneath make the collimation really easy both for adjustment and locking. The tailgate and the mirror cell (with a 12 V cooling fan) form a strong construction supporting the mirror. When transporting the telescope 50 miles away, the optics is tightly held in its position which results in a very small miscollimation afterwards "" when the telescope is set up, collimator's laser beam hardly falls outside the center spot on the primary mirror and on the secondary the returning beam hardly deviates from the incoming one. The once called mirror box which now begs for a new name, is detachable from the rocker box. The thick 4.53 inch minor axis secondary mirror rests on the secondary holder held by a 3 vane spider. The UTA also carries the Telrad and the Moonlite CR2 focuser both of which indeed are a nice piece of equipment. I must add that I first ordered a Moonlite CR1 and when I raised concerns that such a fast mirror requires very small travel distances to achieve focus, David arranged for the upgrade from CR1 to CR2 free of charge. Thumbs up! The trusses, only 61 inches in length, are not interconnected and come in three pairs. They are simple to mount and are marked for exact position, again to preserve collimation after having reassembled the telescope. The primary mirror is secured by a tightly fitting cover which safely rests over the mirror during transport or storage, not harming the optics on the top or on the side. The altitude bearings rest on teflon pads and are collapsible. The point of connection under the hinge is very smooth and when the telescope is moved in altitude, no obstruction is noticeable. The Rocker rests on a strong, flat tripod and again slides on teflon pads. What remains are the two baffles, one around the primary mirror and another one opposite to the focuser, covering the angle of 160 degrees.
The telescope can be collapsed to a height of 18 inches, length of 30 inches and width of 27.5 inches without the trusses and the UTA. I made some adjustments for the UTA to securely fit on top of the collapsed telescope for safe transport and the entire collapsed telescope safely fits into the trunk of my Kia Cee'd which is not a big car at all. Since this is the first ultraportable telescope made by David, I think he will take care of this in his future telescopes and UTA-s will fit on top just splendidly. The trusses are so short that I can put them on the back seat or under it if somebody were to sit in the back as well. The entire telescope weighs 80 pounds, the primary mirror alone weighs 42 pounds! In principle, I can lift the mirror but I must admit, it is not all too pleasant. The eyepiece height at zenith is 76 inches. An inch or two could be chipped off to go to extremes but a small 10 inch step stool does its job and is even fun to use. In general, I am fully satisfied with the dimensions. Although the numbers seem small, this telescope is huge. Its sheer size shocked me when I first saw it, even though I was running around with a measuring stick several times prior to seeing the telescope.
I ordered the telescope without a shroud and without wheelbarrow handles wishing to reserve some work and tweaking for myself out of joy. I made the shroud out of ripstop nylon, an elastic string for fastening to the UTA and a steel wire which I welded into a hoop to rest the shroud around the bottom of the trusses and to keep a nice round form while pulling it downwards with its weight. The shroud does not obstruct the light path. Instead of wheelbarrow handles, I will use a small collapsible trolley with additional forks for holding the mirror box.
The performance:
There is a fair amount of scepticism about fast optics and ultracompact telescopes among astronomers. People worry about how perfect the mirror has to be if it is supposed to be a f/3.6 paraboloid, how hard it is to grind such a mirror and how only a fistful of master opticians can produce a satisfactory mirror like this. In addition, there are prevailing tendencies that mirrors have to be of Strehl 0.92 or preferably more which considerably raises the costs of the optics. While on the one hand, obsession with absolutely perfect optics seems to prevail, people on the other hand also fear that collapsible metal telescopes cause ringing, that they are not stable in the wind, that the movements are problematic with collapsible altitude bearings, that such telescopes tend to miscollimate easily, etc.
When I first used the telescope, I feared that I would regret ordering such a fast telescope with "œonly" 1/8 lambda surface accuracy mirror. Holding the printed images of optical errors revealed by star test in one hand and leaning my eye on the eyepiece offering the magnification of 420 x, I started focusing and defocusing on Vega. Unfortunately, my previous telescopes only revealed fuzzy blobs when trying to star test the optics. Because I did not know what to expect, I decided to repeat the star test a number of times before I would make any final conclusions. The mirror John has made is probably absolutely great. Inside and outside of focus, evenly pronounced and perfectly concentric diffraction rings were clearly noticeable and were comparable to the rings designating a perfect mirror. At 420 x, highest magnification through Paracorr which does not allow for the use of standard Barlow lenses, the images of stars were sharp (to note: seeing was good but not perfect). At the magnification of 300 x in my old 12 inch telescope, I have so far on better nights not seen images of stars as sharp as with the 22 inch at 420 x. Nevertheless, I am yet to experience what the optics of this telescope are capable of in perfect or near perfect conditions. When the Paracorr was properly set, the 26 mm eyepiece with 70-deg apparent field of view revealed no coma at all. The flatness of the field, to note, was not particularly impressive but to compare with the flatness revealed by my old f/5 telescope in combination with the same eyepiece, the situation was the same. Only, f/5 showed more coma because I did not use the Paracorr.
The telescope is easy to use. One can either stick with one object and track it for a long time or jump from object to object like crazy; I can track easily at magnification 420 x, and yes, nothing is particularly slow about this telescope J Standing most of the time on my feet while observing, I can as easily manage this telescope as I did my old 12 inch dobsonian "" the only difference being that movements are now slightly harder. But the longer optical tube compensates for manoeuvrability as the corrections at its tip are now more precise.
The only problem, I have so far encountered with the telescope is that it does not hold collimation perfectly when moved in altitude "" the miscollimation, however, is minute. It was only noticeable in the positions of collimator's laser beam and in the pattern of diffraction rings. When in focus, stars looked sharp and clean also in zenith "" the only direction in which the telescope displayed miscollimation. Perhaps this is the only trade-off of this particular telescope design, but it might be that proper adjustments or tightening of collimation screws and bolts will do away with this problem in which case I will withdraw my observation.
To all of you who are worried about going too fast or too compact, I hope this review gives some courage to decide for telescopes as large and portable, perhaps even as light as possible. Regarding the obsession with perfect optics: So what if magnification can only be pushed to 800 instead of theoretical 1100 on that one or two nights in a year for the majority of us who do not have the luxury of living under very dry and perfectly steady skies. In addition, the difference between 800 and 1100 is not so dramatic after all compared to the dramatic gain that the aperture offers, especially when going after thousands of completely different DSOs rather than after the details of a few planets.
Article: 22" f/3.6 Ultra-Portable Dob