CNers have asked about a donation box for Cloudy Nights over the years, so here you go. Donation is not required by any means, so please enjoy your stay.


0
Obsession 18" Dob
Discuss this article in our forums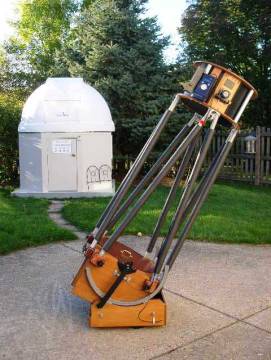 My Obsession
by Scott Azmus
Like most amateurs, I have gradually moved up in aperture over the years. A 3.1-inch Sears refractor and a 6-inch f/8 reflector saw me through high school. Somewhere around college graduation, I gave both away and rewarded myself with a lovely Celestron 8. Some years later, having sold the 8-inch SCT to a favorite astronomy student, I ordered one of the first Celestron GPS 11's to come off the assembly line. Next, after enjoying that scope's fine optics and go-to system for upwards of five years, I decided another aperture boost was in order.
When looking to balance mechanical simplicity, quality craftsmanship, and killer optics the obvious choice (to me) soon became Dave Kriege's very fine 18-inch Obsession. After reading all I could online and much enjoying Kriege and Berry's
The Dobsonian Telescope
, the concept of driving an hour north to pick up a new Obsession never ceased to thrill.
And yet, saving for THE big purchase never seemed to get anywhere. Some newfangled doodad -- Feathertouch focuser, Nagler eyepiece, Binoviewer -- would routinely manifest to eat away at the bottom line. Fortunately, my wife (and household financial guru) eventually suggested quite the sly alternate plan. I could purchase a new Obsession at current asking price and upgrade over time or buy used with a scope and accessory budget up to the same amount. Despite lingering feelings of "disloyalty" toward Dave Kriege and the good folks at Obsession, the choice seemed obvious. I soon bought a "third-hand" scope and -- over the course of several months -- have had a lot of fun adding various upgrades to the point where I now have a reliable 18-inch light bucket completely customized to my preferences.
Upgrade 1:
The Primary
The quest got serious when a 1999-built Obsession (#451) was introduced for sale via Cloudy Nights classifieds. According to the listing it included a Galaxy primary with fresh coatings, light shroud, wheelbarrow handles, Telrad, a 2" laser collimator, and a JMI-DX3 focuser. After several Q&A exchanges, I knew the scope could stand a number of cool upgrades, that it had been sitting idle for several years, and that a promptly-delivered cashier's check could put it in my backyard in just a matter of days. Cool!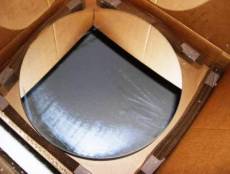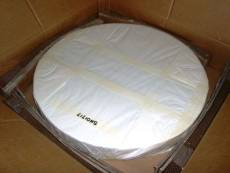 And yet, the moment I unpacked the last of four large shipping containers, one vital component demanded immediate attention. No one at the seller's local "UPS Store" had ever shipped a large telescope. The poorly-secured 18-inch optic had come free and had spent many road miles bouncing and shifting under a loose sheaf of tissue and heavy cardboard. As you can see, the coatings looked pretty scary and I could only speculate as to the integrity of the mirror's underlying figure.
Fortunately, John Hudek (Galaxy Optics) and James Mulhern (Optical Mechanics, Inc.) answered my pleas for help and were quick to reassure and supply estimates for recoating and refiguring. I would not recommend the insurance claims process to anyone but -- long story short -- some many weeks later, I had a newly recoated primary (Galaxy's best C1 96% reflectivity coatings) and a reimbursement check for all shipping and repairs. I can't thank the good folks at Galaxy Optics enough. John Hudek took time out of his busy production schedule to strip the old coatings, check the figure, and call to recommend a positive solution. He hustled the big optic into recoating the next day and delivered the good-as-new mirror in record time! For anyone about to ship a big optic, please note that I have included a picture of the RIGHT way to wrap a mirror (above right). My understanding is that the mirror will almost always shift a bit in transit and the tissue coating needs to be able to shift with it as one body. Here also is a picture of the newly recoated primary. Yay!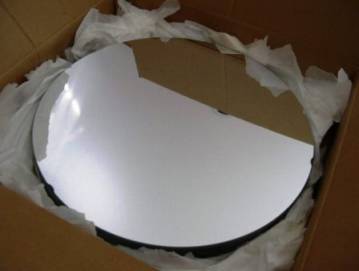 Upgrade 2:
Mirror & Rocker Box
While waiting for the mirror saga to play out, I gave each unit's inner recesses a fresh coat of flat black paint, upgraded the azimuth bolt to one that would firmly grip an encoder shaft, swapped the mirror's old sling with Kevlar, and added five fresh 1.25" felt pads to help limit the mirror box's tendency to shift laterally.
Next came a much needed update to the scope's mirror cooling system. Throughout the scope's eight-year history, no one had ever felt the need to put the 12-volt cooling fan to use. Original instructions were still in place and the red and black lead wires were still secured with packing tape. Anticipating future power needs (and hoping to boost the mirror box's weight), I ordered an Astrosystems 7-Ahr gel cell power supply. The set up arrived with easy to follow directions and everything needed. There was only one surprise: at one point, the directions asked me to cut a rectangular opening in the fan plate's very thick plastic. Easy to say; hard to do. A drill, a jigsaw, and a little bit of animal cunning eventually delivered an acceptable opening. The rest was easy. The fan looks and works great.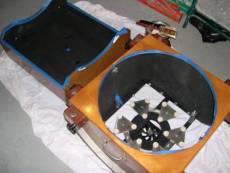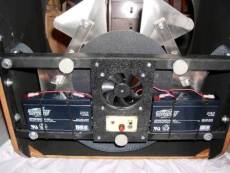 Still seeing a need for more weight in the scope's base (to counterbalance a planned 50mm finder and my big Nagler eyepieces), I next added a second-hand Markless Counterweight system. I was impressed by how easily this went together, with each part seeming to just know where it belonged. Charlie Starks was easy to work with when it came to finding the one teeny-tiny part I needed to replace. In fact, he had it in the mail even before I had a chance to pay!
Having seen the Argo Navis DSC system "in action" via the Obsession video, how could I resist? And this time, I was able to somewhat allay my guilt at buying a used scope by purchasing my Argo Navis and 10,000-tic encoders direct from Obsession. It all arrived in a very nice package with a one-page sheet of deceptively easy-to-follow directions. (I thought it would be much more difficult to center the altitude encoder and drill the required holes.) The only part that didn't quite work out was an altitude coupler that was oddly aligned, precessing on its axis at about a 15-degree angle. I'd heard tell of a more robust solution and quickly ordered a $26 all-metal JMI replacement coupling from Gary Myers at StellarCat. Also, on first set-up, my azimuth encoder revealed a tendency to slip in the new center bolt. A small piece of double-sided tape Ð jammed into the pivot hole Ð seems to have remedied this.
Having a great inner-need to annotate and take notes, I printed the Argo Navis manual in full and tabbed it for such things as initial setup, alignment, operating modes, and troubleshooting. Practicing inside the house and then out under the stars, one thing quickly became clear: this is an awesome system! Alignment is easy, the "push-to" pointing system is easy to learn in a single night, and the onboard catalogs are clear and easy to maneuver. With the return of comet 17P/Holmes, I also found the ArgoNavis utility easy to understand. Given the step-by-step instructions, I was able to update the ArgoNavis database in just minutes. Wow, that sure is a pretty comet!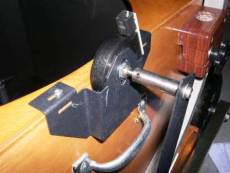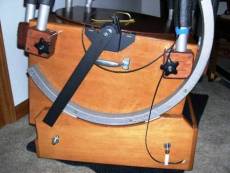 I next ordered my first serious collimation tools from Jim Fly at Catseye Collimation. As the scope had arrived with a 2" laser collimator, I opted for a two-inch Telecat XL and Infinity XL, a centering template for mirror spotting, and a pair of reflective white center spotting triangles. By the way, each item arrived with its own set of very complete directions as well as several small Allen wrenches. Center-spotting the primary took a couple of tries (I think the first reflective triangle is just for practice) and my son jumped in to help maneuver the big optic it into position. The Kevlar sling slipped into place over a square of double-sided carpet tape and -- as advertised -- the sling was quite easy to adjust from behind the mirror box. I am fairly sure that this was the only time I REALLY needed an extra pair of hands. It might not look like it, but that two-inch thick slab of Pyrex is HEAVY!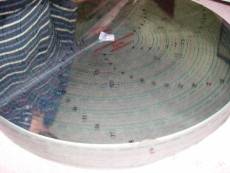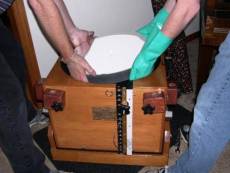 Upgrade 3:
Upper Tube Assembly
Somehow, the scope's tube clamps had come completely apart during shipping. The tethers needed replacement and I wanted a way to secure each wedge and clamp during transport. After picking up some hints on Cloudy Nights and via the Yahoo Obsession users group, I made sure to crazy glue the knots so they would not unravel and put tabs of Velcro on each wedge so that they would stay put on the upper tube assembly's lower ring.
Several people also recommended that I add a dew control system of one kind or another. While I could have installed a more complicated spider wiring system and grabbed power from my new gel cells or could even have tried Charlie Stark's system of using the truss poles as conductors, I decided that an easy to operate 9-volt system would do me fine. In fact, the AstroSystems DG-2 "DewGuard" fit my 3.1" secondary perfectly and was another relatively easy install. While the directions that came with the dew heater were easy to follow, Obsession Telescope's online "learning center" had pictures of each step associated with removing the adhesive bracket from the back of the secondary and of how much silicone adhesive to use and greatly simplified the task. At this point, I also took the opportunity to attach a new keeper lanyard to the back of the DewGuard.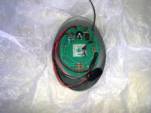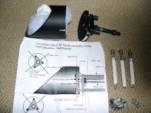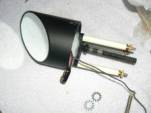 Being an older Obsession, the scope's secondary holder required the use of a Phillips screwdriver to make adjustments. Fortunately, Dave Kriege also suggested a $10 conversion kit that included all new springs, posts, and screws as well as easy to understand directions. While putting this in place, I also swapped all lock washers to 3/8" internal lock washers that seem to better resist shifting as I make small adjustments.
While the stock JMI-DX3 focuser would have been just fine for most people, the dual-speed focusers on my other scopes had quite spoiled me as to relying on anything else. And while I quite like the Chinese dual-speed focuser on my Stellarvue 80BV, the upgraded Feathertouch on my Celestron GPS 11 really is a full order of magnitude better. Via email, Dave helped me choose the right focuser and had me contact Brigitte at Starlight Instruments directly. I ordered their FTF2020CR focuser with a curved leveling base (radius of 9.8") and an easy grip adapter. Installation required making sure the old focuser was square by centering its laser dot on a piece of 3/8" threaded rod, and establishing a reference point on the opposite side of the UTA. I dotted the area with whiteout and added a small central circle for precise alignment. I then removed the old JMI focuser and Ð while learning that the JMI bolt hole pattern is exactly the same configuration as needed for the Feathertouch focuser Ð I also found out that the draw tube opening in the Obsession focuser board needed to be enlarged about 1/8 of an inch all around. Back to the toolbox!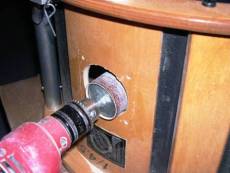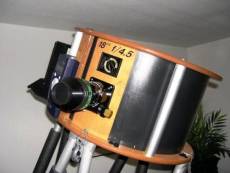 A hand drill and a two-inch drum sander did the job with a minimum of fuss. The wood and Kydex peeled away fairly easily, and I was able to quickly level the new focuser and use the laser collimator to square it to the optical axis. (Note: I later had to also shorten my truss poles about 3/8" to get my 31mm Nagler to come to focus.)
Upgrade 4:
Tracking
While ServoCat looks pretty cool, its addition just now would have blown the budget deal that I made with my wife. Was tracking just a "luxury" that I would have to do without? Heck no! After reading several fine reviews and exchanging a few emails, I ordered one of Brian Reed's very-fine 28-inch Round Table Platforms. He built it to my exact specifications -- latitude, wood type, stain color -- and even delivered it to my home while on the way to watch a Chicago Bear's game with his family up here in Southeast Wisconsin. (That's Brian with his Bear's jacket on the left.)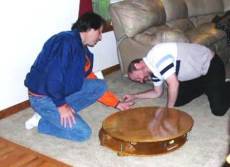 And what a sweet ride! After using Brian's platform in the field, I can't believe that I ever considered anything else! The platform tracks perfectly for almost a full hour before reminding me to shift it back over for another run. In fact, just the other night, it easily kept a galaxy perfectly centered in a 17mm Nagler's field of view for the entire duration of its ride! As Argo Navis easily "compensates" for riding on a platform and as I certainly do not mind "pushing-to" each target, the only things I would have to gain with a go-to system would be automatically maintaining scope balance, tracking speedy things like the ISS, conducting a "true spiral search," and holding the scope rock-steady against the wind.
Other Upgrades:
I've also built a sleek set of ramps for getting out into the backyard, altered the wheel-barrow handles for more door clearance, shortened the truss poles, and (with my visiting mother's skilled help) added a set of fine-looking dust covers. Oh yes, I've also recently added a new finder board and a Stellarvue 50mm RACI finder to the UTA.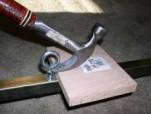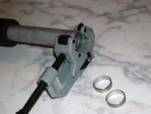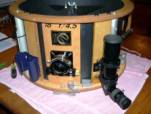 First Light:
First off, let me say that I can personally verify that every amazing claim you've ever heard about the view through an Obsession telescope is absolutely true! Last night, even with the light of the Milky Way barely outgunning the local light pollution and seeing and transparency not the best, planetary nebulae, globular clusters, and faint galaxies just seemed to want to JUMP into view! In one short session I saw (among other things) HII regions in the Andromeda Galaxy,
structure
in the tail of Comet 17P/Holmes, color (bright blue) in the Ring Nebula, and several moons of both Uranus and Neptune!
Although M81 and M82 just about dazzled my eyes, nearby NGC 2976 and 3077 were easy catches! Were those dark lanes in M13? Was that Galaxy NGC 6207 right next door? Then, after waiting a few hours for Mars and Orion to climb into view above my house, I could not believe what I was seeing! The Orion Nebula looked like a blue-green, three-dimensional image from NASA. Mars looked almost as if I could ease through the truss poles and take a stroll. The Crab Nebula looked to have a bit of texture! Wow! Although resolution did seem a bit more dependent on seeing conditions than I was used to, I'd never seen anything like this in my 11-inch SCT or any previous scope. Fantastic! Surreal! Exquisite! Spectacular!
I should have bought this telescope YEARS ago! I am now looking forward to finding a good local dark site and tackling the Herschel 400.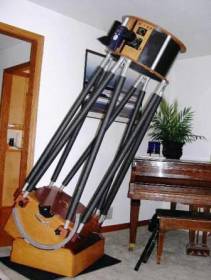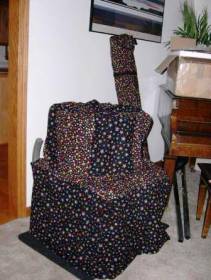 Special Thanks to:
John Hudek (Galaxy Optics)
Dave Kriege (Obsession Telescopes)
Brigitte Schmidt (Starlight Instruments, Inc.)
Brian Reed (Round Table Platforms)
Gary Kopff (Wildcard Innovations)
Charlie Starks (Markless Astronomics)
James Mulherin (Optical Mechanics, Inc.)
Jim Fly (Catseye Collimation)
Gary Myers (StellarCat)
Charlane King (The UPS Store)
Ellen Rickerd (My Mom aren't those some truly super-cool scope covers?)
And all the good and supportive folks at CloudyNights.com!!!
Article: Obsession 18" Dob