CNers have asked about a donation box for Cloudy Nights over the years, so here you go. Donation is not required by any means, so please enjoy your stay.


0
Meade 8" LightBridge
Discuss this article in our forums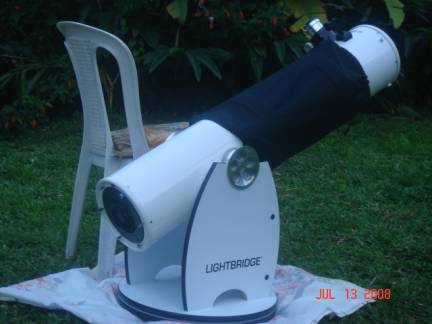 My name is Brian Waddington, I am a 57 years old, and am a retired pastor living in the Philippines. I have no financial connection to any astronomy gear manufacturer or retailer. A little over 2 years ago my wife and I became interested, intrigued, and finally enthralled with the brilliant dark skies that we can see from our back yard. We started with binoculars, bought an Orion 4.5 Eq reflector (short tube 3.9 f/r), were lent a used Celestron 8" SCT and have recently purchased a Meade 8" LightBridge.

Our 4.5 combined with our dark skies allowed us to capture all of the Messier objects as well as objects such as the Flame Nebula in Orion. The Celestron showed us that we definitely wanted more aperture for greater detail but not at the expense of a wide FOV because we enjoy the rich field that the Orion introduced us to.

After 6 or so months of research we felt that a Dob mounted reflector of either 8 or 10 inches would best answer our needs. Part of our reality was that whatever scope we purchased would have to be transportable in boxes that were not oversize according to airline specs. When Meade dropped the prices on the LightBridge our choice was made and we purchased the 8. Our friend was in America and when he returned he brought our scope.

What was in the boxes:
Actually everything was. All of the bits and pieces as well as the different Allen wrenches needed to assemble and adjust the scope. Nothing was broken and there were not even any scratches. The only thing that was not properly secured and wrapped was the primary dust cover. Thankfully our friend taped it down before he brought it over here.

Assembly:
My wife and I who are both mechanically challenged assembled the scope with no tension or arguments in a little over an hour. Everything fit properly and the quality of the various joints is acceptable. The only minor point is that the 2" extension tube is a very tight fit, but tight is undoubtedly better than loose in this case.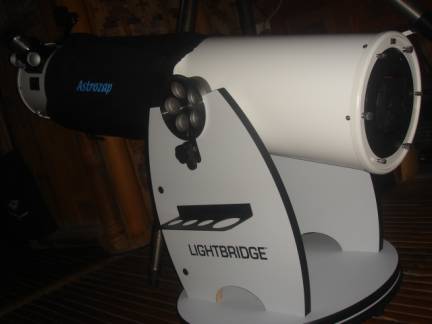 overall quality and finish is very good

Setting it up:
Setting everything up was quick and easy. The tension adjustment for the turning table was simply turning it till we liked the feel, which took about 30 seconds. Aligning the finder was a matter of a minute or two and the adjustments to the focuser were equally easy.



7 brightness settings and four red dot shapes

Movement of the scope:
Admittedly neither my wife nor I have ever used a premium Dob mount but we both find this an easy telescope to align on an object. Once it is aimed it stays where it is pointed with either the 1.25" or 2" eyepieces so it has good balance. My only irritation is the noise that the turning table roller bearing makes as it turns, much like a small train going past. But I can live with the noise.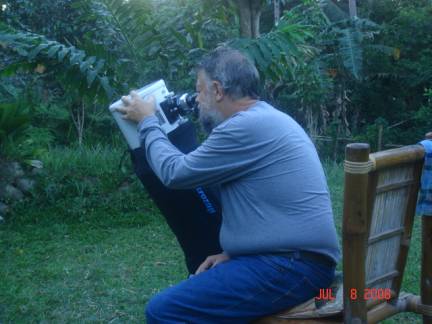 hand position for scope movement

Optical Quality:

I am unable to give a scholarly dissertation on the quality of the optics. However they are at least the equal of the Celestron SCT. Using the less than expensive eyepieces that came with the 4.5 Orion we easily watched Ganymede traverse the face of Jupiter. The Swan Nebula was majestically gliding through the Milky Way and while it had been a mere white streak in the 4.5 it was a beautiful fully shaped Swan in the LB. The Great Cluster in Hercules was humbling in its beauty and the number of resolved stars. The Ring Nebula was easily found and was a grayish blue donut at @180x, at 40x it was still a pronounced donut in averted vision, however the central star was not visible at either mag. M24 in its star field was mesmerizing. Obviously we are satisfied with the optics. Are there superior quality optics in other scopes? certainly there are, but not, I think, at comparable pricing.

Collimation:

The telescope arrived in good alignment . With the standard knobs adjustment of the primary was easy and quick using the team technique of one adjusting and the other saying more, more, bingo. I even did it alone and while the moving back to front is a bother it is still easily done. Admittedly the star test was not perfect but it was not too far off and the details we were seeing on the moon and other objects were quite rewarding and certainly sharper than the Celestron SCT.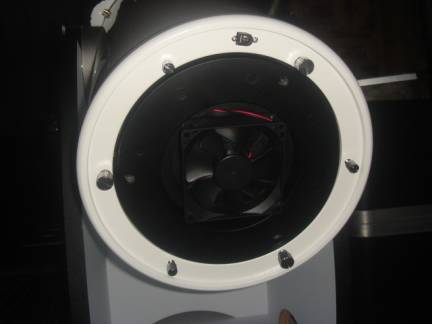 knurled locking and collimation knobs, fan, and fan battery pack plug in

Overall Impressions:

Both my wife and I are more than satisfied with the 8. In Myra's words...'it is user friendly'. The Dob mount versus the EQ mount is a no brainer. We get to sit down on a comfortable chair and without constantly adjusting for height (she is almost a foot shorter than I am) we can both enjoy the views without the swaying and moving in and out of focus that comes from standing and bending with an Eq mount. For both of us the focuser is easier to use than either the 4.5 or the 8" SCT.

We enjoy the ease of operation and rich field that this scope is designed for. I have read a lot about how inexpensive 'Dobs' need to be tweaked and modified and while I am sure that adjustments and mods can be made to this telescope they are to me an option rather than a necessity.

Undeniably we are satisfied with our new scope. It will allow us to explore visual astronomy for many years to come. With the addition of quality eye pieces and filters there is an awful lot out there that this scope will allow us to see.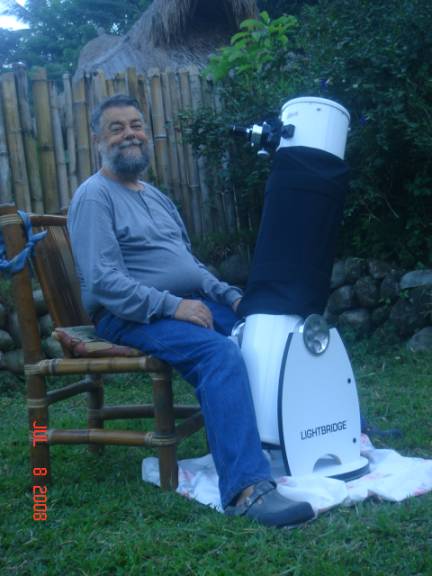 one very happy owner (shroud is an accessory)

Brian Waddington.
Camp Lookout, Valencia
Negros Oriental, Philippines


Article: Meade 8" LightBridge