CNers have asked about a donation box for Cloudy Nights over the years, so here you go. Donation is not required by any means, so please enjoy your stay.


0
Orion 8" Dobsonian
Discuss this article in our forums
This is my 3rd review of my telescopes and it will be on my Orion 8 inch Dob. This telescope is now called the Orion Skyquest XT8 Classic and is currently priced at $329.95. This package includes an upgraded 2 inch Crawford Style Focuser, red dot finder, Collimation cap, and a 25 mm plossl eyepiece. I bought mine about 5 years ago with a different package. It is also available as the computerized intelliscope for $529.95. This telescope has a computer locator which will help you find things. There is a lot of disagreement about which route is better (using a computer or finding things with star charts and star hopping) and I will not go into that here. I will only be reviewing the Classic. Remember you can buy the intelliscope and turn the computer off.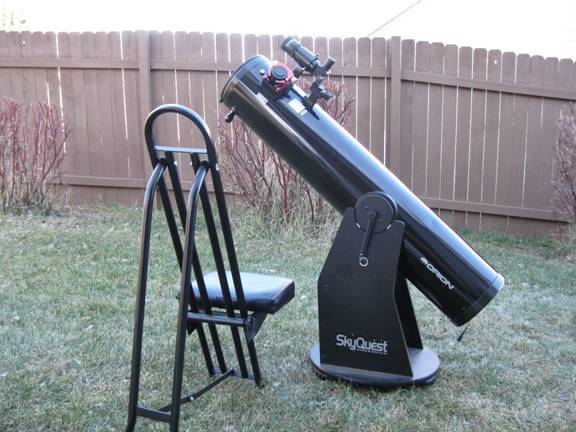 Orion XT Classic 8 inch Dobsonian with adjustable observing chair and a 9x50 Right Angle Correct Image (RACI) finder and red dot finder. Maybe the best all around telescope
Every telescope is a compromise between price, performance, and portability. It is impossible to be the best at all 3 so you have to decide what is important and choose accordingly. To many people the 8 inch is the sweet spot in reflectors. Mine weighs about 46 pounds total which I can move short distances in one piece (To dodge around trees and houses). I can easily carry it through my gate and if 46 pounds is too heavy you can carry it in two easy trips. The dobsonian design allows you to view in a seated position and an adjustable chair makes it a delight to use (a cheap plastic outdoor chair will work but I highly recommend an adjustable chair)
When I bought mine the included accessories were different. Mine came with a rack and pinion focuser complete with the infamous syntax grease (glue). It worked OK during warm weather but was very stiff in the winter so I replaced it with a moonlight single speed focuser. This might not be necessary now since the scope comes with a Crawford type focuser. I also replaced the old finder (It was a straight thru model) with a 9X50 RACI which is much easier to use. It can be hard to tell where you are looking with one of these so I also added a Red Dot Finder. I really like the combination of a red dot and a 9x50 RACI finder. The included red dot finder is plastic but it works OK. I upgraded to a Stellarvue Deluxe Red Dot Finder and have been very happy with it. The only problem I have with a red dot finder is that it eats batteries if someone forgets to turn it off. I also added a couple of magnets in the back as counterweights.
One of the biggest complaints about the Newtonian design is that you have to collimate it. This package includes a cheap plastic collimation cap that looks like it costs about $1.00 and should be discarded for something better. DON'T. This actually works very well with this F6 scope. The first time I collimated my scope I had to adjust the secondary which took a little bit of time. I haven't had to adjust the secondary in the last 5 years. I only have to adjust the primary which is very easy.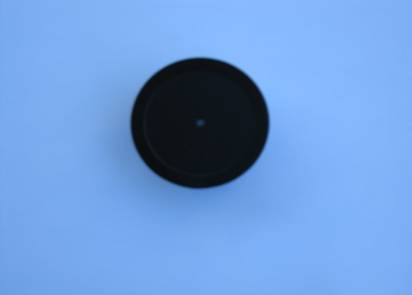 The instructions are included but all you have to do is loosen the 3 bolts that lock the mirror in place and then slowly turn the big knobs one at a time until the center dot on the mirror is centered in the view. This only takes a minute or so after the first time and I need to make only minor adjustments every month or so. The scope holds it collimation very well.
As you can see from the photo I added a cooling fan which I use in the winter. All telescopes need to get their optics and the outside temperatures to equalize otherwise the views will suffer (especially at higher powers). I store my scope inside so I stick it out about 1 hour before use. This works well most of the time. If it is below freezing outside (quite common here in South Dakota) I also turn on the fan. I turn the fan off when I observe. If you have an outside location (storage shed or garage) this can be eliminated and you are ready to observe right away. I also bought the Orion Padded Bag to store my scope in and it works well for traveling and to keep the dust out. I find that I only need to clean my mirror once every couple of years or so with this setup.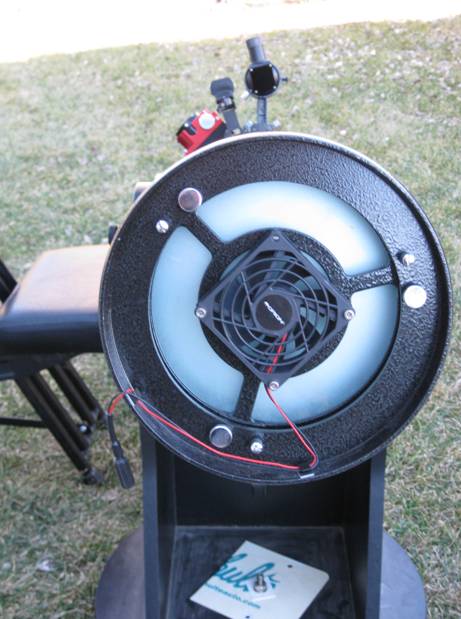 An 8 inch telescope collects a lot of light (4 X more then a 4 inch). Because of this it is a good deep sky scope. All of the messier objects are easily viewable from a dark site and most are visible from my suburban skies. This scope also performs very well on the moon (it will be bright so I recommend a variable polarizing filter) and the planets.
The package includes a 25mm Plossl which works well this scope. I would recommend the purchase of a 12.5 mm Plossl and the Orion Shorty Plus Barlow to round out a starter set. If you decide to spend some more money I use mine with a 24 mm Panoptic , 13mm Nagler T6 and a Televue 2X Barlow. This makes a great set for this scope.
All in all in all it is a good all around telescope. I would grade it as following (see my other 2 reviews to compare the grades with a 4 inch Mak/Cass and a 3.1 and 4 inch refractor)
Portability: B+
can be easily moved in two pieces and moved without to much problem in one. It will fit through my gate. It will also fit in any automobile.
Usability: B
An Alt/Az mount is easy to use. It does require the 1 hour cool down (more in winter without a fan) and it does require the extra trip of a chair of some kind. All telescopes are tough to use at the zenith and a dob is no exception. It can be hard to move it and track at the zenith. No problem you can just wait a bit and the object will move. The Orion Dob will not win any awards for its smoothness in tracking but it is adequate. I have no problems tracking at 200 power or so on the moon and planets. There are many modifications (such as milk jug washers) that you can use to improve this. They are listed in the book Astronomy Hacks by Bruce and Barbara Thompson and you can also find them discussed on this site in the reflector forum or in the Skyquest Group on Yahoo. No matter what you do this scope will never be buttery smooth like the expensive scopes but as I said it is adequate.
Performance: B+
all around very good performance. No major weaknesses.
Price / Performance: A++
For the price of a nice eyepiece you get a scope, Mount, finder and a decent 25mm Plossl
Conclusion This is my fourth telescope review so you might be wondering which telescope I like best. Even though both my Orion 102 Starmax and my Stellarvue 80mm ED are nice telescopes they both are several steps down in views to my Stellarvue 102 Apo and the Orion 8 inch Dob. To choose between the last two is tougher. The 102 Apo has better fit and finish and is ready to use at a moments notice. The motion on the M6 mount is smoother, the stars are pinpoint and the views of the moon are sharp. The Dob collects more light which helps a lot on deep space objects (although the differences are not as dramatic as one would think as an 8 inch is not really big enough to see much detail in most objects. The result is that most objects are brighter and easier to see but generally no more detail) the dob is 20 pounds lighter and it also gives great views of the moon. I guess the reason I would pick the dob as the best all around scope is the price. You get views that either beat the apo (galaxies, globular clusters, and nebulas), at least tie the apo (planets and moon) or come close (open clusters and double stars) for a fraction of the cost. Of course you can do what I did if you have a hard time choosing which is to buy one of each.
Article: Orion 8" Dobsonian