CNers have asked about a donation box for Cloudy Nights over the years, so here you go. Donation is not required by any means, so please enjoy your stay.


1
Orion Atlas EQ-G (SkyWatcher EQ-6)
Discuss this article in our forums
Orion Atlas EQ-G (SkyWatcher EQ-6)
A great GEM (Gibraltar Equatorial Mount)
In recent years, my back has been complaining about hoisting up a 10" CAT with the fork mount and trying to hang it on the wedge in the dark. At 64 pounds this might be a good exercise for a younger man, but it has become the thing I dread the most about going out for a night of observing. As I have recently become more serious about Astro-photography, I realized I needed a better platform and one single mount that could accommodate different OTA's. After some research, I had decided to purchase an Orion Atlas EQ-G GEM mount. This is the same mount as the SkyWatcher EQ-6, just with a black paint job and Orion markings.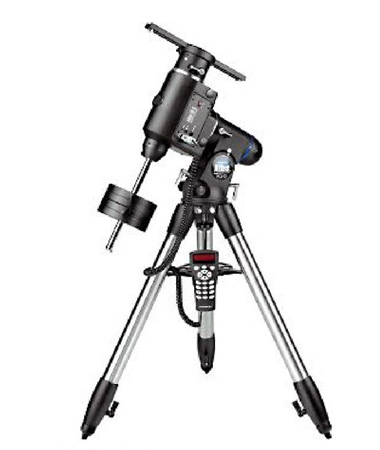 As luck would have it, one of these mounts showed up on Orion's clearance list, as a second. This in a way was perfect, because they stopped selling them retail, without the SynScan controller, but because I wanted to run it from my laptop with guiding, I didn't need the handset. I was able to get it at a substantial discount as a mount only. They shipped it to the Orion store near me without a shipping charge. The nice folks at the Orion store set it up and plugged it in with one of their controllers and checked out the operation for me. It was now time to get it home and start setting up for my configuration. The mount comes as 2 boxes. One is the tripod, which is double boxed, with the 2x 11 lbs. Counter Weight boxes at each end of the outer box and the tripod box, in between. The second box is the mount head, which has a Power Cable with the Cigarette Lighter Connector, a 12" Vixen style Dovetail Bar, Instruction Manual and a copy of Starry Nights SE on CD. Everything was bagged and securely packed in Styrofoam and looked perfectly brand new. In fact, I had to wonder why the mount had been returned?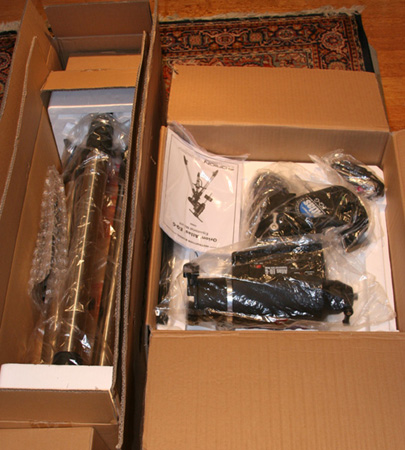 Although this is a big beefy mount it is still quite manageable. It's much more manageable than a fork mount system because you can put it together in pieces. The Tripod weighs about 17 lbs. The head weighs about 35 lbs. Then dropping my 28 lbs. OTA on is no problem. All of the locks are done with cam latches, including the Counter Weight Bar, which nicely slides up in to the head for stowing. The tripod legs also have cam latches to lock them. The only thing on this mount I find a little cheesy is the plastic knobs, on the Dovetail Clamp Screws, the Head Rotation Screws and the Tripod Spreader. If you want a wider (Losmandy style) Dovetail, they offer a head replacement for a reasonable $25, but it still has cheesy knobs!
After getting to all up weight I found out the probable reason it was returned. There was notable backlash in the RA axis. This was very little problem to address. On each axis there are 4 socket head allen screws and 2 set screws. By loosening the 4 socket heads and tightening one set screw and loosening the other, you can quickly adjust the contact distance of the Worm Gears. This can all be done without any major disassembly of the mount and in about 5 min. I had everything tight and ready to start with the rest of my configuration.
To run the mount directly from your laptop, you need a few things. The most important is an EQDIR interface cable. You can buy one from Shoestring Astronomy, but with some basic electronics skills, you can also make one. It's a simple circuit based on the Maxim 232 chip, which reduces the RS-232 control signal voltage from the laptop to the mount. It goes in between the DB-9 connectors on the laptop and the mount. Next you need to load the ASCOM software platform to your laptop and the EQMOD software as well. It's all freeware and the schematics for the interface cable are on the EQMOD project website as well as other plug-ins, to do nifty things, like control the mount with a wireless game controller!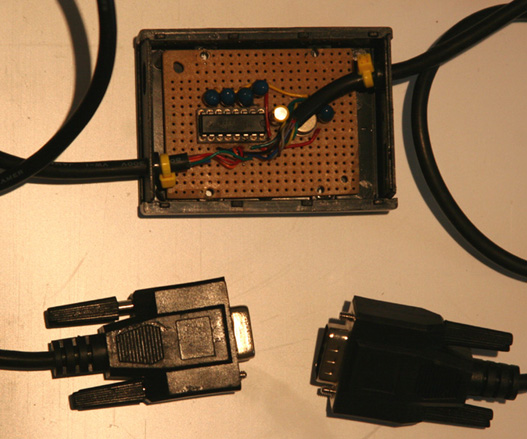 Once this was complete, everything worked great the first time. I started Starry Nights, selected the interface, connected to the telescope and it was point and click to drive the scope. The first thing you notice is the difference in the Stepper Motor Drive verses the Servo Motors in other mounts. On long slews most drives sound like coffee grinders. The Steppers of the EQ-G growl a bit when they start to move and as they slow to position, but in between it's just a very quiet whine. During tracking you can hear it ….. if you're a dog.
It was time for "First Light". I wasn't brave (or stupid) enough to drive up into the hills on my first go, so there I was on my light polluted Silicon Valley sidewalk, bathing in the warm glow of a sodium street light.
There is a nice screw on cap that covers the included Polar Scope. There is a red LED, powered off the Main that illuminates it, but without the Handset control it's much too bright to be of any use, so I just shut the power off for that procedure. I had trouble at first, because beside the Celestial Pole / Polaris guide, there are also references for the Dipper and Cassiopeia. I felt like a lunkhead when I finally realized these are for reference and not scale to the optics.
I did a 3 star align and was on my way in about 20min. from spreading the tripod legs. For a first night with the new mount I was happy because I was being slow and deliberate.
I have an ETX 70 guide scope that used to mount to my OTA, but with the EQ-G, I machined a mounting bracket to clamp it on to the end of the Counter Weight Shaft. I always liked the idea of using it as a counter weight, instead of adding more to balance it. I have a $20 Creative 1.3 MP CCD web cam in an Alu. housing I use as a guider. It took a bit to get PhD Guiding running. It would fail calibration and it said, "it couldn't move enough". So I cranked up the pulse guide rate a touch, in the EQMOD interface and bingo. The most impressive thing about this mount is how absolutely rock solid it is. Even with small FL eyepieces, when you touch the tube or focus knob, you see very little movement in the field and what little movement you do see, stops the instant you take your hands off. There is no modal ringing. It is so solid that twice I unscrewed my EOS 20d and flip mirror adapter, to change the SCT Filter and not just the bumping around to do this, but also the considerable balance shift I introduced. One of the times I came back to my laptop and it was still locked on to the guide star and tracking away! It also tracks like a Big Dog on it's own. I shot some 5 min exposures without the guiding on and the star trails were almost none existent. With the guider I did a few 10 min. shots and can see no need to use PEC.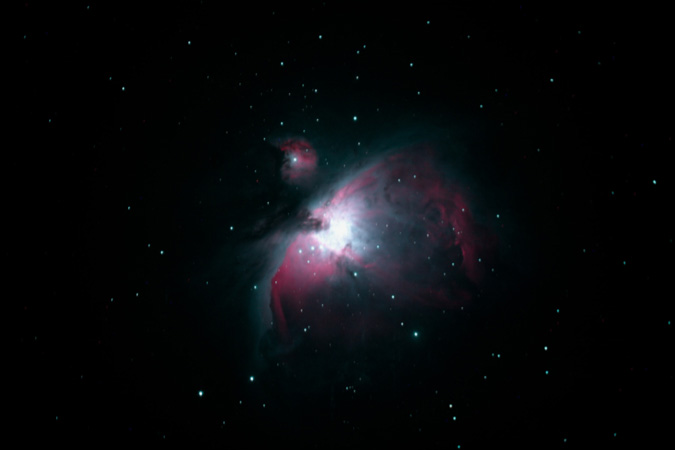 I'm no expert, even as an amateur. However I have owned and used many different mounts, both fork and equatorial through the years. By a long shot, this is the sweetest rig I have had the pleasure to use. Both design and build quality are excellent. Where I feel most mounts are over-rated for their maximum capacity, this thing may be under-rated for its specs.
I also found the Yahoo user group for this mount, to also be very user friendly. There are lots of good help files posted and friendly folks to answer any question I had.
In conclusion, the Atlas EQ-G (and the SkyWatcher EQ-6) are unmistakable 5 Star winners. This is probably the most happy I have been with any astronomy gear I have ever bought …… well there was that Ultima 8, that I got for a song!
Article: Orion Atlas EQ-G (SkyWatcher EQ-6)