CNers have asked about a donation box for Cloudy Nights over the years, so here you go. Donation is not required by any means, so please enjoy your stay.


0
Orion Starblast 4.5" Imaging Reflector
Discuss this article in our forums

Orion StarBlast 4.5" Imaging Reflector Review

A Forgiving OTA for the Struggling Newbie, the Orion StarBlast 4.5" Imaging Reflector

I am a pretty new astronomer with about a year's experience. I have no financial connection with Orion or any of the "Big Three," but they sure have a lot of my money! I'm lucky enough to live under fairly dark skies in the very western end of the Mojave Desert, about 70 miles north of downtown Los Angeles. Our biggest problem is the nearly constant winds. In the last year, I've purchased a 5" mak, an 8" dobsonian, a 90mm achromat, and the LXD75 6" Newt. The astrophotography bug has hit me pretty hard, resulting in purchases of the Celestron NexImager, a Meade LPI, a DSI-Pro, and now a DSI II Pro. To tell the truth, the equipment is smarter than I am, so my learning curve has been steep.

The jiggles in my 6" newt told me that I needed to move down in weight in order to get some success. I'm still growing in polar alignment, OTA balancing, and all the other junk you manage in that first 90 minutes before you actually start taking pictures! I like fiddling around with knobs and keyboards as much as the next guy, but I wanted to see some pictures of the beauty I was seeing at the eyepiece of the 8" dob.

I was torn between the various 66-90mm refractors on the market, and had nearly decided on one when I saw the new Orion StarBlast advertising a 114 mm aperture and a very light 3 lb, 11 oz. weight. The tube's parabolic optics seemed to make all the experts sing in reviews of the other versions of the StarBlast available. Under $200 with the tube rings was also at least $100 under any of the refractors I had my eye on. A 450 mm focal length made for a fast f/4 ratio. I wanted a big drink of photons in a light OTA so I could master using the LXD75 mount. I wanted to take some pictures, not look at star smears and an empty bankbook. I've included images of the tube on the LXD75 mount showing the center-marked mirror, the less-than-great focuser, and the whole shebang sitting in my "lift-off" roof observatory (the winds don't make a full roll-off roof practical, so I've built a sectional roof that gives me the most wind protection).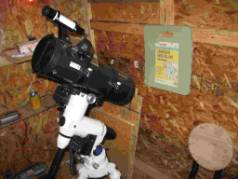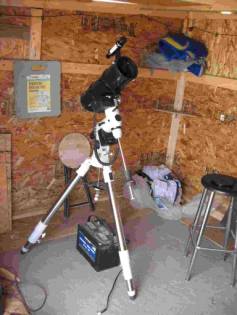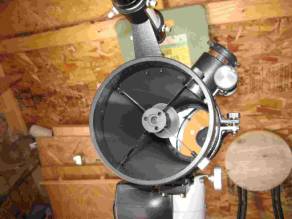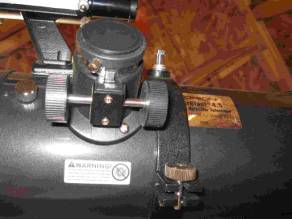 The OTA came in a sturdy package with plenty of support, and I had no trouble getting the tube rings on an extra dovetail I own. First light was on the LXD75 and I was immediately able to move the counterweight up, a good sign. Albireo showed pinpoint separation with a 26mm Plossl. I was impressed (not too difficult given my experience level), so I tried for the Veil. With the UltraBlock nebular filter, I picked it out easily. Just for fun, later that night I looked at Saturn with a 5mm Plossl. I wasn't expecting much, since Orion is very clear about this not being a planetary scope. With good seeing, Cassini drifted in and out on the edges. More than I thought I'd see.

Proof's in the pudding, or in my case, the proof's in the pictures. I've had it out at least ten times now, according to my journal, and I'm getting my money's worth. I've been able to consistently image now with 30-60 subs, unguided. IC 464, the Horsehead, amazed me for the first time. I've spent most of my time with M51, the Whirlpool, and have been surprised to see other galaxies show up in the same FOV as I process the image. I've included my results from Messier objects 13, 51, 101, and 104. All images were taken at 30 seconds, unguided. The 101 and 104 images were taken during 20 mph winds. They look much better in something besides a jpg, of course!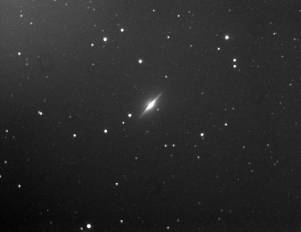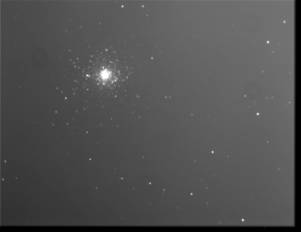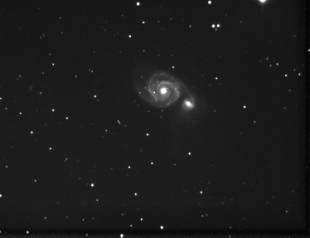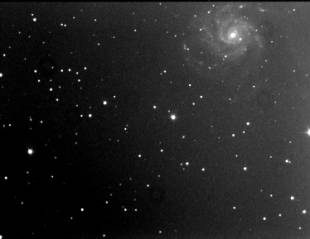 What do I like about the OTA?

1. It lets me do what I want: take enough pictures to learn something and feel some success.
2. You can't beat the price.
3. Optics are as good, if not better, than the 6" newt that came on the LXD75 originally.

What don't I like?

1. The focuser. For that price, you get a rack and pinion, and I still haven't figured out how to attach an Orion Electronic Focuser to it.
2. The location of the finderscope screws. I've put my guidescope on the OTA (and it still weighs less than the original 6" OTA), but then can't mount a red-dot finder on the tube. Again, though, for a small tube, I suppose there's not much room to begin with.
3. Collimation. Although I like the center-marked mirror, collimation is critical. I'm using a laser collimator, and am getting better at the technique.

I'm certain I would have been just as happy with one of the refractors, since the same factors of light weight and fast optics still apply. For the extra $100, someone else in my boat might go for the better focusers in those tubes. Still, for a beginner to astrophotography with a moderate mount and beginner skills, this OTA can let you take some pictures that will make your spouse go "wow" and maybe understand a little bit about the bug you have!

Richard Chapleau
Article: Orion Starblast 4.5" Imaging Reflector