CNers have asked about a donation box for Cloudy Nights over the years, so here you go. Donation is not required by any means, so please enjoy your stay.


0
Intes Micro 715 Deluxe
Discuss this article in our forums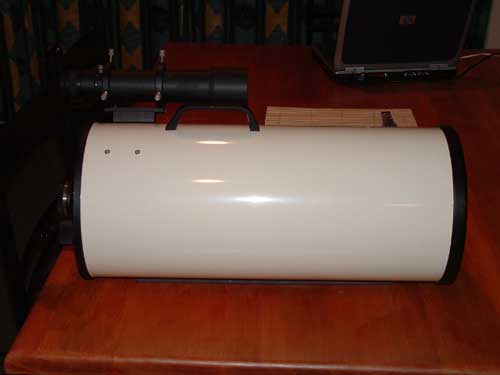 Intes Micro 715 Deluxe Telescope
This is a quick review of my latest telescope a 7.1 inch f-15 Maksutov Cassegrain. I've owned this scope for 18 months now and had plenty of time to appreciate its attributes and of course its downsides. The telescope is in my opinion extremely innovative and has features that make it extremely attractive to any serious observer wanting top notch optics and portability at a reasonable price.
These include
A 12 volt fan at rear of primary mirror which draws filtered air through the telescope.
25% by diameter or 6.25% by area secondary obstruction.
Astro-Sital primary and secondary mirrors with enhanced coatings.
certified 1/8th wave optics.
tube only 540mm long and 17 pounds in weight with eyepiece and diagonal.
5 knife edge ring baffles in the tube.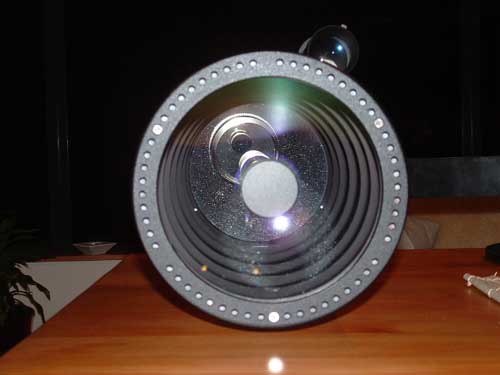 The scope also has an 11 x 55 mm finder and comes with a 12mm eyepiece and 2.4 x Barlow. OK sounds impressive what's she like out in the field? I've owned numerous scopes over the years including a fine 5 inch f-15 refractor and 6 Cassegrain type instruments. The big achromat was put up for adoption when I compared it directly to the maksutov in good seeing on the moon and Jupiter. It just couldn't show as much especially on Jupiter as the Mak and I was tired of the effort of setting the refractor. I've now compared the Mak to several other scopes and it is a fine performer. Pinpoint stars superb contrast a joy to look through. It really does have a refractor like feel to it.

The views of Jupiter, Saturn and the moon are wonderful in good seeing it handles high powers better than any of the 3 8 inch scts I've owned. Deep sky views for medium to high power are excellent also. Sharp to the edge excellent contrast wonderful views. The small obstruction when used with wide field 2 inch eyepieces leads to some sky flooding near the edge of the field. I notice this with my 40mm Pentax eyepiece. This isn't noticeable with 1.25 inch eyepieces. I still love using this eyepiece and it gives about .9 of a degree field of view. Eta Carina from a dark site has to be seen to be believed with this setup.
I also found the supplied 2 inch diagonal is baffled to prevent this but vignettes so I replaced it with a cheap but effective Antares diagonal for deep sky observing.

A comparison with my UHTC coated 8 inch sct shows only a slight drop in brightness in the Mak less than I expected. Overall coatings etc appear to be very effective.

One of the major attributes of this fine telescope is the very smooth focusing. I use the scope with a humble Skyview Pro Mount and get very little vibration when focusing the scope. Cool down is an issue it basically takes longer for the Mak to cool than my current 8 inch sct mainly I suspect because of the thickness of the meniscus lens. However with the fan activated the scope generally cools down in about 25-40 minutes. It is a lot quicker than a 7 inch Questar a friend owns.
Another point on the downside the finder has bad coma near the edges and it's hard to see the crosshairs on the darkest of nights. Also supplied carry bag hasn't stood up to regular use stitching and zips have failed.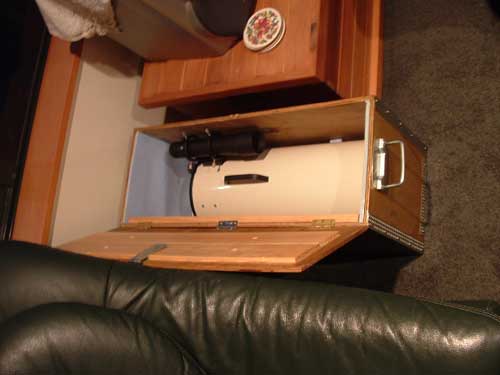 I've built a better box for the scope on a budget. Also 12mm eyepiece is very mediocre has uncoated surfaces and ghost images on brighter objects like Jupiter.
One last minor problem was collimation. The primary mirror was out when I received the scope and getting it right was a considerable trial for me personally. I was able to deduce the primary was out because I could reach collimation when adjusting the secondary. Also it was obvious when defocusing a low power eyepiece that illumination wasn't even over the whole field. I am aware of other owners who have had the same issue. The collimation is now fine but it was difficult to adjust.
Basically the telescope has 3 adjustments to the primary and secondary mirrors. The technique I used successfully fixed the problem. I defocused a star and when inside of focus used this to adjust the primary mirror. This had to be done carefully and a screwdriver and Allen keys were necessary to achieve this. I was able to determine which position to adjust by using a rolled up poster and holding it over the corrector in a position corresponding to the 3 adjustments. I found one adjustment was significantly out the other 2 needed no adjustment.
I then went to the other side of focus and removed the secondary cap to adjust the secondary mirror. I had to go to and for several times before perfect collimation was achieved. Thankfully it has stayed in collimation since. I am now very careful when transporting the telescope.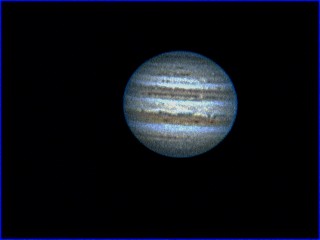 Summing up pros and cons
I consider the following the pros.
Superb optics sharp and contrasty images.
Portable and quick to setup.
Long focal length means better performance from eyepieces.
Very smooth focusing.
On the downside
The finder bag and supplied 12mm eyepiece are not without drawbacks as discussed above.
Adjusting collimation when primary is out is difficult.
All and all this scope is a keeper. I'm currently getting extremely satisfying detail on Jupiter which I have addicted to viewing at every opportunity for some years now. I really look forward to using this fine instrument on clear nights especially when the seeing is good.

Phil Barker
Phil.sonja@xtra.co.nz


Jae, Bob Sandy and Ray Cash like this
Article: Intes Micro 715 Deluxe