CNers have asked about a donation box for Cloudy Nights over the years, so here you go. Donation is not required by any means, so please enjoy your stay.


1
Celestron CPC 800XLT
Discuss this article in our forums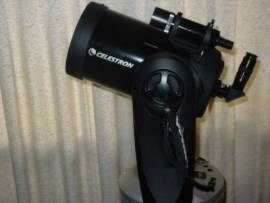 Celestron CPC 800XLT Schmidt-Cassegrain Telescope
MSRP $3795.95
Actual Price in Most Stores $1999.00
Introduction
Aperture fever struck me this year and I just had to get something larger. My Celestron Nexstar 4 is a very nice scope and I can easily grab it and go with its portability. The lack of collimation needed on a MAK telescope makes for a very quick setup and it gives me very sharp images.
However, after five years with it I wanted something larger. After obtaining the kind consent of my wife I started saving my pennies. I wanted to get at least an 8" of aperture and I wanted a scope that would provide tracking capabilities so that I could do some imaging. This eliminated the Dobsonians for me.
My experience with Celestron and noting the improvement over the years of the tracking and hand controller software narrowed my choices to the Nexstar 8 SE and the CPC series. I set myself a spending limit of $2,000 so that held me to the 8" CPC model.
The factor that eventually led me to the CPC 800XLT was the future use of photography. While there have been some very nice photos taken with the Nexstar 8 SE, I felt that the extra stability of the dual arms of the fork and the availability of PEC only on the CPC would give me room to grow in my astrophotography skills. Besides that, I think the scope looks really cool!
A few months ago I finally placed my order with Telescopes.com. Since the only one they had in stock was a floor model I actually saved a few dollars too. Thus began my excruciating wait for my scope to arrive.
CPC 800XLT Description and Features
The CPC 800XLT is a Schmidt-Cassegrain go-to telescope. It is mounted on dual fork arms in alt-az configuration and has a built-in GPS. It includes a hand controller for telescope control but can also be interfaced to a computer (interface cable is included). This scope requires an external 12 volt power source.
I ordered the model with the Starbright XLT coatings which adds about $100 to the price. I consider this well worth the money. After all, when you're in the $2000 range, what's a hundred dollars between friends*
The following are the specifications for this telescope.
Design: Schmidt-Cassegrain (SCT)
Aperture: 8" or 203.2mm
Focal Length: 2032mm
F/ratio: 10
Dawes Limit: .57 arc seconds
Optical Tube Length: 17"
Telescope Weight: 42lbs.
Tripod Weight: 19lbs.
Input Voltage: 9 to 15 volts DC (12 volts nominal)-no internal batteries
GPS: Internal 16 channel
Database: 40,000+ objects
Ports: Hand controller, 2 Aux ports, PC interface port, Auto Guider port
Included Accessories
40mm eyepiece
1.25" Star Diagonal
1.25" Visual Back
8x50 Finderscope
Car Battery Adapter
Tripod
RS-232 Control Cable
NexRemote Telescope Control Software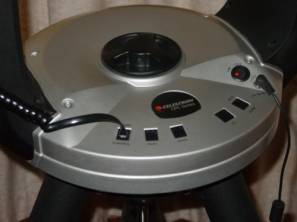 Celestron CPC 800 Port Layout
Product Performance (let the fun begin)
My telescope arrived in less than a week and in keeping with tradition the skies were cloudy. It appears to be a rule that with a new scope the sky must immediately turn cloudy.
The muted skies did not completely shut down my fun. I was able to assemble the scope and run some basic tests.
My first impression was "boy, this thing is heavier than my Nexstar 4"! The scope assembly weighs in at 42 pounds and the tripod is 19 pounds. The tripod is much heavier duty than the one with my N4. It also had some cool features that my N4 tripod did not. First there is a small bubble level built into the tripod and second there is a Velcro strap attached to the tripod to hold it together during transport.
I was actually surprised at how easy the scope assembly mounted on the tripod. Once on the tripod I tightened the clutch, rotated the base until I heard a slight click sound and then screwed it on by hand.
I connected the scope to an external Orion battery and powered it on. The first thing I checked was the software version. This is located under the "Utilities" section. I found that there had been a newer software release since the scope was built. Being obsessive about having the current software, I went to the Celestron website and downloaded the latest version. They also have a program to load the software onto your telescope. Using the included serial cable I updated my hand controller software. This is actually incredibly easy to do with their software. I followed this up by going to Mike Swanson's excellent Nexstar site and downloading his hand controller manual listing the latest features. I highly recommend that you download his hand controller manual.
Finally a day of clear weather arrived and I got to set it up outside. Celestron's Skyalign method of aligning the scope is great. You start by leveling the tripod. The GPS will automatically find your location and time. You just need to point it at three stars and it comes back and tells you that it's aligned. You don't even have to know the name of the stars to do this.
I was advised to check the collimation which is something I didn't have much experience performing. Using the star test in the manual I found the scope to be in collimation. I had heard that the images might not be as sharp as my N4. This is because the MAK style of optics should have a crisper image than a SCT. The collimation of the SCT is critical to a sharp image.
First light however, demonstrated that good collimation produces excellent images. I first went for the moon. I tried a variety of eyepieces ranging from 40mm to 6mm. The moon details were incredible. I tried my Celestron 2x Barlow and it focused perfectly with my eyepieces although trying to run the Barlow with a 6mm eyepiece was really pushing it.
My next target was M57, the Ring Nebula. While I faintly saw this object with my N4 it was much easier to discern with this scope. I could swear that I saw some slight color to it. I moved on to small targets such as Uranus and Neptune. While not seeing an increase in detail from my previous scope I did see some slight color to both that was not apparent previously.
I would rate the optics as excellent as well as the stability of the tripod (I did use vibration suppression pads). However, I did develop problems with the hand controller going intermittently blank. I later traced the problem to the connector on the hand controller. I used a crimping tool on the connector and the problem was solved.
Another area of weakness is the finder scope. The optical quality is fine but I found it quite difficult to initially align it. I now use a Telrad finder in place of it.
I had concerns of about the collimation process. You need to remove a cap covering three screws and then use a screwdriver to adjust them. I had images in my head of ramming that screwdriver into the corrector lens and scratching it while attempting to do this in the dark. I have since installed Bob's Knobs and solved that problem.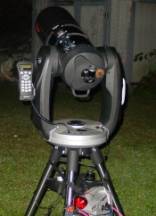 CPC 800 XLT with Telrad Finder
& Dew Shield
Recommended Accessories
Since purchasing this telescope I have added the following accessories which will make life easier and your experience more enjoyable.
Telrad Finder
Dew Shield or Dew Heater
Celestron Vibration Suppression Pads
External Battery, minimum of 7AH
12 Volt Power Adapter 2.5 amps
Bob's Knobs for Collimation
A Solar Filter (if you're so inclined)
In Summary
Like all telescopes the Celestron CPC 800XLT has its positives and negatives. In this case, the positives far out weigh the negatives.
Pros
* Excellent optics
* Sturdy tripod with built-in bubble level
* Built-in GPS
* Skyalign (easy setup)
* Programmable hand controller
* Good value for the money
Cons
* The finder scope could be better as in perhaps a Telrad finder
* A better method of collimation other than using screws is needed
* The lack of objects such as asteroids and comets in their database
* Using serial ports instead of USB makes for very slow updating and outdated technology
In summary, I can easily recommend this telescope.
Jeff O'Dair lives in Indianapolis, Indiana with his lovely wife and three dogs and has been into astronomy off and on since the 1960s. He currently owns four telescopes and is attempting to learn astrophotography.
Article: Celestron CPC 800XLT