CNers have asked about a donation box for Cloudy Nights over the years, so here you go. Donation is not required by any means, so please enjoy your stay.


0
Meade 10" LX200 ACF Telescope
Discuss this article in our forums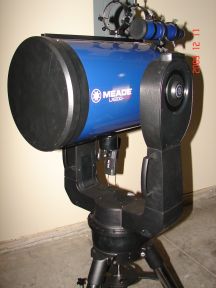 I begin this review by explaining I am a newbie. I was very much "into" the hobby of astronomy when I was 10-17 years old with low end scopes (Tasco 60mm refractor) and then left it completely for 10 years, returning to it briefly for 1 month (Hale-Bopp timeframe) then picking it up seriously 5 months ago. In June of 2009, I began to research telescopes online and eventually picked out the Meade 10" LX200 ACF. This was a tough job for me personally because the last time I researched telescopes (in 2000) the technology was nowhere near as good as it is today and electronics have begun to become a VERY important part of today's telescopes - even the new lower end scopes. I was really torn between Celestron's 11 inch CPC and the Meade LX200 10" ACF. My choice was based on the following criteria in order of importance to me..


Coma Free Optics
Ability to begin astrophotography
Aperture
Goto Capability w/ GPS
Price
Portability

The Specifications of the Meade LX200 10" from the manual are as follows...



Optical Design:
Advanced Coma-Free
Clear Aperture:
254mm (10")
Focal Length:
2500mm
Focal Ratio (speed):
f/10
Resolving Power:
.045 arc sec
Coatings:
Meade Super Muti-Coatings (UHTC)
Mounting:
Cast-aluminum, double-tine forks
Gears:
5.75" diameter worm gears, both axes
Periodic Error Correction:
Both Axes
Alignment:
Altazimuth or Equatorial w/optional wedge
Slew Speed:
1x sidereal to 8 degrees/sec in 9 increments
Power:
8 C-cell (user supplied) batteries or optional 12v power supply
Tripod:
Variable height field tripod
Accessories:



8x50mm viewfinder
1.25" diagonal prism
Series 5000 26mm 5-element Plossl
4 speed zero image shift microfocuser
16-channel GPS receiver
True-level electronic sensor

Net telescope weight:
62 pounds
Net tripod weight:
20 pounds



When the scope arrived via FEDEX the weight of the scope did not escape my attention as I brought the boxes inside for assembly - it's a bit heavy but I knew this before I purchased. The directions for assembly were easy enough to follow and the scope was assembled in under 1 hour and was ready to go. I was impressed with the weight and quality of the tripod itself which is an important factor with heavier scopes and astrophotography. The first night out (just before the sun went down), I was a bit thrown off by the micro-focuser but once the primary mirror and course focuser were properly adjusted and locked down, I got the hang of the micro-focuser and checked for proper collimation. The collimation was perfect, right out of the box. The finder scope was then setup and aligned (fairly quick operation) and as the dusk turned to night, I checked the collimation 1 final time before turning the power to the scope on for the first time. The Automatic leveling and GPS took approximately 8 minutes to achieve signal (something that has since been solved by working with Meade on the phone and a new GPS module was shipped to me). Autostar asked me to confirm my general location which was correctly identified as Springfield, Missouri. The 2 star alignment was pretty far off (approximately 4-6 degrees) but I was able to compensate by slewing the scope to the correct stars for alignment. Once the alignment was achieved, I was quick to go to Jupiter (near opposition). With the 26mm Meade 5000 eyepiece (96 magnification), Jupiter offered a striking view, with no moon out and virtually no light pollution I was amazed by how easily I could make out the weather bands and 4 of its moons as well as how sharp the view was. I then used the Autostar to slew over to Neptune just to see it I could see it. With the 26mm eyepiece, it was just a dot. Moving to the Meade 14mm 5000 series eyepiece, Neptune became a distinctive blue ball in the eyepiece. Some people say that looking at Saturn is what made them fall in love with astronomy. Well, being able to see Neptune was a wonderful moment for me. I couldn't see clouds or any kind of detail but just seeing this blue gem of a planet itself from a telescope for the first time was a pure joy. Now in December, I am looking at the Orion Nebula. This nebula is truly remarkable through the LX200. I live in Southwest Missouri were seeing is not so good (because of upper atmosphere turbulence brought on by different weather streams) I am lucky to get a good view without distortion at 200X. I say that because the clarity of this scope at 250X is really impressive.

The next few times out, I was able to see many of the galaxies and star clusters in the vast autostar library. Andromeda of course is huge and easy to see but most of the fainter galaxies are visible as well. Trying different magnifications and filters for perfect nebula viewing can be a challenge for the average newbie but I am getting the hang of it. Several of the features of this scope are quite nice, such as calibration of sensors which allows you to improve the accuracy of tracking objects. Also, the autostar has an eyepiece calculator for newbies just like me to help discern the best eyepiece for the best view. M22, the Saturn Nebula and the Pleiades were really wonderful to view through the Meade, so much rich detail. The view of these targets are very sharp. The 145,000 object index in the autostar are a bit overwhelming but over time I seem to have my favorite objects to view and visit them frequently. Autostar has a few other nice features such as "named objects." For people who do not know the catalog numbers of all of the objects in the sky, autostar names them for you instead. I didn't know Andromeda is M31 or the Orion Nebula is M42 and the Witch Head Nebula - IC2118. This allows me to view all of the objects I want by selecting them by name instead of trying to learn and remember thousands of catalog numbers. For people like me, this is a wonderful feature so I can view anything in the night sky that has common names that most newbies will be familiar with.

Tracking is excellent as long as the 2 star alignment and leveling are properly performed (can be done manually or automatically). The motor noise is noticeable during quick slewing but not so much during tracking. I have never heard any other type of scope with motor drives before so I do not have any frame of reference for the noise level. During tracking a slight "ticking" noise can be heard while it slowly slews to track the object you are viewing. The telescope itself is well balanced from the factory so I didn't expect to hear anything especially loud or any kind of grinding noise. The autostar unit itself is easy to operate and has menus within menus within menus (you get the picture). The autostar buttons are quite responsive and are backlit with red LED lights so they are easily visible at night. PEC (Periodic Error Correction) is easily accomplished with this scope in both Alt-Az and Polar mounts. The fork mount itself is sturdy and reliable but I have noticed vibrations when it is windy. "Tonight's Best" is a wonderful function of the autostar hand controller that takes you on a tour of the best objects to view on any given night. This is a handy feature when having friends over to view through the scope. You can also customize this menu to create your own guided tour of the sky.

Advanced Coma Free Optics are truly remarkable! I have viewed many night time objects through the older Meade LX200 14" GPS that does not have the improved optics (ACF) and is standard Schmidt Cassegrain. Just comparing the viewing of objects between the two allows you to really appreciate the Coma Free optics. ACF truly allows for a much more clear, sharp and virtually distortion free flat field experience in the entire field of view. The older 14" LX200 GPS does not provide the same flat field viewing experience.

The Meade 10 LX200 ACF has many ports for connecting your PC, autoguider, microfocuser, handbox (autostar), 12V power input, 12V power output, reticule eyepiece and additional RS232 (RJ11) ports. I have not done anything with astrophotography as of yet but these ports are essential for this. The software that comes with the scope allows for PC control of the scope from the PC (with optional serial cable). I have not connected a PC to the telescope as of yet. I also realize this is important for a proper review as the software functionality and ease of use is important for those interested in remote control or astrophotography. I will amend the review when I have accomplished this. Also, I have not as yet taken any pictures through the scope but have purchased the optional .63 focal reducer to do so. This scope also has a lot of mounting screws on the OTA which allows for mounting a guide scope, counterweight system, secondary finder scope or camera mount (for wide field shots)...etc.

I have since purchased wheelie-bars for the scope to make transportation easier and I take the scope out as time and weather allows. I have learned a lot about the night sky because of this scope. The Meade 10" LX200 ACF scope is sometimes referred to a scope that is for advanced level amateurs. This is not how I define myself. This scope is great for newbies as well as more advanced astronomers. Yet I freely admit learning how to use the scope features was a bit challenging at first but I quickly got the hang of it. The only complaint I have about the scope is that the GPS unit was dying and did not work well for three months until it failed completely. When I called about this to Meade and expressed that I would really miss my scope if it were gone for 4 weeks, they opted to just ship me the replacement GPS unit for the scope as opposed to me shipping the scope to them. This solved my problem once installed. There have been no other problems in my 4 months of ownership. I don't have any truly realistic criticism of the scope, it works well both optically and mechanically. I wish it came with a 2" diagonal standard (it comes with a 1.25").

You may be able to tell that there is not a lot of really high end technical details. That's because I am a "noob" and don't understand many of the highly technical aspects of the hobby. This scope has a lot of features that I don't even fully understand yet - I am still learning. I would easily recommend it to anyone though, no matter their skill level with telescopes or their knowledge of the night sky. If you don't know the night sky, this scope will teach it to you in a variety of ways on the autostar hand controller. The cost can be a bit prohibitive for many, this one sells for $3599 new but it is most certainly worth every penny. I don't really measure this hobby in dollars but in the pure enjoyment of viewing the wonders of the universe. The Meade LX200 10" scope delivers both optically and mechanically. When direct comparisons are drawn between the Meade LX90 10" ACF and the LX200 ACF 10" it comes down to whistles and bells - most of which are found in the autostar system or the included software for PC control. I like this scope and look forward to learning all of the whistles and bells it comes with as well as taking the plunge into astrophotography. The included photos show my LX200 10" ACF scope.
bob midiri, dawsonian2000, mak17 and 1 other like this
Article: Meade 10" LX200 ACF Telescope