CNers have asked about a donation box for Cloudy Nights over the years, so here you go. Donation is not required by any means, so please enjoy your stay.


0
Meade LX200 Classic
Discuss this article in our forums
Meade LX200 Classic
So, you've got your pet emu to feed, car payments on that 1986 Dodge Aires K-car and that pesky cockroach problem, leaving little in the budget for astronomy. You're interested in all aspects of astronomy. You want a scope good for planetary observing, comet and asteroid hunting, variable star observing, spectroscopy, astrophotography and deep space object observing. But those big shiny new scopes at the science store in the mall sure are expensive, and which one do you get anyway?
For budget minded astronomers ready to move up from that 60mm refractor from Sears but don't have $4,000 to spend, allow me to introduce the venerable
Meade LX200 "Classic" 8 inch SCT
. This ubiquitous scope is frequently available for sale in the various used telescope markets… right here on Cloudy Nights, Astromart, Scope Trader, eBay and others.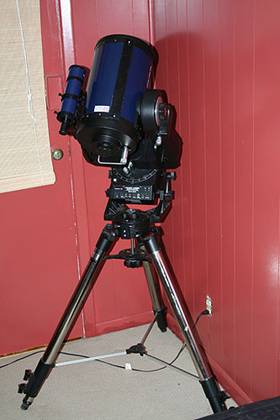 The Meade LX200 "Classic" 8" SCT
What do you get for your $1000-$1400? Actually it varies, because most used sellers are selling a "complete kit" with accessories, eyepieces and modifications. But, if you want just the stock configuration, you'll get a "goto" capable telescope on a fork mount with a finderscope, an eyepiece diagonal, a 26mm Super Plossl eyepiece, and a heavy-duty field tripod. (They'll slip in some nice dust covers, special for you). This telescope is called the "classic" because it is Meade's predecessor to the LX200 GPS and LX200-R models.
The 8" LX200 classic telescope employs the standard Schmidt-Cassegrain optical design, and comes in two flavors- standard and EMC coatings. The EMC coating is roughly equivalent to Celestron's "starbright" coatings and Meade's own "UHTC" on its newer LX- and ETX- telescopes. It delivers additional contrast and brightness owing to its superior light transmission to standard coatings. Not that the standard coatings are a slouch… The scope has a native focal length of 2000mm (f/10) which gives just the right balance between good magnification and decent field of view. This is a good focal length to view or image almost all galaxies in the sky, all the planetary nebulae, planets and some nebulas.
The fork mount design allows for easy alt-az style setup, which is great if you are doing visual work or short-exposure astrophotography (planetary imaging, for example). This setup is very quick for a scope of this size and complexity. If you're interested in long-exposure astrophotography, adding a Meade wedge allows you to use the scopes built in permanent Periodic Error Correction (PPEC). A hidden insider secret for the 8" and 10" LX200's in particular is you don't need to buy the much more expensive Meade Super wedge ($170 verus $499+).
For beginners…
This scope makes exploring the night sky much easier than fumbling finder charts in the dark, or wandering the sky aimlessly through binoculars. The computer controller, revolutionary when introduced in the early 1990's, is the predecessor to Meade's Autostar. It makes navigating the night sky a snap once you're set up. The scope also comes with a "land" mode if you want to look at that distant mountaintop or watch the baseball game from your rooftop balcony during the daytime.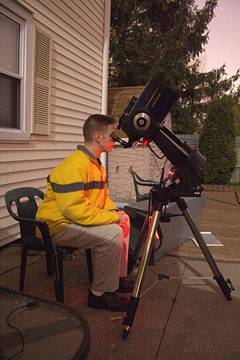 The scope's design allows for comfortable viewing of most of the sky
For advanced users, or soon-to-be-advanced users…
This scope is extremely versatile because of the computer controlling and Permanent PEC (PPEC) features. The scope can be autoguided using a serial cable connection to a PC/laptop running freeware from the internet or via an autoguiding CCD chip. The ASCOM standard telescope interface was more or less based on the LX200. Many advanced CCD, Planetarium, guiding and PEC-training applications use ASCOM. There's even a plug for an illuminated reticule eyepiece, allowing control by the keypad, letting you pulse the reticule on and off.
Setup…
The scope comes with two firm grip handles on the fork arms permitting easy lifting. Although hefty, it is within the capability of one person to set up the scope. The total weight of the scope and tripod is around 70lbs.
Using the tripod is easy. Spread apart the legs, rotate the spreader in right position, place the scope on top, then grab the large knob under the tripod base and screw it into the scope. The spreader tightens against the tripod and clamps the scope down to the base. If you're using a wedge, it clamps the wedge to the base. Meade conveniently provides a few tapped holes on the tripod base to accommodate a wedge's azimuth adjustment. Both the alt-az and wedge setups have a bubble level to make sure the tripod is level.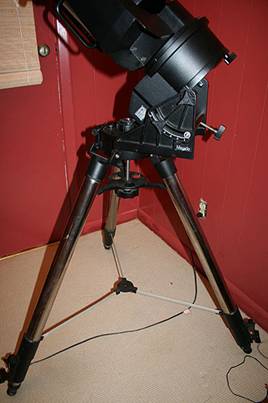 Field tripod with Meade wedge.
The basic alt-az setup is quick. Plug in the supplied AC/DC adapter to the base and the other end into a standard wall plug and turn it on. After a quick bootup (~10 seconds) the hand controller beeps indicating it's ready. If you've already set up your location's latitude and longitude and put in an accurate time, the system will remember when you turn it back on the next night. This is handy instead of having to reprogram the date and time every time you use the scope (GPS models do this automagically for you, the "classic" requires manual input).
One drawback to the old "classic" controller software is you need to know where Alnilam, Deneb, or Spica are in the sky to align the goto computer, since it refers to these aligment stars by name. Fortunately, there are "cheater sheets" available with a rough sky map indicating the LX200 classic guide stars, and the owner's manual has a few pictures to help you out. You select a star on the controller, then center it in the eyepiece, then press the keypad again. And voila, you are aligned and ready to use the GOTO and the entire NGC, Messier and planetary catalogs are at your fingertips.
Alignment when using a wedge is even easier. With the tripod eyeball-aligned with the celestial pole, setup is a breeze. If you turn the scope on with the Dec set to 0 (there's marks on the left fork arm) and the right ascension set to the meridian (pointing due south if you're in the northern hemisphere, or vice versa), the scope "knows" roughly where its pointing. You can punch in any star or NGC catalog object, center it, then hold the "enter" key to synchronize it. I find that the scope is always pointing within the finder scope's field of view (FOV) to the object you selected. It helps to synch to a second object on the other side of the sky to give GOTO's accurate within a 26mm eyepiece FOV.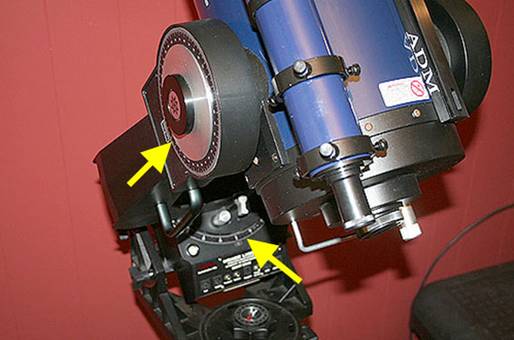 Notice the declination marks on the fork arm, and the RA setting circle (marked with arrows).
Astrophotography…
I bought this scope with astrophotography in mind. Because it's an SCT, there's little concerns about focusing your camera like you would have with a Newtonian design. Using a wedge or a field de-rotator is necessary for long exposure photography. I recommend the wedge for the 8" scope because its cheaper and makes setup easier. Without a wedge, you can use the scope in alt-az mode for planetary webcam imaging as well. Some of the best planetary images have come from LX200's. Of course, you can get better DSO images with a 14.5" RC and a cooled astro-CCD on a
Paramount
ME
, but you don't have $30K to spend- have to feed those emus, you know.
The actual periodic error on the scope is rather large by professional standards. Guiding and PEC training will get you a PEC within the variability of seeing (~2 arcseconds). The fork-mount doesn't hold up too well unguided for more than 1 minute when accurately polar aligned, at prime focus.
The scope has several threaded screws that permit you to customize your scope further. In the photos you'll notice some rails marked "ADM". These are mounting brackets for counterweights and a guidescope from ADM Accessories. Meade and several other companies make piggyback adapters which screw on the top of the telescope in the same manner. These adapters permit you to take astrophotos with regular camera lenses. With this scope, you'll be producing images with the big boys and wowing friends and family in no time!
Drawbacks…
Inherent in the design, there are a few drawbacks when compared to Meade's newer LX200s' Autostar. You cannot program new objects into the computer controller, and there is no "guided tour" that comes built in to the system. This makes it hard for tracking comets, satellites or asteroids accurately. Beginners also have to know what's visible and plan their own tours. The keypad will tell you if a planet or object is below the horizon though. For advanced users, the catalog is "limited" to only the NGC and Messier objects. So if you want to look up those obscure planetary nebulae, double or variable stars (other than the ones in the alignment star catalog), or tiny 14
th
magnitude galaxies, you'll need to manually enter in the RA and Dec coordinates.
The finder scope that comes stock with the LX200 is a straight through design, which requires lots of neck craning when looking up at the zenith, or towards the celestial pole. No worse than a Telrad in this regard. A right-angle finderscope can be bought for less than $200 if this is a problem for you.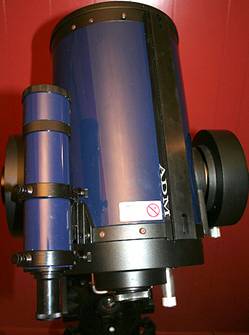 Straight-through finder scope design
The motor drive seems to struggle with a big load (heavy guidescope, counterweights and camera equipment). It does handle most camera and CCD setups though. Some will also complain about the PPEC only working in 1-2 second "chunks" and there could be worm gear variations within that time. This is only a concern for people looking for less than 1.5 arcseconds of accuracy. Besides, atmospheric seeing is rarely better than 1.5 arcseconds and autoguiding can overcome that. If you want more accuracy than that you'll have to shell out the big bucks for a better mount.
One other small drawback specific to the 8" scope is there is no mirror lock. While the 10" and up do not come with a mirror lock, it's a matter of $5 (to buy a bolt, spring and plastic part) and 10 minutes of time to create one. The 10" and up systems have a hole to accommodate a bolt that Meade uses when shipping the scope to lock the primary mirror in place.
Some common mechanical drawbacks on these systems are problems with the electronics (some scopes are 10 years old), declination and RA drive backlash, and focuser backlash. Fortunately, lots of people have "been there done that" with this scope, so there's tons of help available.
Advantages…
The biggest advantage is the availability of detailed technical help and the number of customization services available. For instance, Peterson Engineering has a well-established focuser enhancement for only $30 USD that totally eliminates focuser backlash and creates a smooth focusing action. I'm not mechanically inclined, but even this had easy-to-follow directions with pictures of actual scopes.
This system by default supports standard 1.25" eyepieces. Simple Plossl eyepieces can be bought for $20-$30 making a wide range of focal lengths easy on the wallet. Purchasing a separate diagonal allows you to use those expensive 2" Naglers, Televiews, binoviewers and filter sets. Not all systems support both 1.25" and 2" eyepieces.
The scopes relatively compact design and light weight permit easy travel to the field. The 12 volt power source allows you to hook up the car battery when a plug isn't available. I was also able to purchase a case in the automotive section of WalMart that neatly fits the scope and all the accessories for $40. It has a hole for a padlock and easy-grip handles for moving around. Far less expensive than a Pelican case, although not as secure- I wouldn't take it on a plane, for example.
Mechanically, the system is reasonably fit, and can be easily tuned to approach the performance of mounts that cost 3 times the amount of this whole scope system. The fork arms give ample clearance for a DSLR camera or large eyepiece diagonal strapped to the back, when pointing at the zenith.
Because so many people have "been there done that", there's so much easy-to-understand instructions on how to fix many of the common problems. All of the "bugs" in those procedures have long been worked out, and the best practices have risen to the top. Practically every tool (Bob's Knobs, Peterson's focuser fix, Clay Sherrod's supercharging, dew heaters, robo-focus) works on the LX200, and most all generic, off-brand, inexpensive accessories (off axis guiders, flip mirrors, focuser screens, focal reducers) fit the scope. To top it off, there is a plethora of websites with help on operating the scope. The largest, with mechanical and computer tips and techniques, is
http://www.mapug-astronomy.net
.
The biggest advantage is the cost. Because you're paying 1/2 to 1/3 of the cost of a new scope, you'll have more money for accessories and/or camera equipment, or to fix that leaky roof.
Final thoughts…
The Meade LX200 8" ("classic") SCT is an immensely flexible design that is widely available on the used market. There is a whole galaxy of accessories and upgrades, both professional and home-brewed that can be used on this scope. There is an encyclopedia of knowledge on all of the quirks, problems, and advantages of the LX200 available for free on the internet. The scope is immensely more versatile when using computer control, allowing for automated tours, sky surveys or guiding.
While not the ideal starter scope, it's a great upgrade from that 60mm refractor or 4" Newtonian. The SCT design is a good compromise between quality, tracking, photography versus visual, aperture and cost. Useable for both beginner-intermediate users up to advanced. And the money you'll save on the initial purchase will permit you to pimp your scope out with accessories and bling—something you'd have to do with a new scope anyway.
Article: Meade LX200 Classic