CNers have asked about a donation box for Cloudy Nights over the years, so here you go. Donation is not required by any means, so please enjoy your stay.


0
The Sunspotter: The Safer Solar Telescope
Please Note: This item is available for check out through the Cloudy Nights: Tiny Eyes on the Skies program. Contact the author for more information.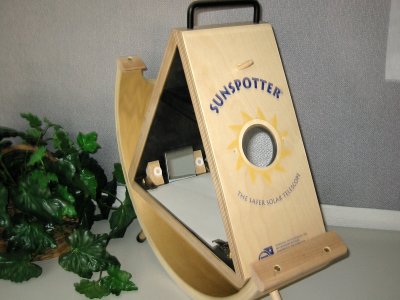 The Sunspotter: Small, solid and easy to use!
The Sunspotter is a folded achromatic refractor made of baltic birch plywood that projects a 3 ¼ x 3 ¼ image of the sun on a white piece of paper. It's designed for use with small groups, particularly with children. There are a number of advantages to using this type of a system for solar viewing when you are working in a group. The two largest are probably that you don't have to worry about the filter coming off the telescope, and that several folks can view at once. It's easy to use, transport and set up. So easy, that as an educator, I would have no qualms about giving it to younger students to use on their own, after appropriate instructions. It can be setup in minutes and used indoor or out. The instructions are very simple and contain decent lesson plans – mostly suggestions for questions and projects, further these can easily be adapted for any age group.
The specifications are as follows:
Sunspotter Specifications
Telescope type: folded-path refractor, F 11, altitude-azimuth design

Objective lens: 2-element achromat, 700 mm FL, fully coated

Objective aperture: 61.7 mm diameter, stopped down to 57.0 mm
Mirrors: 50 mm x 50 mm x 10mm, two @ 25 mm x 25 mm x 5 mm , <1/4 wave
Field lens: 4-element, 12.5 mm FL Plössl, fully coated, 10 mm aperture
Total path length: 875mm, fixed focus
Equivalent magnification: 56x
Approximate solar image diameter: 85 mm (3.25")
Field of view: .75° (1.5 solar diameters)
Pointing range: altitude 0°-30°, 30°-90° (reversed), azimuth 0°-360°
Pointing aids: 2.2 cm gnomon (±30°), 22 cm pinhole projections (±3°)
Frame material: 15mm 9-ply (cradle), 20mm 13-ply (telescope), Baltic plywood
Overall dimensions (H x L x W): 40cm x 37cm x 15 cm (16" x 15" x 6")
Total weight: 3 kg (6.6 lb.)

It is supplied with a 12.5 mm plossl, and investigation turned up that it looks to be one of the ever present inexpensive Chinese plossls available today. Please note, the eyepiece is *not* designed to be swapped out. Focus can be adjusted by loosing a screw on the side and gently sliding the eyepiece up and down in its frame. This should not be necessary often, and the manual is quick to point out this fact adding that the usual reasons for a blurry image have more to do with the atmospheric conditions than the focus of the telescope. The focus is preset at the factory.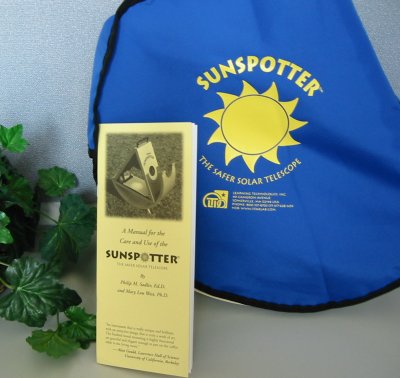 The manual and included slip cover.
With the included eyepiece, the power provided is around 56x, and the aperture of the scope is about 57mm. It weighs about 7 lbs, and is easily carried by a handle on the top. Which, in a nice touch, sticks out through the provided cover. There is a pocket provided for storage of the manual on the outside of the cover as well. My only complaint is that it's all to easy for the manual to fall out of it's pocket.

Construction is fairly solid, and it's well put together. While it's not a show stopper quality wise, there is a certain element of beauty to the baltic birch construction. There isn't much attention to detail – it's well made, but not what I would call finely crafted. On the other hand, it will hold up well and should take a fair amount of abuse – just what you want in a product that will see a lot of use with children.

Aligning the Sunspotter to the sun was a very simple matter. You simply line the gnomon ( the stick that extends from the front of the scope) up with the sun to so gnomons shadow disappears, and then center the pinhole projections on the side of the objective in the areas provided. It's easier to do than describe and very intuitive once you have seen the unit. The FOV is about 1.5 solar diameters, so you have to bump it every couple of minutes, but this becomes second nature after a while (about 2 min for me).

My first impressions are that it's a very good tool for use with groups of people, it does it's job well, the instructions are easy to follow (and printed on the sunspotter so they are hard to lose (you can tell this was designed by an educator after my own heart)), and it's solidly constructed.

The following pic was taken on the floor of my office, and illustrates that it can be used indoors as well as outside. While I haven't exactly been what you would call a dedicated solar observer in the past, I have found that I'm hauling it out on a daily basis. It's so easy to use, there really is no excuse for not checking in on our closest star. I must admit I'm really enjoying the opportunity for solar observing.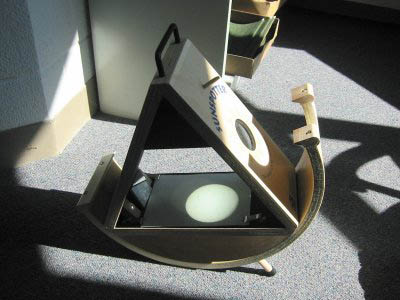 The sunspotter in use - it can be flipped around in the cradle if one side is too high.
If you have a digital camera, it's astonishingly easy to take images of the sun for a daily record. Taking pictures for a week or longer to compare and contrast would be a great project for kids to embark on during summer camp or during the school year.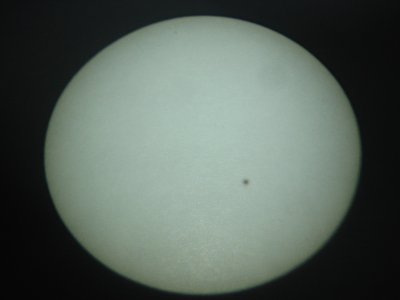 Sunspot AR0330
One of the nicest things about the Sunspotter is that you don't have to look through an eyepiece. When you work with small children, you can never be quite sure they are actually seeing an image when they look through a scope. Often they will say that they see it just fine to avoid having to admit they aren't really seeing a thing. At night, the moon is an obvious target for young observers, and you can see if the light cone is actually hitting their pupil or not. It can be quite a task to line a young child's eye up to the eyepiece during the day. With the sunspotter, you don't have to worry about this. If the child can watch TV, they can see this image. I was even able to use this with my two year old daughter, AJ. She gasped and pointed while shouting "Ball!" and grinned from ear to ear. While I patiently explained (in two-year-old-ese) that she was really seeing the sun, she gave me that look small children give when they think you are pulling their leg (for some reason I tend to get this look far more often than my wife does). She shortly changed to "moon?" but wasn't quite willing to admit it was the sun for a while longer. A quick note: Be careful when working with youngsters - be sure to discuss solar safety with them before viewing, and watch to make sure they don't look directly at the sun.

I expect to be using the Sunspotter with a couple of my local schools shortly, and I'd encourage you to do some outreach of your own.
Tom Trusock is the Director of Technology for Bad Axe Public Schools in Michigan's Thumb, and finds little more satisfying than astronomy outreach.

Suggested Links:

From Stardate Online: Sunspots - a lesson plan
http://stardate.org/teachers/activities/sunspots.html

From Stanford: Multiple plans for activites based on the Sun and Solar Science
http://solar-center.stanford.edu/teachers/lessons.html

From NASA: Thursdays Classroom: Multiple Solar Activities and Lesson Plans
http://www.thursdaysclassroom.com/index_09mar00.html

Article: The Sunspotter: The Safer Solar Telescope