CNers have asked about a donation box for Cloudy Nights over the years, so here you go. Donation is not required by any means, so please enjoy your stay.


0
The Istar Phoenix WFT 204 "Comet HUNTER "…
Discuss this article in our forums
The Istar Phoenix WFT 204 "Comet HUNTER "…       
By James Edwards / Elk Grove CA       
A New Dimension in a BIG Refractor!
If there are any here who remember my numerous articles, you will know that when it comes to astro gear and how it performs I know a good telescopes when I see one!
After owning 47 telescope types since 2001, ranging from SCT Meade's and Celestron's to many many Takahashi's in both reflector and refractor types (Yes I am the Originator of the Mewlon 250S), I wanted to conclude my hobby on a high note, NO I am far from ending my pursuit of amateur astronomy but this last refractor is the end of the road for me, and after 26 years and a tons of evenings out viewing the sky it's come down to one last refractor!
The Istar Phoenix WFT 204:
I looked at a number of incredible refractors before I elected to go with an 8" version. Often times I go back to the previous types I've owned, Meade Ed's and Takahashi's and many more I have had the privilege and honor to view though and enjoy. I also looked at many types currently being offered, but it still came down to what I A. wanted my last refractor to perform like B. Size does Matter and C. the overall performance and quality, which the Istar 204 more than exemplifies!
The day it arrived I was astounded by its size, having never seen an 8" refractor in real life, but also the crate in which it was shipped in, engineered perfectly for its weight and the travel distance to get here, all in one piece and ROCK Solid!  As I unwrapped the crate and looked inside, immediately my heart was racing, " man that is ONE BIG scope"  and as I pulled it from the crating not only was I impressed by its workmanship but by its finish, Big Black Sleek and a total BRUTE, OH YEA LETS VIEW!
The paint scheme is awesome, black pebble finish like, durable with a superb coating along with its blue dew shield ring and bezel which is also at the focus end, the same sweet blue finish, what a combination, especially for my mounting platform, a Solid Black set UP! (Enter in Darth Vader music)
The Total Set UP:
The Phoenix 204 comes with excellent machined felt lined tube rings, perfectly matched with an ADM "D" series dovetail which fit perfectly on my Losmandy G11 Gemini II mount ( my 5th G11 ) I also use a 12" pier extension because of the 204's length and naturally my 11 is fully GPS!
The Phoenix 204 comes with an ungraded Moonlight rotatable focuser, with a 10:1 micro focuser, a 1.25" reducer and each end piece comes with copper inserts to reduce wear and set screw marks. I have and always will be a Feathertouch Fan, but the Moonlight is no slouch, it is buttery smooth and solidly built, no complaints here!
Test Night One…Talk about CRUMMY SKIES!!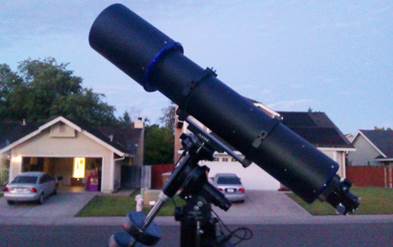 I had read the weather reports forcasting marginal conditions with a chance of rain, but never the less with a gap in the clouds, I was hell bent on taking the 204 out with crummy skies and all!
After the counter balance was set and everything was a go, it came down to only a few deep sky objects for us to look at. M31 and M32 were very good, not anything to get excited about but with 1 out of 5 transparency and a ton of moisture in the sky, both views were exceptional, the Phoenix was more than up to the task… We spent the remainder of the evening checking out M51 and again the double cluster in Cassiopeia, pin point stars between 180 and 300 power, the 204 performed flawlessly, what a BRUTE this scope is it was meant for bad skies or good, we were all very impressed!!!   
Test Night Two…Clouds again but BUT well worth IT!!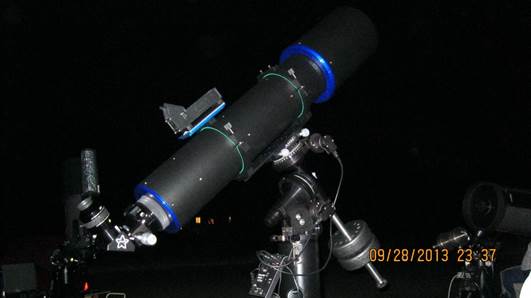 Again we faced marginal skies (2 out of 5 transparency), but even with partial cloud cover the 204 performed flawlessly. My make shift dovetail for my Telrad was alright, but one thing I will need to address to get a better finder platform. Overall the Phoenix was a marvel, star clusters looked very tight (Caldwell 14, M 22, 25, 54 to name a few ) and very detailed not what some may think about a doublet refractor, but again it's an 8" Brute so the lack of a third lens more than compensated with its aperture!  We waited for Orion to show (3am), and took a last look for the evening, it's was very good but again the moisture and clouds brought in the overall transparency marginal at best.  
Night 3 – Finally a NIGHT to BEHOLD!!!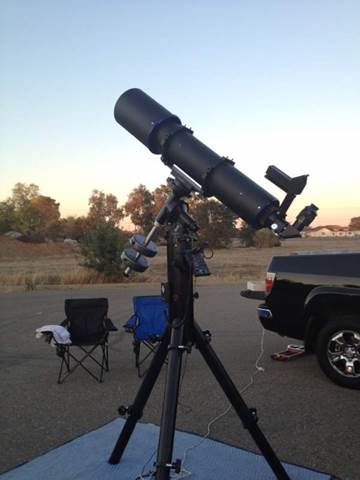 The clear sky clock was solid all day (Saturday October 5th.) showing 5 out of 5 transparency and super dark seeing after 11 pm. I packed up the truck and headed to one of our local viewing spots, Wilton CA (not too bad for the outer farm lands)
Once the sky was at its darkest, I was immediately swept to the few objects I had previously looked at, I wanted to see how the 204 performed with great sky conditions, I was utterly impressed, THIS Scope ROCKS!! 
The list of objects the 204 I was most impressive with, were open clusters and galaxies, on a planetary scale the jury is still out, but Mars and Jupiter looked good (3.5 out of 5)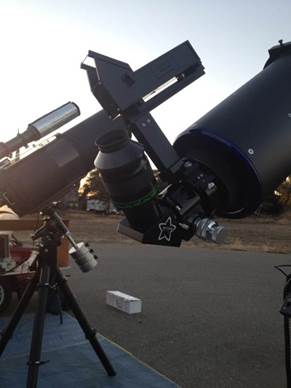 Moonlite 10:1 focuser with Istar 2" diagonal w/custom Telrad
sight ( note: Televue 41mm Panoptic )
My seeing list:
M31 / 32 / M101 / M51/52 / Double cluster in Cassiopia
Triangulum galaxy M33 /M 81/82 / The Swan M17 / the Dumbbell M27
The Hercules Cluster (M 13/ Abell 2151) / NGC 404 - MIRACH'S GHOST
The Orion Nebula - M42 / Comets: Linear - Ison – Lovejoy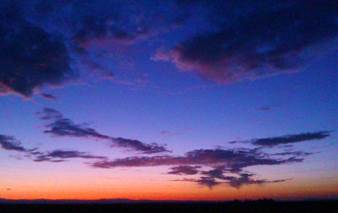 Sunday Oct. 6th @ 6:02 am, the International space station flew right
over head just as I snapped this photo…what a way to end a night of Astronomy!!
Conclusion and overall rating:
My conclusion and rating is simple. I give the Istar Phoenix 204 a 5 out of 5 rating in its class (Achromatic) and overall a 5 out of 5 in performance, fit and finish and the cost!!! Yes it is a big scope, but my G11 handles it perfectly, as would an AP900 or Celestron CGEM, and well worth the time and effort it takes to own a refractor of this size.  1 thing that Istar needs to improve on is the front lens cap, yes the stock cap more than amply covers the front objective BUT it won't stay on securely. I had Joe at Astro Zap make a custom fit aluminum end cap for me, I have to tell you Astro Zap Rocks, it fits over the dew shield perfectly just like a glove and well worth adding it to my 204 set up…False color is prevalent on brighter objects (planetary, moon and larger stars) but guess what? The notion that "fringing" or "false" color hinders or hampers what you see in a "doublet" is phony baloney nonsense, WHAT the 204 gives you is breath taking views that more than compensate for any color that shows… This scope is a beauty to aspire to, the stock aluminum rings are excellent as is the Istar 2" diagonal and all in all this is one scope that will more than give you a life time of viewing excitement and pleasure… Owning an 8" refractor brings a new dimension in owning a refracting telescope but I highly recommend it to astronomers looking to upgrade, you're going to LOVE this Beast!!
Type: Achromatic / Number of Elements: 2
Lens Diameter: 210mm / Clear Aperture: 204mm
Focal Length: 1200mm / F/ ration: 5.9
Lens Coating: Fully Multi-coated
OTA Weight: 24 lbs. / OTA length: w/dew shield 48 inches
Lens diameter: 210 mm / Clear aperture: 204 mm (8")
Focal length: 1200 mm / F stop: F/5.9
Lens elements: Fully Multi-Coated 
wacopsc, Astronewb, Dhellis59 and 1 other like this
Article: The Istar Phoenix WFT 204 "Comet HUNTER "…