CNers have asked about a donation box for Cloudy Nights over the years, so here you go. Donation is not required by any means, so please enjoy your stay.


0
Vixen Ascot Super Wide 10x50 Binocular Review
Discuss this article in our forums
Vixen Ascot Super Wide 10x50 Binocular Review
by Jim Van Dyke
9/12/2014
Published specifications
Objective size 50mm
Magnification 10x
Porro prism BaK-4
Optical coating Multicoated
Field of view 446' at 1000y (8.5°)
Exit pupil diameter 5mm
Minimum focus distance 5.7m
Weight 2.0 lbs
Size 7.0 x 6.0 x 3.0"
Price $165 free shipping in 2014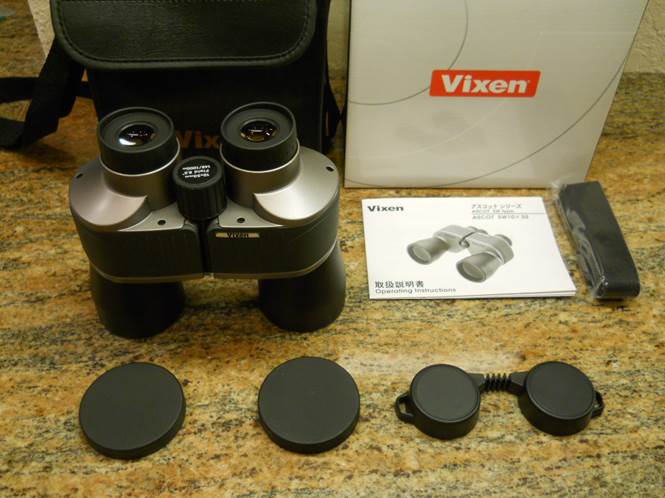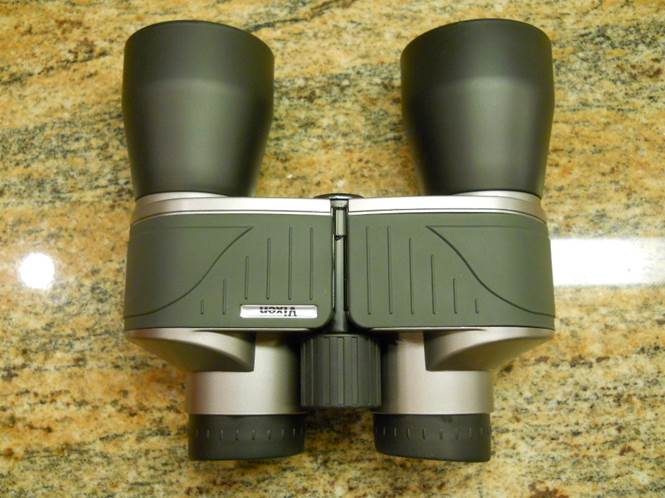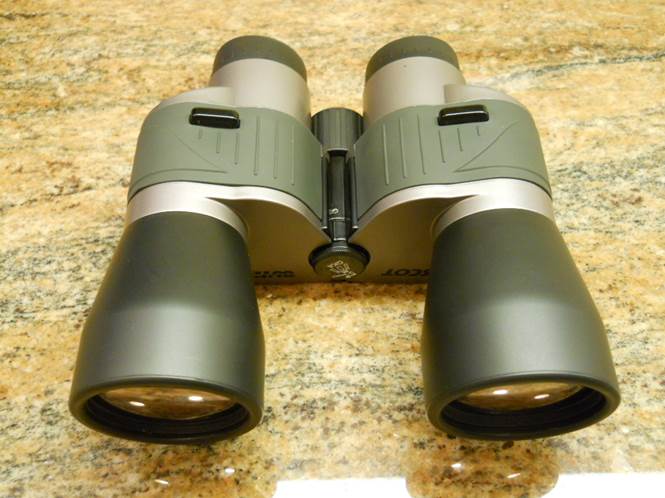 Basic Measurement Results
Aperture 46mm
Oculars 20mm diameter
TFOV 8.9° !!!
Weight 30 oz

Using this formula:
tan( AFOV/2 ) = magnification * tan( TFOV/2 )
Apparent FOV is about 76°
Made in China
Aperture was measured by focusing binoculars at infinity, then panning a laser into the ocular laterally to simulate a parallel beam. I put paper over the objective and measured the edge to edge illuminated boundaries. I achieved consistent results a little over 46mm.
Fit and Finish
The Ascot uses plastic in its construction to reduce weight, and I couldn't help thinking they have a cheap feel to them. The Rubber creaked against the plastic as I gripped them. But they operated solidly mechanically. There is no bridge rocking as these binoculars have an internal focusing mechanism.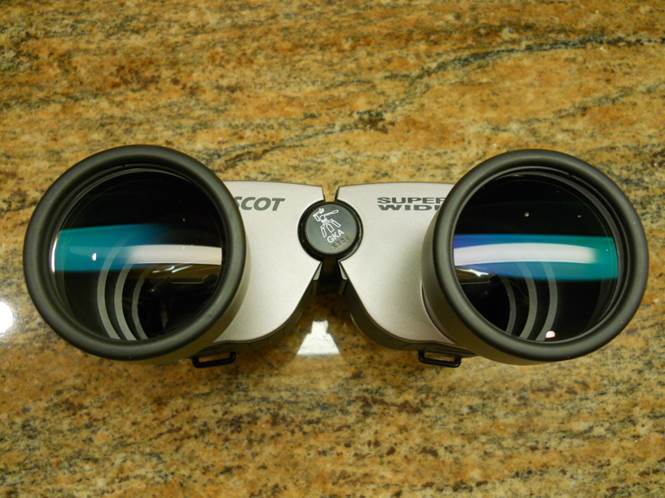 Viewing Impressions
I was fortunate enough to look through two different pair (at different times, and spent more time on the second pair.)
I first tried these binoculars during daytime and found them unusable. The first pair had reasonably sharp center of view, but the top half of the field was much blurrier than the bottom. The second pair simply would not come to sharp focus center field. There was no "snap", just hunting. The blurry perimeter of the extreme field of view of both was distracting.
At night under a starry sky, they performed much better. It took about an hour to learn how to use these binoculars. I have a big nose which bumped the center focusing knob, but after some experimentation could avoid this. Although the eye relief is very short, that also can be managed while seeing the field of view without eyelashes wiping lenses.
This design uses mirrors instead of prisms on the objective side, and as a result the focusing knob works backwards. I'm used to racking in clockwise to infinity, but these turn CCW. Like most wide field binoculars, lack of flat field benefits periphery sharpness by defocusing center sharpness a little past infinity.
Binoculars I have for comparison are a Celestron Nova 10x50 8° FOV from 1989, and a Fujinon 10x50 FMT-SX 6.5° FOV from 2012, both Japanese. Although the narrowest, the Fujinon easily had the widest sharp FOV, the best ability to show faint stars, and brightest pinpoint stars. The wider Nova were excellent in central star sharpness. The Fujinon provided the most captivating view.
I thought the Nova were wide, but they simply are not in the same league as the Ascot. The Ascot truly Spacewalks, as the sky fills my entire field of view. I could easily capture eta to lambda Sagittarius (bottom of handle to teapot dome) in one field.
Although the wide FOV is thrilling, Ascot central image is quite soft. Central bright star images are large, and the "sweet spot" small. It's as if I'm not wearing my glasses. There are few faint delicate stars as most of them are unfocused. The view through the Nova is much sharper, and the area of sharpness much larger.
Ascot contrast is good, and the ability the see the Dumbbell Nebula in suburban skies is equal to the Nova. M22 is very easy to spot with them from the city, and the Ascot works well finding objects as it has good contrast.
When I looked briefly through the first Ascot at a dark site, I liked the wider view over the Nova, but didn't like the non-uniform sharpness. The second Ascot, I preferred my Nova because of general image softness. I currently own no Ascot, and view through my other wide field binoculars.
Opinions and Conclusions
Are the Vixen Ascot 10x50 the final answer to wide field astronomy?
Although the wide field is thrilling, I am disappointed by Vixen's lack of quality control on the Chinese optics. One pair had a blurry upper half, and the second pair could not focus sharply. I would be reluctant to buy a pair without looking through them first.
Yvonne990390791 and Wndwlkr like this
Article: Vixen Ascot Super Wide 10x50 Binocular Review