CNers have asked about a donation box for Cloudy Nights over the years, so here you go. Donation is not required by any means, so please enjoy your stay.


2
Who's Afraid of a Phantom: Istar Phantom 140mm F/6.5, that is?
Discuss this article in our forums
Who's Afraid of a Phantom: Istar Phantom 140mm F/6.5, that is?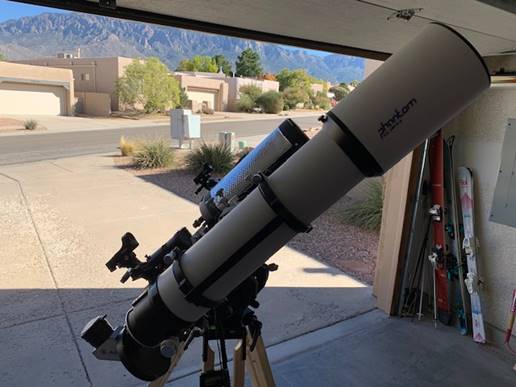 October 26, 2021
By ABQJeff
So just in time for Halloween a Phantom arrived at my door in mid-September. No not a ghost, although it wears white, I am speaking of the new Istar Phantom 140mm F/6.5 Triplet APO made with Hoya FCD-100 and Lanthanum glass (www.istar-optical.com or from www.starizona.com). I ordered this 'first-run' 10.1 kg (22 lb) telescope to compliment and balance my Celestron 9.25 EdgeHD in dual Alt-Az mode on an Atlas Pro mount. It will provide the wide fields (~3 degrees) that my SCT will not do, and be a decent backup for planetary observing when seeing hampers full use of the C9.25's aperture. I am currently visual only, and due to space limitations, this combination now completes my initial telescope collection (which you can see in the picture below and is listed in my signature). I have been doing astronomy just over one year, taking it up during COVID like many others. I pride myself on not picking just what is popular, but what gives best value for my needs. In this case, I chose a scope that all reports say are in the same class as a TEC-140, but for thousands of dollars less expensive and with no delay in receiving.
Istar guarantees a minimum Strehl of 0.90 and the telescope currently lists for only $4495 and includes a 4" dual speed R&P focuser, tube rings, Losmandy (ADM D-series) sized dovetail, handle, retractable dew shield and sturdy Aluminum carrying case. For a triplet APO with high-end glass of this size, with a Strehl guarantee, that is a GREAT bargain. Teleskop-Service Optics, Sharpstar and Explore Scientific all have triplet APO 140mm f/6.5 products, but none offer a Strehl guarantee. Additionally, while the Sharpstar and TS Optics version are in this price range, the Explore Scientific scope is $6000. Furthermore, while TEC-140 is a bell weather in this class, it runs over $8000 for the equivalent set-up.
But can this small boutique brand F/6.5 140mm really hold up to real world conditions? Will there be some CA? How is its light gathering ability? Does it arrive collimated? What is its build quality? Let's find out!
First the unboxing. The Phantom comes well packaged in two boxes. The exterior box is heavily taped. The inside of the interior box is lined with foam around the hard aluminum case.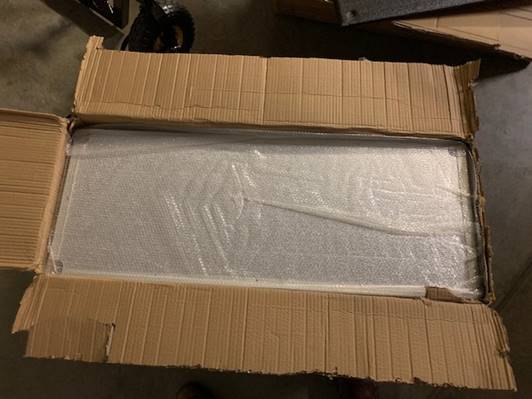 The aluminum case arrived unscathed and opening the telescope was in perfect condition as well.
The telescope comes with the sales invoice, Warranty certificate for your serial numbered telescope and Ales Krivanek (the owner) will send you a link to the optical test report that you can download.
My scope arrived with a 0.955 Strehl rating. And actually I had access to ALL the test reports from this first batch of Phantoms. All but one of 11 had Strehl above 0.95, and that one had 0.944 (Ales, you should guarantee a 0.94 Strehl!) So their source of glass and lens fabrication is obviously excellent.
The telescope has a BIG 4" R&P focuser that is very sturdy for the heaviest camera or binoviewer gear. It includes a finder scope shoe and has 80mm draw length with measurement indicators. My impressions of the focuser movement and build quality is discussed below (bottom line: not a Starlight Instruments focuser.)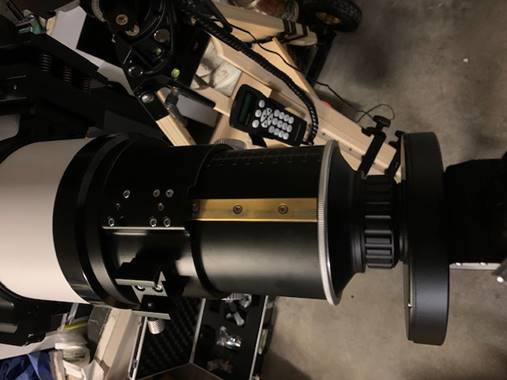 The lens cap is a very nice aluminum metal threaded to twist on and has a threaded stop down aperture as well.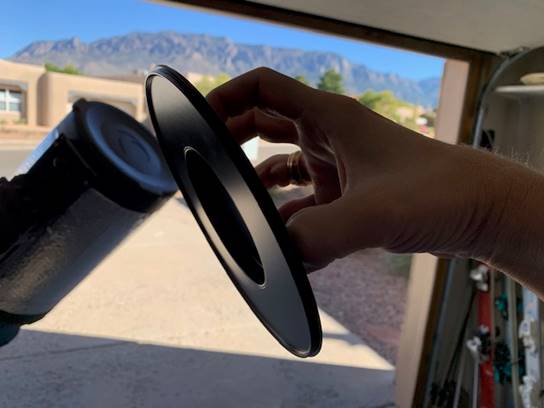 The dew shield is very nice and retracts with the loosening of two large black thumb screws.
However, you will notice, it is such a new scope, they have the wrong F/# on the dew shield. They provide stickers to correct it (if and when I get brave enough to change it).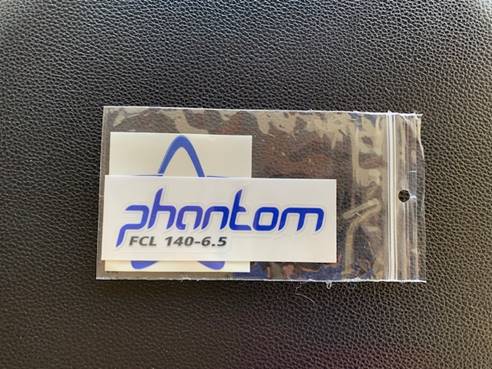 Removing the focuser and peering inside, there are multiple baffles (I counted 4, but there may be 5) and the entire interior is covered in black felt velvet (very nice, this is the only one of my telescopes to have that!)
So how about mechanics performance. Well, this is where there are issues.
One: when it arrived, two screws from the focuser had come loose in shipment and fell off in the case. These screws helped hold the draw tube in place and a rattling draw tube alerted to me their absence. Easy enough to place back in (but one shouldn't have to for a $4500 telescope, my $500 Orion refractors didn't come this way).
Two: A larger issue is the 2" "twist tight" mechanism that holds the eyepieces (twist tight attaches via worm screws and M63x1mm thread to backplate of focuser). The twist tight doesn't do a good job of holding EPs or diagonals, and in fact the provided 2" to 1.25" adapter fell right out and landed on my garage floor (denting the edge). I prefer, and ordered, a Baader 2" to 1.25" clicklock adapter replacement for the damaged adapter. I replaced the Istar twist tight adapter design with a Teleskop Service Optics short adapter for 2" to M63 (https://www.teleskop-express.de/shop/product_info.php/info/p11236). The issue with the twist tight is a known issue that Istar says on their website they are going to address.
"Replaced the Istar 2" twist tight (in my hand in image) with TS Optics short adapter for 2" to M63" (attached to focuser)
Three: Backfocus. I not only replaced the loose twist tight because it doesn't hold EPs and diagonals well, but also to shorten the optical path length of the focuser. The Phantom has a 138 mm backfocus from the back of the 2" adapter with focuser fully retracted. However, I use a 2" filter wheel and 2" APM Amici diagonal. I could not get focus in the base telescope configuration with my Explore Scientific 2" eyepieces (82 degree-18, 24, and 32mm and 68 degree-40mm). I was ~5mm off of achieving focus. The new TS Optics short adapter reduces the optical path length by 9.5mm, so now I can use the telescope with my 2" Explore Scientific EPs (yay!).
The second production run of Phantoms now has a removable 80mm section, this is great for binoviewers so you wouldn't need a glass path corrector. However, this would not have helped me as then I wouldn't have been able to use my 1.25" EPs which were able to achieve focus in the base configuration and cutting 80mm from optical path length would put it out of the focuser range.
(Note: just for info, the focuser backplate attaches to the draw tube with a M102x1mm thread)
Four: Focuser movement. The focuser is robust, as mentioned. However, it is not buttery smooth. You can feel the gearing as you move the focuser. I ordered a 3" Feather Touch focuser (this scope uses same attachment as a Takahashi FS-128, M145x1, to attach the focuser to the main tube). The 3" focuser is even a shorter optical path length, which will allow me to use the rest of my 2" EPs. When that focuser arrives (Starlight Instruments currently has a pretty big backlog) that will effectively add ~$1000 to the cost of the telescope. But still a bargain compared to other Super APOs on the market.
Five: Dovetail bar and rings. The dovetail bar and rings are custom machined for this telescope. They are of very nice quality and have good fit and finish. But, the holes for the rings and dovetail I measured to be ~50mm spacing, which is not standard. Thus, it is not possible to change out rings or dovetails. If someone wants to do this they have to buy a whole new ring and dovetail set which runs $500+ (for this size telescope). Also the dovetail itself is very slightly narrower (like 1-2 mm) than an ADM D-series dovetail. I investigated this because my Optec Libra telescope position fine adjuster, which I use on the left secondary scope side of my Atlas Pro, would not securely hold the Phantom's dovetail (dovetail would slip in mount when pointed to Zenith), no matter how hard I tightened the Optec Libra's mounting screws. The Optec Libra holds my C9.25 (with ADM D series dovetail or the base Celestron orange CGE dovetail) just fine. Since the 140mm Triplet APO is very end heavy (ie puts a lot of torque on the left side Atlas Pro secondary scope mount), it is best if it is on the right side anyway. So that is how you see my set-up configured.
Onto optical performance. It turns out all the 'meh' performance is for the mechanics of the scope, so the 'critical things' I had to say about the Istar Phantom are done. The optics are incredible; I was truly amazed as you will see below.
For the optics battle, I used the October new Moon week and my family fall vacation to put my current inventory of scopes up against the Phantom. The viewing location was Canyon Madness Ranch, near Roy, NM. It is a Bortle 1 location, and luxury adventure ranch. So I had nighttime activities to do, and my family could go horseback riding, ATV riding, do archery, skeet shooting, feed the peacock, etc. during the day.
Seeing for the evaluation was typical New Mexico 1-1.5". First night was totally clear, second night some clouds.
For my comparison, I put the best representing telescope of each category versus the Phantom. So who was afraid of the Phantom?
Color Correction/Chromatic Aberration:
Altair Wave 102 F/7 (715mm FL) vs Istar Phantom 140mm F/6.5 (910mm FL)
When spending the money to get a triplet APO, the first thing you want to be sure of is zero false color. However, 140mm and f/6.5 is a new-ish pairing in astronomy triplet APOs. Is 6.5 just too fast for a 140mm objective (eg TEC 140 is F/7)? So for this comparison I put my Altair Wave 102mm F/7 0.98 Strehl FPL-53 triplet APO versus the Istar Phantom 140mm f/6.5.
Targets: Vega, Capella and Sirius
Used same diagonal: Orion dielectric diagonal (to be sure no CA from my prism diagonals)
EPs: 1.25" Televue Delite 3mm in Altair Wave (238x) and Televue Delos 3.5mm in the Phantom (260x)
Result: First note, no collimation needed. The Phantom arrived perfectly collimated. ZERO color in either scope on each of these targets. As air currents changed seeing (and put the scope slightly out of focus), a small portion of both scopes outer airy rings would very briefly show a very, very slight tinge of coloring as an air current passed, but if anything the Altair Wave was worse. But this again was from seeing putting the scope out of its focus point. In focus under good seeing, total bright white on all three of these stars.
Verdict: NO CA in either scope. Altair Wave 102 F/7 is NOT afraid of the Phantom but neither is the Phantom afraid of the Wave
Planet and Lunar Performance:
Celestron 9.25" Edge HD vs Istar Phantom 140mm f/6.5
The standard rule of thumb for telescopes with central obstructions, like an SCT, is that you subtract the diameter of the obstruction from the overall objective to get its relative contrast performance, ie its planetary performance. The C9.25EDgeHD has an 85mm CO, thus it should behave like a 150mm unobstructed telescope under this guideline. How did the C9.25 Edge HD and Phantom stack-up versus each other?
Targets: Jupiter, Lunar Gassendi crater (10 days later when there was a moon)
Diagonal: Orion Dielectric diagonal
EPs: 1.25" 8mm Stellarvue Ultrawide on SCT (~300x), 1.25" Televue 3mm Delite on Phantom
Result: The contrast was about equal between these two scopes, however the resolution and color on Jupiter, provided by the 9.25 inches, provided to much for the 140mm APO to beat. I was able to see double the number of distinct color bands in Jupiter with the 9.25 SCT, just because I could better detect the color. And on the Moon, Gassendi crater, there are three riles in the lower right hand corner. These showed like scratches in the Phantom. However, in the C9.25, they were deep much more easily noticed grooves.
Verdict: C9.25 Edge is NOT afraid of the Phantom for planetary and lunar.
Double Star Performance:
Celestron 9.25" Edge HD vs Istar Phantom 140mm f/6.5
With the extra resolution, one would expect the C9.25 to beat out the Phantom on double stars. However, the C9.25 has a significant central obstruction which pushes energy out of the center portion Airy disk.
Targets: Double-Double in Lyra, Almach (Gamma Andromeda), Eta Cassiopeiae, Iota Cassiopeiae
Diagonal: Orion Dielectric diagonal
EPs: 1.25" 8mm Stellarvue Ultrawide on SCT (~300x), 1.25" Televue 3mm Delite on Phantom
Result: True to expectations, the C9.25 better resolved all targets with more clear separation between stars. HOWEVER, the individual star Airy disks appeared better in the Phantom as the central part was brighter and more distinct (as the SCT pushed energy out the second and third rings). So resolving doubles the larger aperture SCT won, for admiring doubles the Phantom wins.
Verdict: Tie. Both scopes performed well on doubles and each had their own 'pros' to their use on doubles (glad I own them both :->). C9.25 Edge is NOT afraid of the Phantom for doubles but neither is the Phantom afraid of the C9.25 Edge on doubles.
Small DSO (aka 'fuzzies') Performance:
Orion 150mm Maksutov Cassegrain Telescope (MCT) vs Istar Phantom 140mm f/6.5
Similar to planetary contrast, there is a rule of thumb for telescopes with central obstructions, like an MCT. The rule is you subtract the area of the obstruction from the overall objective area to get its relative brightness performance, ie its deep space object (DSO) performance. And since Cats, like SCTs and MCTs, have a narrow field we are looking at small DSO, aka "fuzzies" performance. The Orion 150 MCT has a 47 mm CO, thus it should behave like a 142mm unobstructed telescope under this guideline. Using a variety of eyepieces to from low to high magnification, how did the Orion MCT and Phantom stack-up versus each other on smallish Deep Space Objects?
Targets: Ring Nebula (M57), Swan Nebula (M17), Lagoon Nebula (M8), Sculptor Galaxy (C65/NGC253), Pinwheel Galaxy (M33), Andromeda Galaxy (M31) (center and edge), M32
Diagonals: APM Amici 2" Diagonal (with 2" filterwheel attached) in each telescope
EP combinations: ES 40mm-68 in MCT150/ES 20mm-68 in Phantom; ES 30mm-82 in MCT150/Stellarvue 15mm-82 in Phantom; 20mm Orion 80 degree in MCT150/10mm Celestron Luminos in Phantom; 17.5mm Baader Morpheus in MCT150/9mm Baader Morpheus in Phantom; 12.5mm Baader Morpheus in MCT150/6mm Orion 80 degree in Phantom; 9mm Baader Morpheus in MCT150; 4.5mm Baader Morpheus in Phantom; 8mm Stellarvue 82 degree in MCT150/4mm Meade PWA 82 degree in Phantom.
Result: For whatever reason, the extra mirror bounces of the Mak, the felt lining the interior of the APO, the refractor's baffling, magic pixie dust, the Phantom was about 10% brighter on all targets at all magnifications (and verifying sizes of objects were same in each scope). The MCT150 was more performing like a 130mm unobstructed telescope. And on Andromeda, the extra contrast of the APO was kicking in as well so I could better see arms and features against the space background (wasn't just a light grey blob).
Verdict: The Orion 150mm Maksutov Cassegrain IS afraid of the Phantom on Deep Sky Objects.
Very Large DSO Nebula Performance:
Orion 120ST 120mm F/5 Achromat doublet vs Istar Phantom f/6.5
While the Phantom APO beat the MCT150 on smaller DSOs, how will it do against a fast achromat on the big DSOs? Of course the 600mm of the 120ST will give it a wider potential field of view. So seeing the entire Veil Nebula or North American AND Pelican at same time with good framing, that is an automatic win for the ST120. But for the 3 degrees the Phantom can see with an ES68-40mm…which is better?
Targets: North American Nebula, Eastern Veil Nebula, Andromeda Galaxy (in entirety)
Diagonals: APM Amici 2" Diagonal (with 2" filterwheel attached) in each telescope, used filter wheel set to none, Orion Skyglow and Orion Ultrablock filters for Nebula comparison.
EPs: ES82-30mm in 120ST (6mm exit pupil, 4.1 degree FOV), ES68-40mm in Phantom (6.15mm exit pupil, 2.99 degree FOV)
Result: Very close. Of course, as mentioned, the 120ST wins if wanting to see the whole of very big objects with good framing, but on just the 3 degrees they both can see, the Phantom wins. It is about 10% brighter, more than the extra .15mm of exit pupil would indicate. Better baffling? Felt lining? And again the extra contrast (and resolution of 140mm vs 120mm) meant the wisps of the Eastern Veil just showed a bit more in the Phantom. See more (120ST) or see better (Phantom)…
Verdict: Tie. Like with double stars, each scope brings its "pros". 120ST is not afraid of the Phantom on very large DSO nebulas, but neither is the Phantom afraid of the 120ST.
Summary:
The Istar Phantom 140mm f/6.5 is a new entry in the large (5"+) triplet APO world. For the price to performance it is an excellent option. The vendor is already implementing upgrades (eg 80mm removable section from OTA tube) and recognizes need to make further improvements in its mechanics (eg 2" twist tight clamp). The optics are superb and are even better than the advertised 0.9 Strehl minimum guarantee. Another independent reviewer who provided a review to Istar even said the optics beat out a TEC 140. I have never viewed thru a TEC 140, but based on my comparison tests, I don't doubt it. It arrived in perfect collimation and had zero chromatic aberration. It completely blew away a 6" Mak on deep space performance, held its own against a C9.25 on doubles and an ST120 on large nebula, and its planetary performance vs the C9.25 was only beat because of the extra light gathering and color that the larger aperture brings to bear.
If you are interested in a super high performing 5+" triplet APO, that is much less than comparative peers, don't be scared, I highly recommend you take a look at a Phantom!
Clear Skies (and Happy Halloween)!!
ABQJeff
Binos: Oberwerk 12x60 LW & Deluxe III 20x80
Scopes: Orion:ST120 w/GSO 2xspeed, ED80 w/GSO 2xspeed, 150MCT w/FeatherTouch/Baader 2" clicklock; Altair:102 f/7 EDT; C9.25 Edge HD w/FeatherTouch/Baader 2" clicklock; Istar:Phantom 140 f/6.5
Mounts: Atlas Pro/Berlebach Planet, 2xStarSeeker IV/Berlebach 212 tripod, VersaGo II/SSIV tripod, Paragon Plus/Versa Go II tripod, Az-Gti
Diagonals: 2xOmegon 1.25" RACI/2x APM 2" RACI/Baader T2 Zeiss/Orion Dielectric
Filter Wheels: 2x1.25"(planet, nebula), 2x2"(nebula)
Top EP: Daystar Quark Gemini; Orion LHD 6/20, 20mm Reticle; ES 82(30/24/18), 68(40/24/20/16); Celestron Luminos 10/23; Meade PWA 4-82; Morpheus 4.5/6.5/9/12.5/14/17.5;Pentax XW 5; Stellarvue 8/15 ultrawide, 26mm Reticle; TV 3mm Delite,3.5mm Delos
Bob Campbell, Psion, TheBigEye and 19 others like this
Article: Who's Afraid of a Phantom: Istar Phantom 140mm F/6.5, that is?