CNers have asked about a donation box for Cloudy Nights over the years, so here you go. Donation is not required by any means, so please enjoy your stay.


5
Wireless Control of Canon EOS DSLRs with DSLR Controller and TP-Link MR3040 Wireless Router
Discuss this article in our forums
Wireless Control of Canon EOS DSLRs with DSLR Controller and TP-Link MR3040 Wireless Router
DSLR Controller $8.00 (Google Play store)
http://dslrcontroller.com/
http://dslrcontroller.com/guide-wifi_mr3040.php
TP-Link MR3040 Wireless Router ~ $30.00 (Amazon and other sources)
http://www.tp-link.com/en/products/details/TL-MR3040.html
When doing astrophotography, most of us use a laptop for camera control, autoguiding and image display. At public outreach stargazes we often just want to take a single time exposure in order to show visitors what 'that fuzzy blob' they see in the eyepiece really looks like, it's often not at all convenient to set up a laptop. A tablet is an excellent tool for image display, but there's still the problem of a USB cable from the tablet to the camera. Many tablets don't even have a full size USB connection or require a special adapter or cable, but they all have WiFi. That's great if you're using a camera that has WiFi capability but what about those DSLRs that don't? Enter the TP-Link MR3040 Wireless Router.
The MR3040 is a small wireless router, readily available for about $30. It has a full size USB 'A' port which connects to a camera, a USB 'Mini B' port for charging its 2000mAh battery, and an ethernet port. After installing dedicated firmware (following the guide at the website listed above) it connects via USB to any Canon DSLR, the MR3040 will then establish an ad hoc network and provide a wireless connection to an Android tablet or Android phone running DSLR Controller.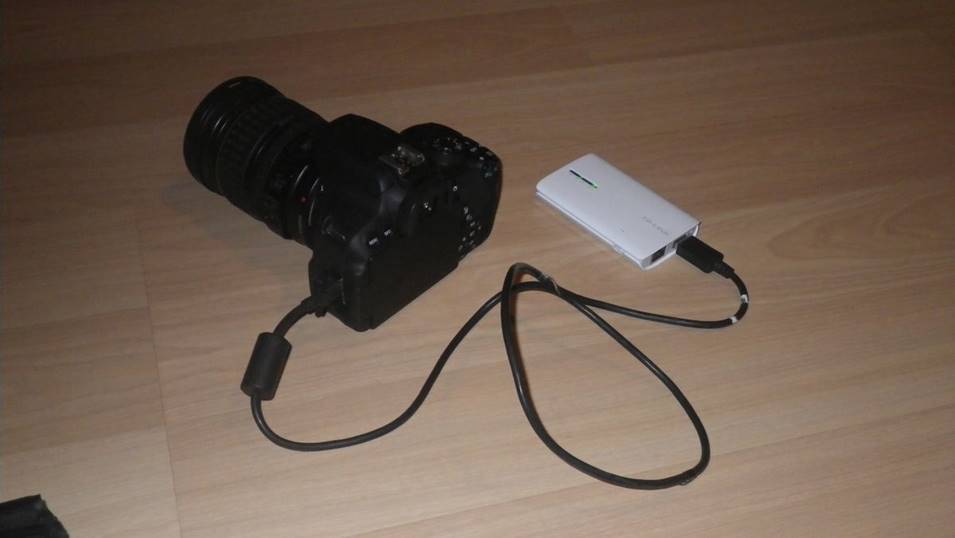 Canon T5i and TP-Link MR3040 Wireless Router
What can you do with DSLR Controller and the MR3040? Pretty much everything you can do with the controls on your camera - even more, from the basics of setting ISO, white balance, and exposure duration to more advanced features such as bracketing and time lapse. Magnify the image and tweak focus with an autofocus lens attached (although you'll have to turn off AF before taking the shot). The Liveview image is displayed on the tablet or phone instead of the camera's LCD. Once the exposure is complete, the app takes a few seconds to download the jpeg image to the tablet and displays it. Zoom in with thumb and forefinger. You can transfer the jpeg image (or multiple images) to your tablet, or select Play and tap on one of the thumbnails to display it full size.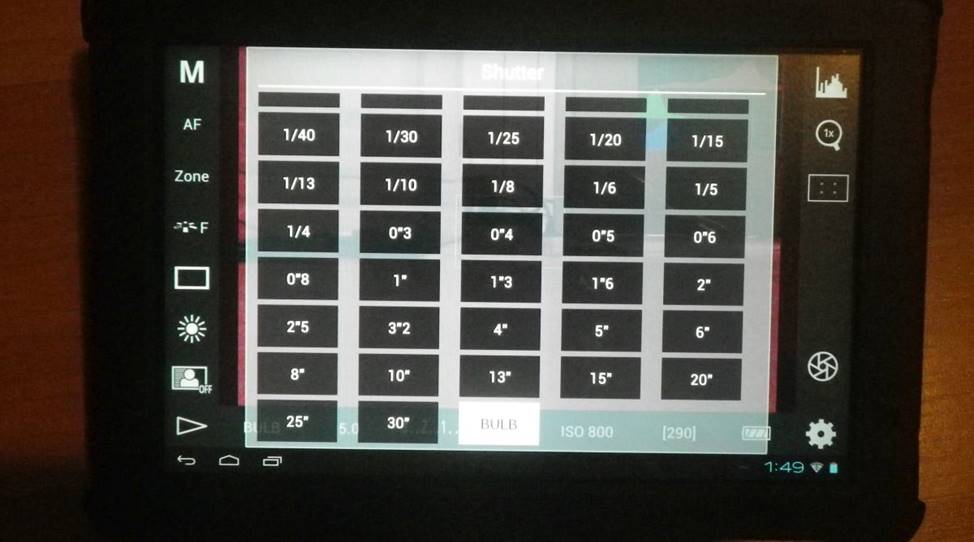 Shutter speed setting screen in DSLR Controller
The club I belong to (Escambia Amateur Astronomers Association, in Pensacola FL) provides a lot of public outreach, three weekends per month from spring to fall, and numerous stargazes for local schools and scout groups. At our most light-polluted public location (Pensacola Beach), a modified Canon DSLR, tablet with DSLR Controller, and the MR3040 provides the perfect way for visitors to see the Ring, Dumbbell, Lagoon, Trifid and other objects as something more than faint, colorless smudges barely discernible through the light pollution. A real treat is letting older children operate the Hand Controller and take the photos with the tablet. So far I've used the MR3040 and DSLR Controller with Acer A500 and Samsung Galaxy Tab4 tablets, Canon 40D, T2i, T3i, T5i, 60D and 6D cameras. (Although it's somewhat redundant with the 6D as it has WiFi built in). I'm usually with ten feet of the MR3040 but have used it up to thirty feet away.
The MR3040 is not confined to strictly astro use either, use it anytime you want to use your camera without holding it; set it up near a bird feeder and sit far enough away so as not to spook the birds. Want to take a group photo with you in it but don't want to run back and forth between the camera and the group? Using your tablet, you can ensure everyone is in the correct position, eyes open, looking at the camera, set a two second delay and press the shutter icon, giving you two seconds to move the tablet discreetly out of the shot.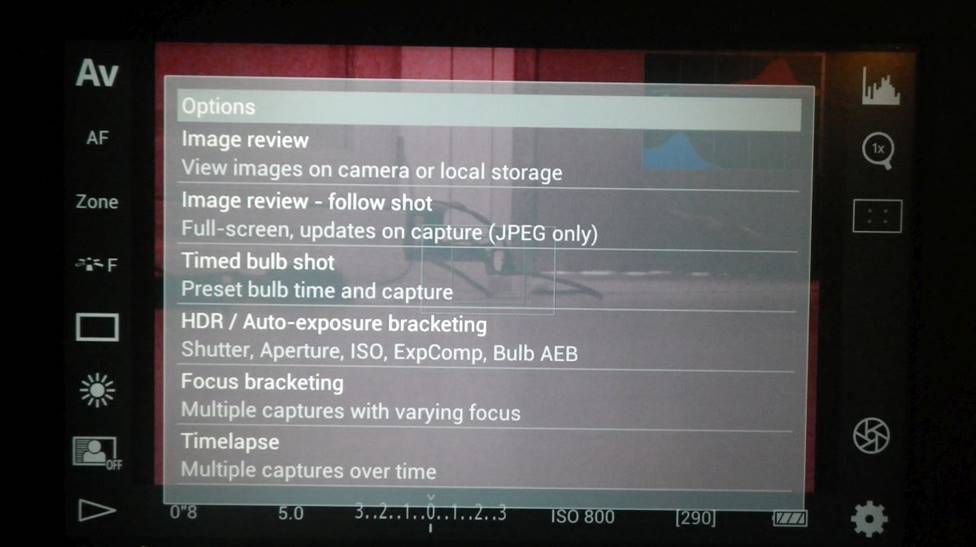 Some of the available settings options in DSLR Controller
Problems and persnickities:
Only jpeg files can be displayed or transferred to the tablet. If the camera is set to record only RAW, the default jpeg that is embedded in the RAW file will be transferred and will take a few seconds. By selecting RAW+jpeg in the DSLR Controller app, the jpeg will be displayed on the tablet and will transfer faster than the jpeg embedded with the RAW file. All files are always saved on the SD card in the camera.
My sequence is to turn on the tablet, then turn on the MR3040. I then connect wirelessly to the dslrcontroller network. Once the connection is made, I connect the camera to the MR3040 and turn the camera on. Usually, but not always, DSLR Controller will start up and the camera will be placed into Liveview (displayed on the tablet). Sometimes the camera connection doesn't get made, in these cases I find it necessary to turn the MR3040 off, leave it off for 10-15 seconds, then turn it back on. A quick off/on or disconnect/reconnect doesn't do the trick. If DSLR Controller does not start up, I tap the icon for it and it quickly finds the camera and starts up.
Summary
Camera manufacturers have embraced WiFi capability for newer models but many of us still have and use older models (many of them modified for enhanced sensitivity) without WiFi. Whether it's astro, sitting at the waterfront taking photos of the sunset, or unobtrusive photos of the kids at a family gathering, the MR3040 and DSLR Controller provide the freedom to shoot untethered and instantly review photos in a larger format than the back of the camera LCD.
Dennis H., Raginar, saguaro and 4 others like this
Article: Wireless Control of Canon EOS DSLRs with DSLR Controller and TP-Link MR3040 Wireless Router