EQDrive STANDARD GOTO upgrade kit
For Sale
Ad Number: 105441
Posted: 10 May 2017
Please sign in to message advertiser
EQDrive STANDARD GOTO upgrade kit
EQDrive upgrade kit in 5 minutes, turn your mount in a complex with a computerized GOTO,
It allows you not only comfortable to watch as well as to begin the first steps in astrophotography.
or upgrading mounts Sky-Watcher EQ5, Celestron CG-5, MEADE LXD55 & LXD75, VIXEN Great Polaris, Orion SkyView and many others.
Made in Ukraine, designed by AstroDevices.net
(guarantee of 1 years)
Сontrol unit EQDrive:
Power supply: 12 V 3A.
SM type: Bipolar.
Supply voltage of SM drivers: 24 V
SM winding current: Adjustable 0,1 — 0,8 (2.0)A.
Smooth dispersal and braking of SM: Adjustable 0 — 10 sec.
Correction of nonlinearity of the course of SM: IS.
Axis reduction coefficient: not limited. Recommended 1:1 — 1:2000.
Product case: Anode. aluminum 100mm x 75mm (90mm) x 35mm (length x width x height)
Product weight: 230 grams.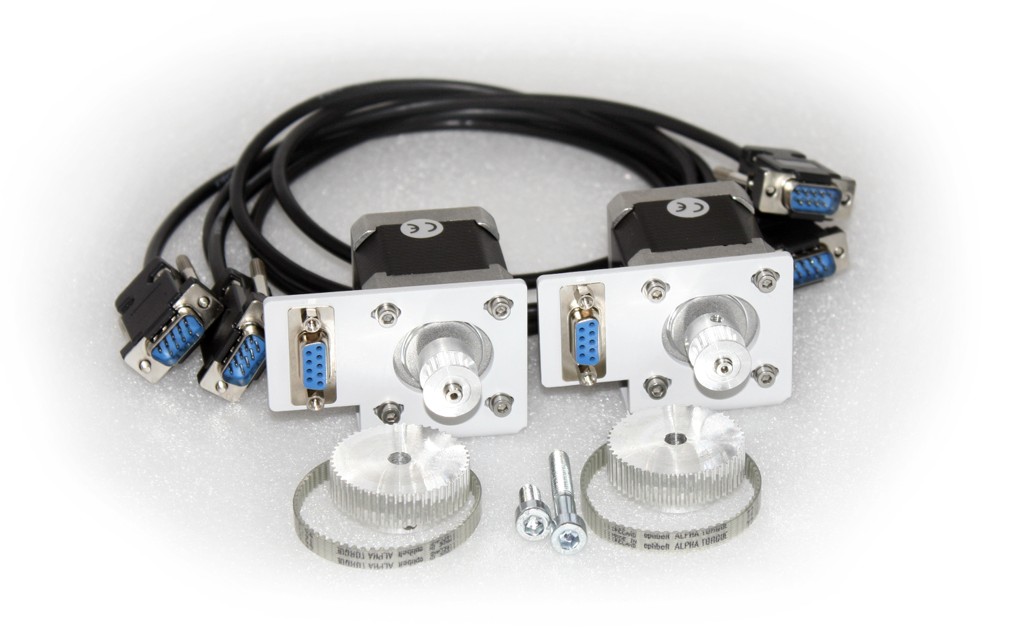 Options set:
1. Сontrol unit EQDrive Standard 2- 1 piece
2. Cable connections - 2 pcs (120 cm)
3 Pulley 48 T2,5 - 2 pcs
4. Pulley 16 T2,5 - 2 pcs
5. Belt T2,5 - 2 pcs
6. Engine mounting - 2 pieces (Stainless Steel)
7. Set the mounting bolts, screws - 1 pc
8. A stepper motor - 2 pcs (optional)
Reduction of the transmission belt with said pulleys 1: 3.
Benefits EQDrive upgrade kit:
1. Fast installation on regular site of mount that excludes completions,alterations and loss of an original form of your equatorial mount.
2. The high-quality belt drives applied in a design, will relieve you of mount noise,which arose on traditional gear wheels. The system isn't subject to wear and development,as polyurethane belts in additives strengthened by steel cords are applied.
3. These drives have positive influence on the periodic error in mount, exclude the side play (backlash), which is an integral part of usual gear reducers
4. Ability to maintain overloads above, the best moment of acceleration.The EQDrive Standard unit support slewing speed up to 8,5°/sec (2000x).
5. Higher maintaining accuracy,correction of a form of current of windings of engines.
Shortcomings of existing solutions:
 Uneven movement
 Discrete change in velocity
 Dependence on microsteps
 Acceleration and deceleration with a push at the beginning and at the
end of movement
 Private protocol, limited functionality
 The complexity of the formation of non-linear trajectories (spiral, fast
asteroids, satellites)
Benefits EQDrive STANDARD system :
 Precise mathematical calculations
 Stepless algorithm of current in the winding
 Nonlinearity correction
 Acceleration and deceleration at any speed
 One step precise GOTO positioning
 Guiding (ST4, ASCOM)
 Open protocol ASTEP
 Eqmod compatibility
 Spiral search
The EQDrive Standart control unit, is intended for automation of work of the equatorial mount.The control unit can work practically with any EQ the mount operated by the stepper motor (SM) supports the big range of a reduction of axes, allows to operate mount of the telescope as autonomous the panel, and through astronomical programs with the established platform ASCOM6.x + EQMOD on your personal computer.
Paypal only, FREE worldwide shipping.
Thanks for looking
Valentin G
General
Condition

new

Location

Ukraine
EQDrive STANDARD GOTO upgrade kit