1
April 2011 - maroubra Boy
Uploaded by Gallery Images , Sep 19 2016 11:21 AM
sketching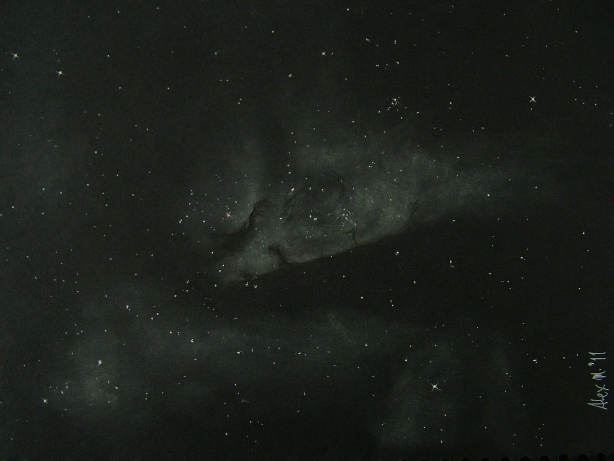 April 2011 Winner - Sketching Forum's Finalist - maroubra_boy
My submission is of my recent sketch of the Eta Carina Nebula done using my 17.5" dob from my home in Sydney Australia. I had posted this sketch earlier this month in the sketching forum.
This was by far my most challenging sketch to undertake. It is also my most satisfying one.
That it was done under the light polluted skies of Sydney makes me wonder what a repeat undertaking from a dark site will reveal additionally.
The supermassive star that lends its name to the nebula, Eta Carina, is the bright, reddish star approximately in the centre of the sketch.
Object: NGC 3372, Eta Carina Nebula
Scope: 17.5" dob, push-pull
Gear: 35mm Masuyama eyepiece, 57X, OIII flter
Date: April 8, 2011
Location: Sydney Australia
Media: White pastel, white and black charcoal pencils, white chinagraph, white and coloured inks on A4 black paper.
April 2011 - maroubra Boy