Welcome to the June 2008 Cloudy Nights Imaging/Sketching Contest poll!
Each month the best images selected from the individual Cloudy Nights Imaging and Sketching forums will be presented for the userbase to vote on. The monthly winner receives the coveted Cloudy Nights t-shirt! At the conclusion of the poll, the entry with the highest total will be the winner of the contest..
Please choose your favorite out of all the images. This poll will remain open through July 15th at midnight EDT.
Here are the entries for June!
Beginning Imaging's Finalist - SureshotPL:
NGC7000 - 6/25-27/08
Imaging: ZS66 + DSI ProII + Astronomik Narrowban Filters( Ha,OIII)
Guiding: C6 + DSI-c
Exposures:
Ha: 25x8m
OIII: 22x8m
Film Astrophotography's Finalist - Nightfly:
Western portion of Sagittarius and southern Ophiuchus. Details as follows:
May 3, 2008 2:30-3:10 A.M. EDT
Pentax 67 with 165mm @ f/4
40 minute exposure on E200 Pushed +2 stops
Scanned on an Epson 4490 flatbed scanner and processed with Adobe Photoshop and PixInsight LE.
DSLR & Digital Camera Astro Imaging & Processing's Finalist - Andrew Welsh: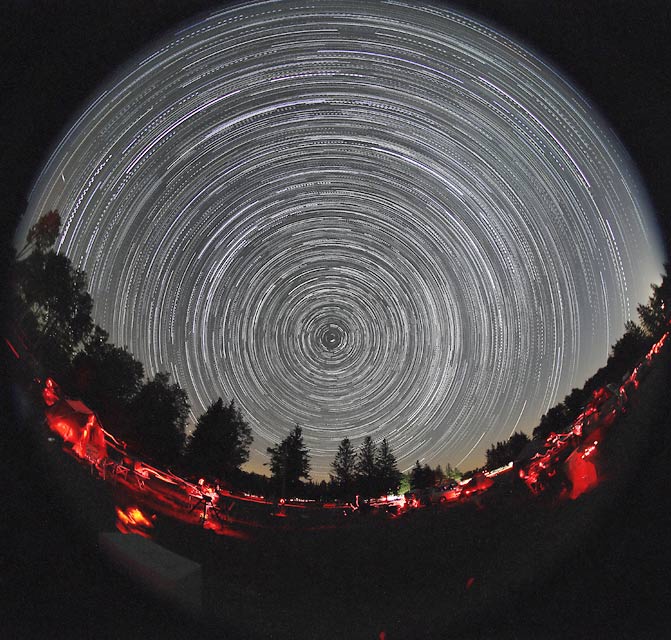 Star party trails with Moon rising
Taken at Cherry Springs State Park, PA, June star party
Wednesday-Thursday 28-29 May 2008
Stack of 80x2min exposures, ISO1600, f/5.6
Canon 5D and Peleng 8mm fisheye lens on a tripod with TC-80N3 remote timer
Stacked in Startrails
Final processing in Photoshop CS2
CCD Imaging & Processing's Finalist - Dean: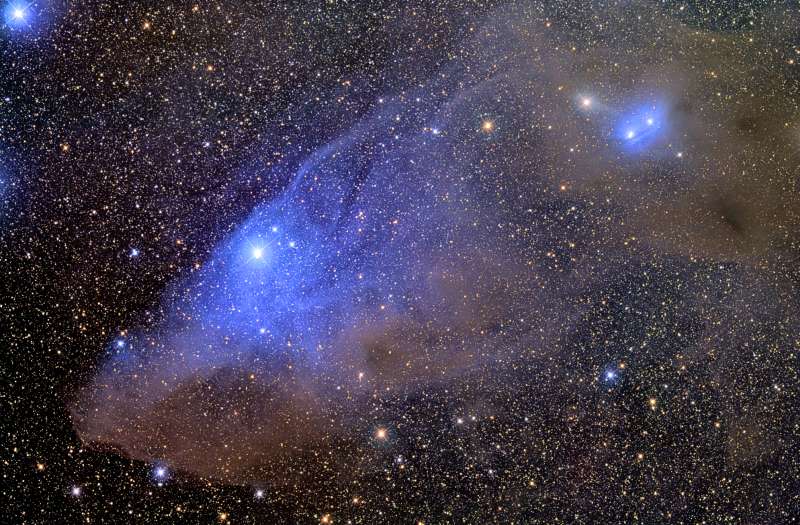 IC4592 & IC4601
Taken June 2, 3 and 6 2008 from Bailey, Colorado
500 minutes total exposure time
140 minutes luminosity, 120 minutes each RGB using 20 minute individual exposures
Takahashi Epsilon 180 on an AP1200
SBIG STL-11000 with Astrodon LRGB filters
Solar System Imaging's Finalist - rumples riot: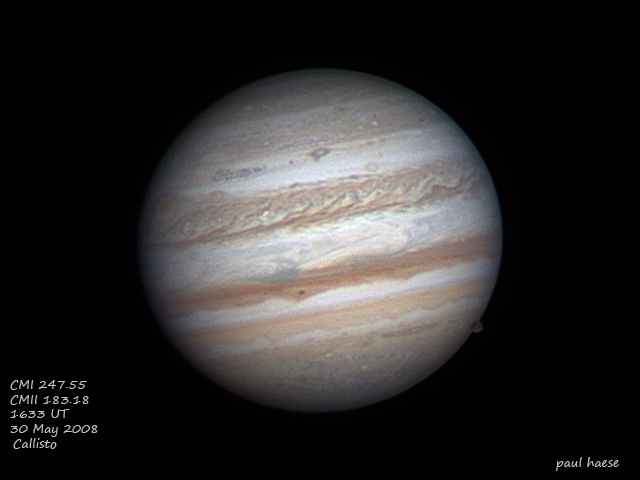 Jupiter and Callisto
Taken with a peltier cooled C14
3x TV barlow
Lumenera skynyx 2-0 camera
40 seconds x 3 with Astronomiks type 2 filters
1000 frames stacked in each channel
Processed in Registax4, Astra Image and Photoshop CS
Image taken on 30 May 2008
Sketching Forum's Finalist - Jeff Young: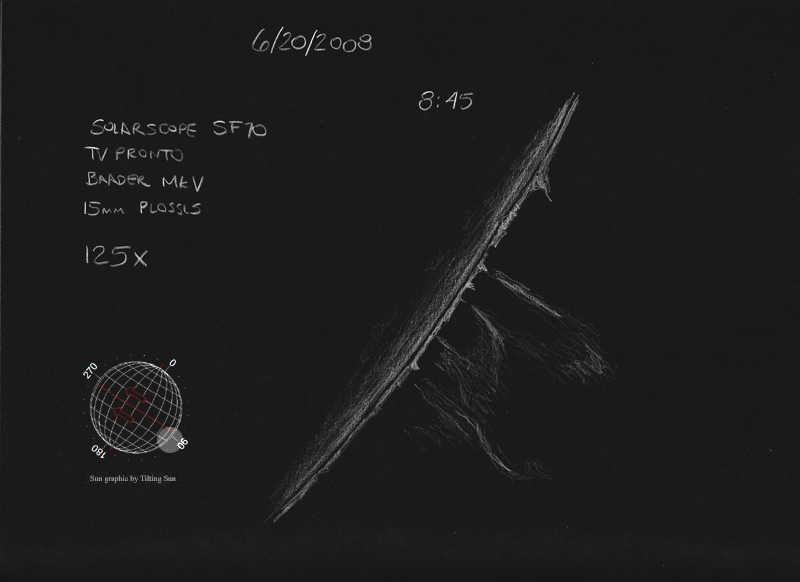 A somewhat dim but highly detailed solar prominence, as observed from County Louth Ireland, at 8:45 AM on June 20, 2008. The sketch was done with a white Derwent Graphitint pencil on black Artagain paper. Drawing time: 10 to 15 minutes. The tilting Sun graphic was added in Photoshop.

Equipment included a 0.7-angstrom 70mm Solarscope h-alpha filter, Tele Vue Pronto, Solarscope 20mm blocking filter, Astro-Physics BARCON, Baader MkV binoviewer and a pair of 15mm TV Plossls.

Good Luck to all our finalists![/b]

*

&nbsp