[b]I am pleased to announce the winner of the
December 2008
Cloudy Nights Imaging and Sketching Contest - dsnope!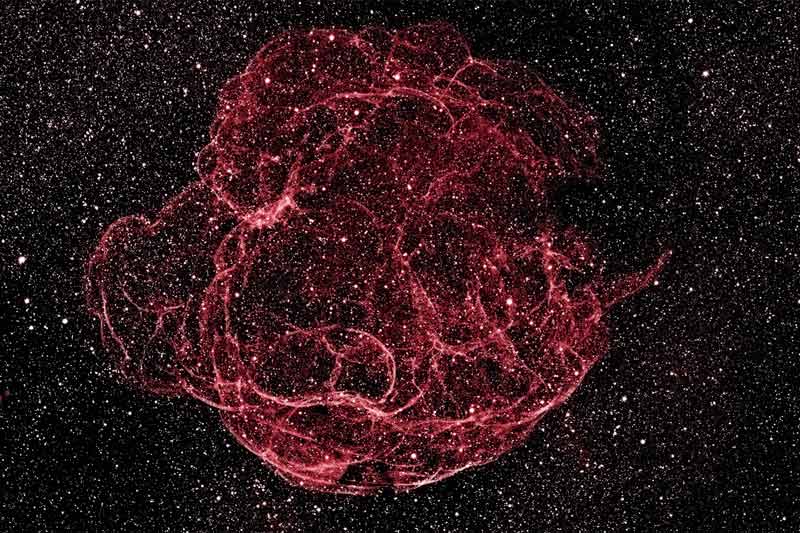 Supernova Remnant Sh2-240 in the constellation Taurus. Also called Semeis 147. There is a rapidly pulsating neutron star inside of it that is thought to be the remnant of the star that caused the catastrophe.
One of the dimmest objects in the night sky, this supernova remnant requires long exposures to capture it's wispy filaments. It is over 3 degrees wide, or about the width of 6 full moons. I used a 300mm camera lens to cover that wide field of view. With my best background levels getting within 10 ADU of the dimmest signal, imaging this object led to an education in the minutiae that degrade images. Nearby lights and lower altitude subframes led to slightly higher background levels and tossed frames, imperfect focus and wind gusts caused reduced S/N and FWHM and some more tossed frames. I used the best 9 out of 18 subframes.
STL11000 Camera w/ 6nm Ha filter
Canon 300mm F/4L lens
Mach1GTO Mount
9 x 30 minute exposures
December 28-29, 2008
[/quote]
To all of you who took the time to stop by and vote for your favorite submission - thank you so much! Your participation really makes the contest!
To all the contestants - almost every comment entered in the poll thread this month says it - every one of your submissions is worthy of winning. Congratulations to all of you on a job done very well indeed!
dsnope, congratulations on your win! Please contact me via PM with your t-shirt size and also the address where you want us to send it!
Charlie