I am pleased to announce the winner of the May 2009 Cloudy Nights Imaging and Sketching Contest - DSLR & Digital Camera Astro Imaging & Processing's Finalist - Igor Chekalin: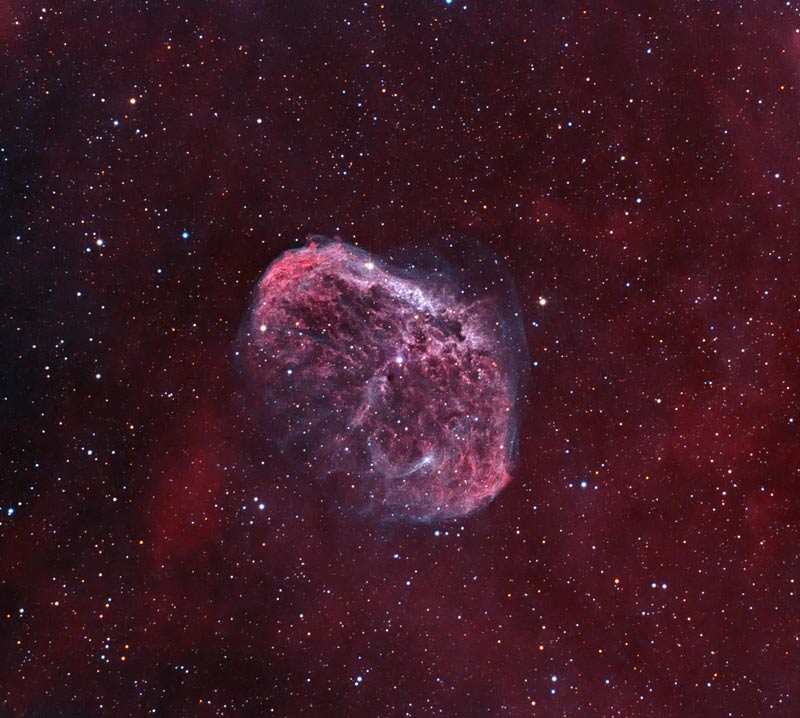 NGC6888 - The Crescent Nebula
Image was taken during 13 observing nights in March/April 2009.
Canon 350Da(baader filter mod), 10" 1:4.7 Newton (F=1200mm)
EQ6PRO SynScan mount, 75mm refractor + QHY6 CCD as a guider
9 hours in H-alpha (Astrodon 6nm), 10 and 20 min. subexpositions mixed. ISO800
10 hours in O-III (Baader 8nm), 20min subexpositions, ISO800
34x2min @ISO200 unfiltered RGB for color stars field and "pseudo-continuum" substraction.
Light-polluted urban sky. About 4.0m visual limit. About 30% of h-alpha frames (10min subexposures) taken under the Moon.
Taganrog, Russia.
[/b][/quote]
To all of you who took the time to stop by and vote for your favorite submission - thank you so much! Your participation really makes the contest!
To all the contestants - every one of your submissions is worthy of winning. Congratulations to all of you on a job done very well indeed!
Igor Chekalin, congratulations on your win! Please contact me via PM with your t-shirt size and also the address where you want us to send it!
Charlie