I am pleased to announce the winner of the December 2009 Cloudy Nights Imaging and Sketching Contest - CCD Imaging & Processing's Finalist - bill w: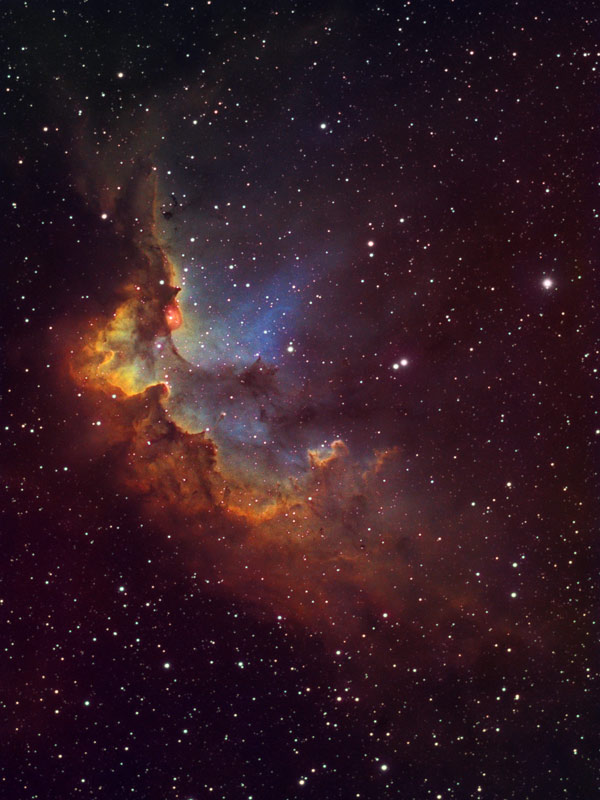 the wizard nebula aka NGC 7380, Sh2-142 in SHO
casting a spell at midnight

FS102@f/6, astrodon 5nm Ha, Oiii, 3nm Sii filters, SX H9 camera.
25x20 min each channel
10/6-11/8/09 Los Alamitos CA. bortle white skies.

callibrated, combined, ddp, color balanced in maxim (balanced the white point on a pillar). microcurve for contrast, light local adaptive filtering and high pass filter applied to Ha in maxim. then to PS for luminance layering of Ha, adjustments to saturation and lightness. gradient removal in the Oiii channel. JPM's star removal action was used to adjust the star color: pink HST stars were replaced by more tradditional stars from a bicolor image.

Sii and Oiii distributions seemed to form complimentary subsets of the HA, with Sii highlighting the pillars and Oiii surrounding the central star. Besides the pillars, there seem to be areas of strong Sii concentration in the wizard's mouth (spell?) and inside one of the wider pillars
To all of you who took the time to stop by and vote for your favorite submission - thank you so much! Your participation really makes the contest!
To all the contestants - every one of your submissions is worthy of winning. Congratulations to all of you on a job done very well indeed!
bill w, congratulations on your win! Please contact me via PM with your t-shirt size and also the address where you want us to send it!
Charlie