Welcome to the August 2011 Cloudy Nights Imaging/Sketching Contest poll!
Each month the best images selected from the individual Cloudy Nights Imaging and Sketching forums will be presented for the userbase to vote on. The winning entry will be posted on the front page of the CN website for all to admire! At the conclusion of the poll, the entry with the highest total will be the winner of the contest..
Please choose your favorite from the entries below. The poll will remain open through September 20th at midnight.
Here are the entries for July!
[
Beginning Imaging's Finalist - lacomj: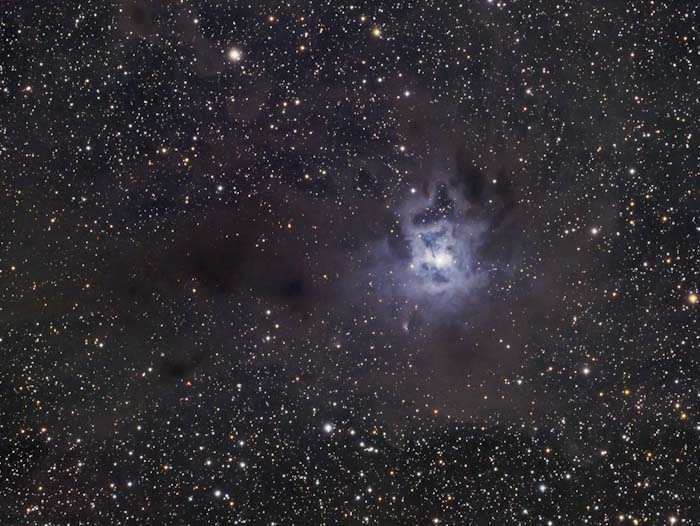 lacomj (Jeffrey LaCombe)
Ok, I finally learned that this is actually a pick-your-own-target contest, so I'll give it a go with my new CCD camera.
NGC7023: Iris Nebula
Imaged from Reno, NV August 6-7, 2011
Equipment:
Scope: Astrotech AT111EDT F7 APO Refractor with AT2FF Field Flattener. Guiding via AT72ED with Meade DSI-II & PhD
Camera: SBIG ST-8300M with FW8-8300 & Baader 36mm Filter set (LRGBHOS)
Mount: Orion Atlas EQ-G
Exposure Details: 830 mins total exposure (13.8 hrs)
Chip Temperature: -15C
335 mins total exposure
Luminance: 32x300s
Red: 12x300s
Green: 12x300s
Blue: 11x300s
Software
Capture: Equinox Image
Stacking: Nebulosity
Post Processing: PixInsight, Lightroom.
Film Astrophotography's Finalist - Rick Thurmond: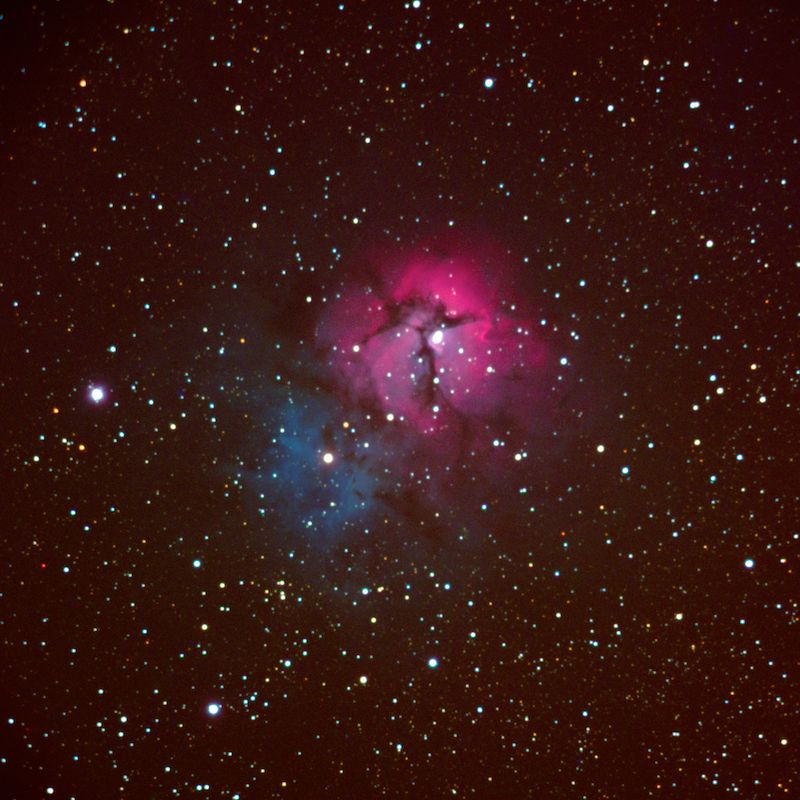 M20, the Trifid Nebula, captured on three sheets of hypered black and white film through red, green, and blue filters. I used my C14 and astrocamera I built ten years ago from a Graflex film holder. Exposure times were 45 minutes for blue, and 30 minutes for green and red. Green and Blue exposures were on hypered Acros and Red exposure was on hypered Tech Pan.
DSLR & Digital Camera Astro Imaging & Processing's Finalist - Nils_Lars:
28 5min subs with no filter at ISO 800 stacked in DSS then adjusted in PS CS2. Canon 500D(modded) , Orion Atlas mount and the lens was the Nikon 180ED @ f/2.8 and a 7x40mm finder as a guide scope
-The many spectacular colors of the Rho Ophiuchi (oh'-fee-yu-kee) clouds highlight the many processes that occur there. The blue regions shine primarily by reflected light. Blue light from the star Rho Ophiuchi and nearby stars reflects more efficiently off this portion of the nebula than red light. The Earth's daytime sky appears blue for the same reason. The red and yellow regions shine primarily because of emission from the nebula's atomic and molecular gas. Light from nearby blue stars - more energetic than the bright star Antares - knocks electrons away from the gas, which then shines when the electrons recombine with the gas. The dark regions are caused by dust grains - born in young stellar atmospheres - which effectively block light emitted behind them. The Rho Ophiuchi star clouds, well in front of the globular cluster M4, are even more colorful than humans can see - the clouds emits light in every wavelength band from the radio to the gamma-ray. (APOD)
CCD Imaging & Processing's Finalist - dsnope: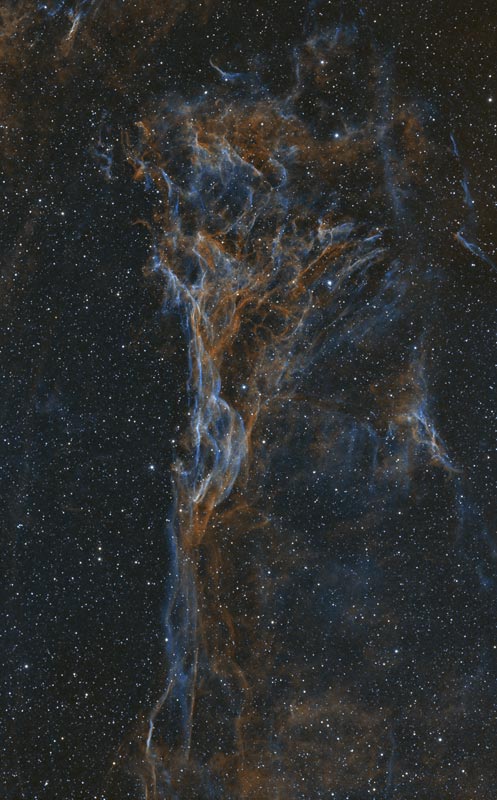 Here is my bi-color narrowband rendition of Pickering's Triangle (NGC6979), a portion of the Veil Nebula Supernova Remnant
Camera: STL11K
Optic: TEC160F
Ha: 11 x 20 mins
O3: 11 x 20 mins
Exposures taken over the first week of August, 2011
Solar System Imaging's Finalist - john rozakis: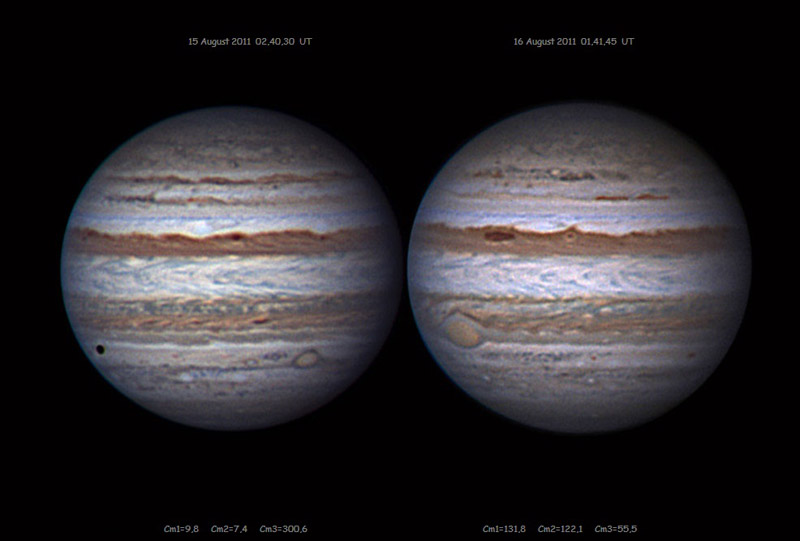 My entry. Jupiter GRS and red spot jr 15,16 August 2011 Newtonian 12" f4 @f37,5 flea3 powermate5x rgb filters losmandy G11 Athens Greece
Sketching Forum's Finalist - Roel: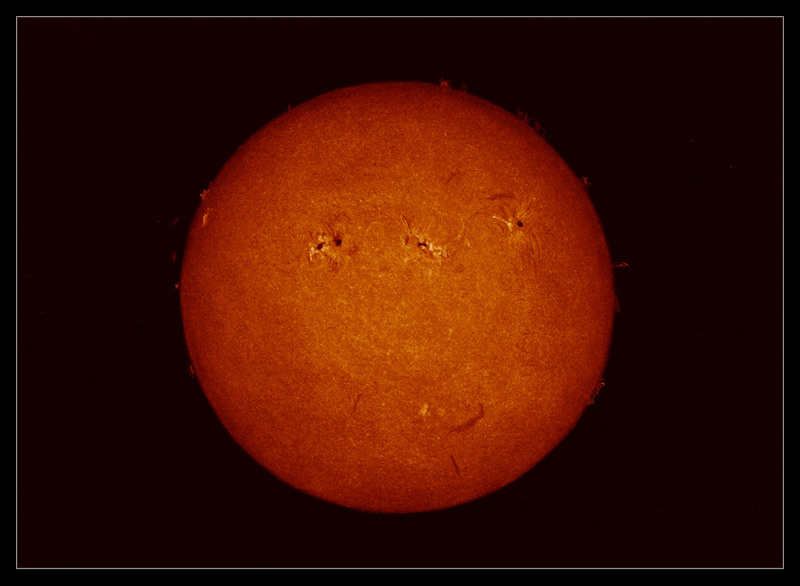 On August 2everything seemed to be right. The weather was absolutely great, the Sun was more active than I've seen so far this year and the seeing was above average. A good day to try sketching a full-disk h-alpha sun for the first time instead of an isolated prominence. First I made a blank disk with a soft white pastel. I took the sketch outside and filled in all the details I could see through the eyepiece of my 70mm solar telescope with white and black pastel pencils. All regions were very active, especially the middle one: it changed its shape within minutes. Sometimes little bright flare-like brightenings appeared and disappeared 2 minutes later. A wonderful sight! It took me one hour (from 08.00 UT - 09.00 UT) to complete the drawing. I scanned the (black&white) sketch and gave it a reddish color with Photoshop.

Sketch made from my backyard in Deventer, The Netherlands.

Good Luck to all our finalists!

*

&nbsp