Welcome to the January 2012 Cloudy Nights Imaging/Sketching Contest poll!
Each month the best images selected from the individual Cloudy Nights Imaging and Sketching forums will be presented for the userbase to vote on. The winning entry will be posted on the front page of the CN website for all to admire! At the conclusion of the poll, the entry with the highest total will be the winner of the contest..
Please choose your favorite from the entries below. The poll will remain open through February 20th at midnight.
Here are the entries for January!
Beginning Imaging's Finalist - zerro1: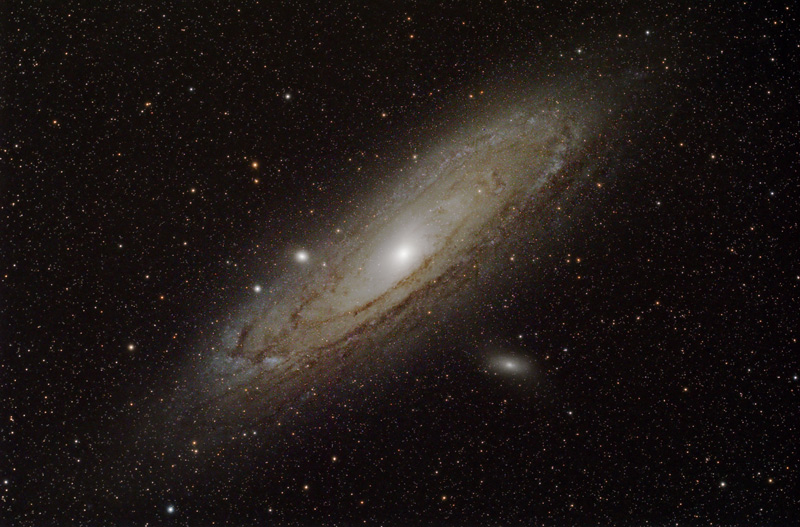 M31, Imaged at Slate Peak fire lookout, North Cascades, WA.
September 2011
12 X 10 minutes
Scope AT65EDQ
Mount LXD75
Camera QHY8
Captured with Nebulosity
Pre-Processed Images Plus >Flats, Darks, and Bias
Post Processing CS3
Guided Meade DSI and PHD guiding
Film Astrophotography's Finalist - Nightfly:
The Dark Nebulae of Taurus and Surrounding Region
Click image to launch higher resolution version: 1280x1024
East and north of the Pleiades lies many dark nebulae, the most prominent being the Taurus Dark Cloud, Barnard 22. Most of these can be seen under a dark sky without optical aid. This image, taken with orthopanchromatic film does not reveal Hydrogen-alpha light, but mostly Ionized Oxygen emissions. The California nebula, among others, can still be recognized in this light.
Image taken December 18, 2011 from East Sullivan, Maine by James Cormier.
Camera: Pentax 67
Lens: 105mm f/2.4 @ f/4
Film: Fuji Acros 100 developed in Xtol 1:1
Exposure: 45 Minutes (9:27-10:12 PM EST 12/18/11)
Camera piggybacked on a vintage Meade 2080 via Losmandy dovetail and DA plate.
CCD Imaging & Processing's Finalist - Jared: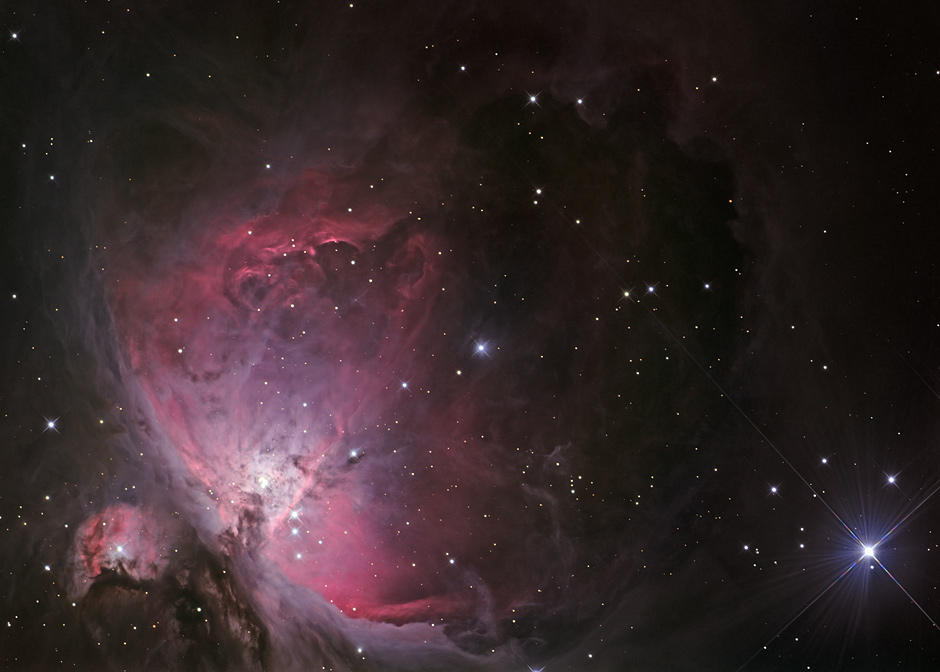 M42--The Orion Nebula
AT10RCF Ritchey Chretien telescope
Astro-Physics Mach1 GTO mount
SBIG STL-11000M camera w/ Astrodon Gen 2 LRGB filters
Astro-Physics 67PF562 Field Flattener
70:25:25:25 L:R:G:B
Captured in Equinox Image
Image calibration in Nebulosity 2.0
Post processing in Photoshop CS3
Captured by Jared Willson from Oakland, CA on January 16, 2012
Solar System Imaging's Finalist - bunyon: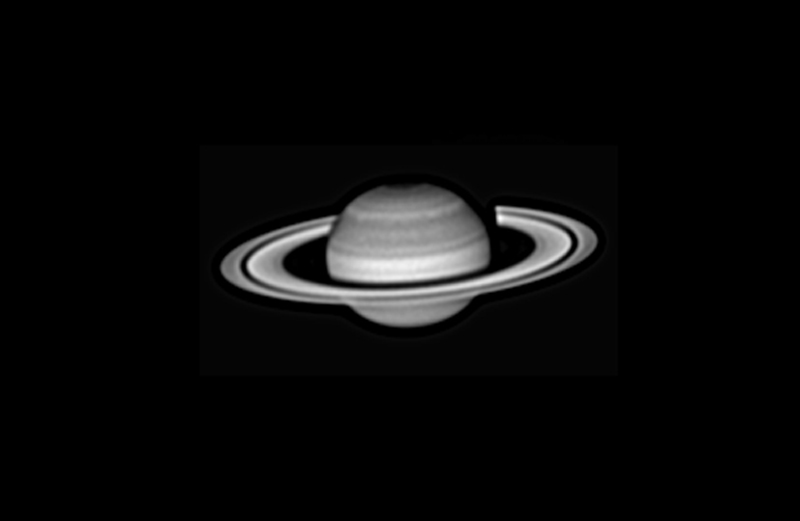 This is an IR image of Saturn obtained on January 1, 2012 from Winston-Salem, NC. I used a DMK-21-618 and ProPlanet742 filter on a 15" Obsession with a 3x Barlow (giving approximately f/16). Frames were collected at 60fps (histogram approximately 60% full) for 150 seconds, then aligned and stacked in Registax 6. Wavelets were applied in Registax and then the image was transferred to Photoshop CS4 where levels were adjusted and the image re-sized 180%.
Sketching Forum's Finalist - markseibold:
After careful plans to observe, photograph and sketch the total lunar Eclipse of Dec 10th 2011 in the Portland city center, fog formed late, so plans to relocate were rushed at the last minutes as we drove fast from the city to the Columbia River Gorge Crown Point Oregon Vista House, yet to find a hundred people, photographers, etc, most were ensconced in their cars with engines running, while Gorge east winds gusted to 60 mph with 25 degrees F.

So I set up my Celestron Nexstar 5i telescope anyway, huddled into the wind-shielded side of the Vista House with a few brave other photographers. I made quick mental notes of the image at medium power through the telescope and began to photograph crudely as the wind buffeted the scope and my Sony NEX5 camera poised high and teetering on its tripod over the telescope eyepiece. I made a few photographs for reference and some visual mental observations and notes were taken. I have possibly observed over two dozen total eclipses to date since my mid teens years; photographing perhaps a dozen of those events but this was the first sketch. I noted the very slight turquoise-blue fringe on the sunlit edge just after totality, as they predicted and rendered it slightly to the sketch.

Much in post preparation was then later made in the past week at home to produce this accurate large technical documentary dry pastel sketch onto 19" X 25" black Strathmore pastel paper completed today, December 19th 2011. As the foreground ambience seemed as partly visual and incidental to the whole scene, I decided to add in the nostalgic gas street lamps that slightly reflected the Vista House behind, also slightly showing the moons image on its windows and the streetlight lantern glass, causing several repeated reverse reflections.

-Mark Seibold

Good Luck to all our finalists!

&nbsp