Welcome to the March 2012 Cloudy Nights Imaging/Sketching Contest poll!
Each month the best images selected from the individual Cloudy Nights Imaging and Sketching forums will be presented for the userbase to vote on. The winning entry will be posted on the front page of the CN website for all to admire! At the conclusion of the poll, the entry with the highest total will be the winner of the contest..
Please choose your favorite from the entries below. The poll will remain open through April 15th at midnight.
Here are the entries for March!
Beginning Imaging's Finalist - Mike7Mak: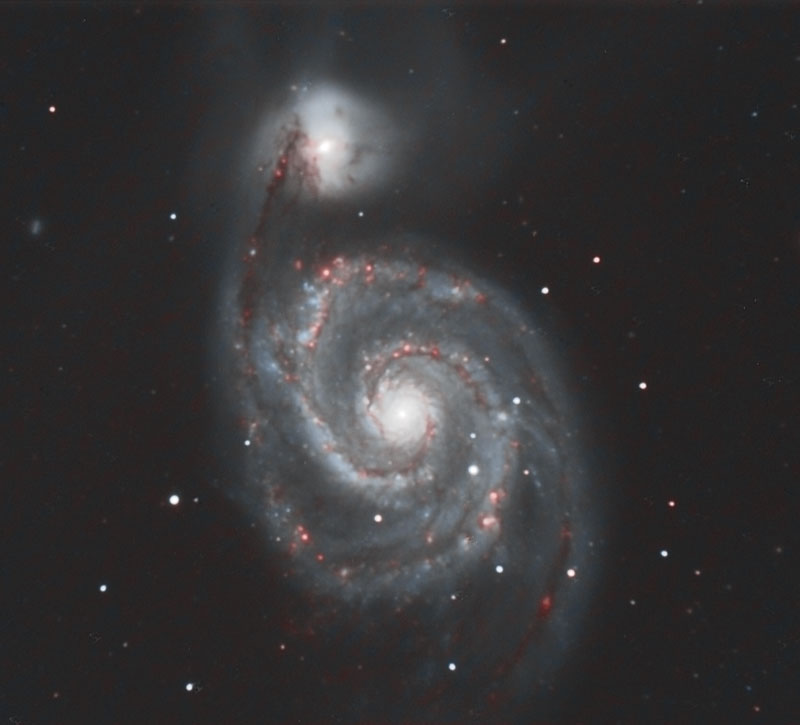 M 51 in LHOO
Captured Mar 22 and 26, 2012
Location Dutchess County, NY
LX200gps 7" Mak w/3.3 reducer @40mm ,1400mm fl, F7.5
DSIpro2 w/Outback cooler, capture resolution 1.3 arcsec/pixel
Lum...50 x 5 min Astronomik UV/IR filter
Ha®...12 x 10 min Astronomik 12nm Ha
O3(B+G)...14 x 10 min Astronomik 12nm O3
Nebulosity, PHD, AIP4WIN, PS6
Film Astrophotography's Finalist - Nightfly:
Orion's Sword
Click on Image for larger view
Date: March 12, 2012
Photographer: James Cormier
Equipment: Pentax Spotmatic II 35mm SLR with 300mm f/4 SMC Takumar wide open. Camera piggybacked on Meade 2080 SCT.
Tracking: Manually corrected via illuminated reticle eyepiece and drive corrector.
Sensor: Kodak GA 100-7 ISO 100 chemical based sensor (one time use)
Exposure: 30 minutes (continuous)
Sky Quality: SQM 21.4 mags/sq arc sec. Mag limit 6.7 + at zenith
Location: Flanders Pond Observatory, East Sullivan, Maine
DSLR & Digital Camera Astro Imaging & Processing's Finalist - srosenfraz:
Here's my entry - the western section of Markarian's Chain
Almost 60 galaxies are scattered throughout this image which shows the M84 and M86 portion of the Virgo Cluster.
Image details are:
OTA: Celestron C-8 SCT with Celestron focal reducer
Focal Length: 1140mm (measured from the image)
Focal Ratio: f/5.7
Mount: Schaefer GEM
Guiding: 80mm f/11 guidescope with PHD Guiding
Camera: Canon 450D - Gary Honis modified
Exposure: 129 x 3 min @ ISO 1600 - just under 6 1/2 hours
Calibration: 30 darks, 30 flats, 30 bias
Date: March 21 and 22, 2012
Temperature: 49F on 3/21, 46F on 3/22
SQM Reading: 21.4 (Bortle 4) on 3/21, 21.3 on 3/22
Seeing: 4 of 5 in 3/21, 3/5 of 3/22
Location: Pine Mountain Club, California
Hi Res Version available at
Hi-res version
Thanks for looking!
Solar System Imaging's Finalist - rumples riot:
Here's my entry.

Saturn

Peltier cooled C14

Software bisque PME mount.

Flea 3 from Point Grey Research

Processed in AS!2, Astra Image 2, Photoshop CS3

Good Luck to all our finalists!

&nbsp