Welcome to the May 2012 Cloudy Nights Imaging/Sketching Contest poll!
Each month the best images selected from the individual Cloudy Nights Imaging and Sketching forums will be presented for the userbase to vote on. The winning entry will be posted on the front page of the CN website for all to admire! At the conclusion of the poll, the entry with the highest total will be the winner of the contest..
Please choose your favorite from the entries below. The poll will remain open through June 15th at midnight.
Here are the entries for May!
Beginning Imaging's Finalist - Mike Wiles:
This is how I spent part of my evenings in southern Utah for the eclipse. This is a reduced crop of the wider field image. Full frame image can be seen at
Astrobin
.
Object:
NGC 5907 and distant friends
Date:
May 20, 2012
Location:
Grand Staircase/Escalante National Monument - Utah
Telescope:
Explore Scientific ES127CF Refractor - 127mm f/7.5 Triplet
Mount:
Astro-Physics AP900 GTOCP3
Camera:
QHY8PRO One Shot Color CCD - 6.3 Megapixel APS-C sensor
Guiding:
QHY5 & 9x50 finder
Exposure:
7.75 hours (31 x 900 seconds)
Capture:
Maxim DL 5.18
Calibration & Processing:
PixInsight 1.7
Final Touches:
Photoshop CS5
DSLR & Digital Camera Astro Imaging & Processing's Finalist - alfas: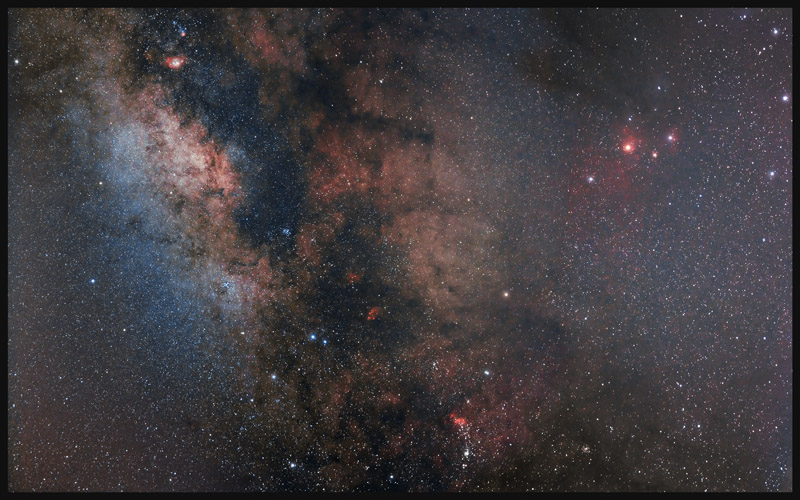 The image above is a composite of 3 pictures taken from a white zone. 1 hour of total exposure for the milky way center (with 300s subs) and 40 minutes each panel for the other part (with 180s subs).
All of them with ISO1600, 50mm, f5.6, on a Canon 1000D non-modified, Tamron 17-50mm 2.8 VC lens and Astronomik CLS-CCD filter.
High resolution here
CCD Imaging & Processing's Finalist - Oleg Bryzgalov: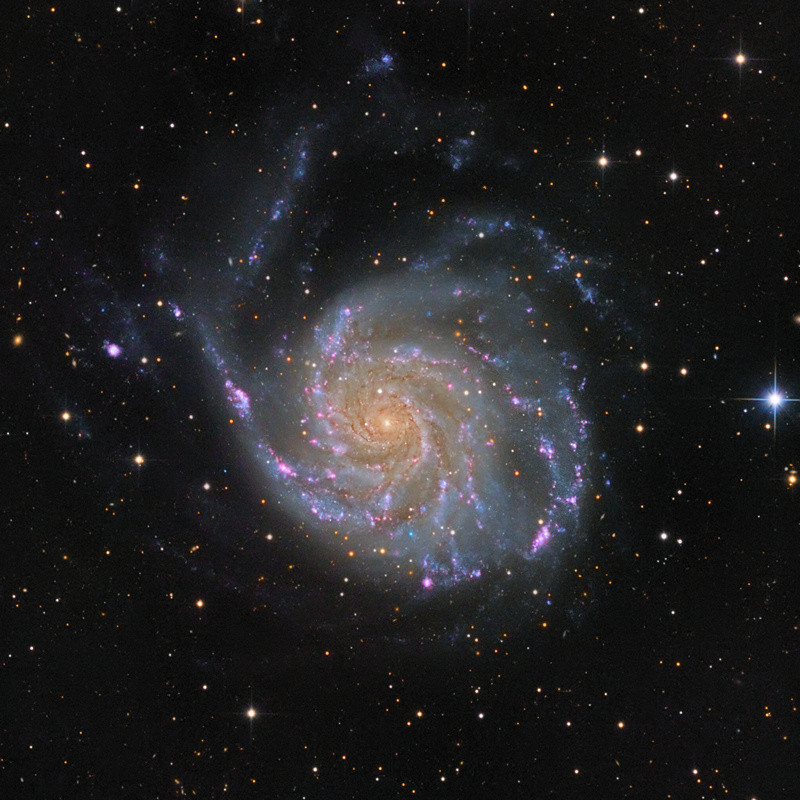 M101: The Pinwheel Galaxy and supernova SN 2011fe
This picture was photographed during March-May, 2012 in Khlepcha observatory, Ukraine.
Equipment: reflector S&D 254 mm. f/4.7
Mount WhiteSwan-180, camera QSI-583wsg, Tevevue Paracorr-2. Off-axis guidecamera Orion SSAG.
HaLRGB filter set Baader Planetarium.
L=30*4500 sec. bin.1, RGB: 18*450 sec. bin2, Ha: 8*900 sec. bin.2
Processed Pixinsight 1.7 and Photoshop CS5.
About supernova SN 2011fe:
http://en.wikipedia.org/wiki/SN_2011fe
Full size picture:
http://olegbr.astroc...g_Bryzgalov.jpg
Sincerely, Oleg.
Sketching Forum's Finalist - Michael11: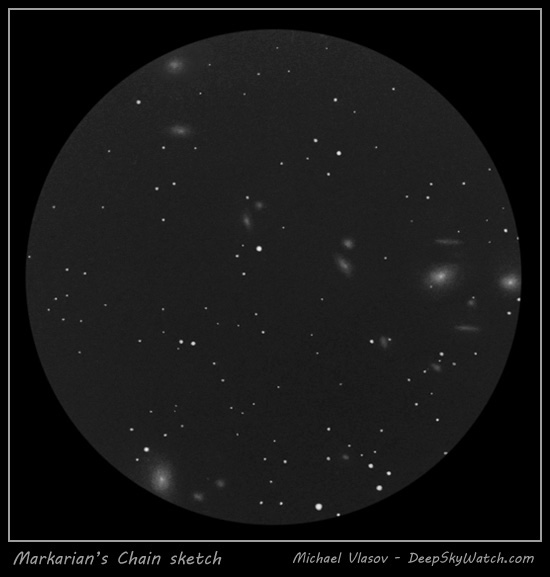 I'll give it a try with the Markarian's Chain sketch.

Equipment: Skywatcher BKP250 10" F/5 Newtonian, Hyperion 31mm eyepiece, 39X, 1.86° TFOV.

Date: 21-22/04/2012 , 03:00.

Location and conditions: Borot Lutz, Negev desert, Israel. ~6.9 NELM, mediocre seeing.

Drawing details: Graphite pencil sketch on a white paper, processed in Photoshop.

Good Luck to all our finalists!

&nbsp