Welcome to the July 2012 Cloudy Nights Imaging/Sketching Contest poll!
Each month the best images selected from the individual Cloudy Nights Imaging and Sketching forums will be presented for the userbase to vote on. The winning entry will be posted on the front page of the CN website for all to admire! At the conclusion of the poll, the entry with the highest total will be the winner of the contest..
Please choose your favorite from the entries below. The poll will remain open through August 15th at midnight.
Here are the entries for July!
Beginning and Intermediate Imaging's Finalist - lacomj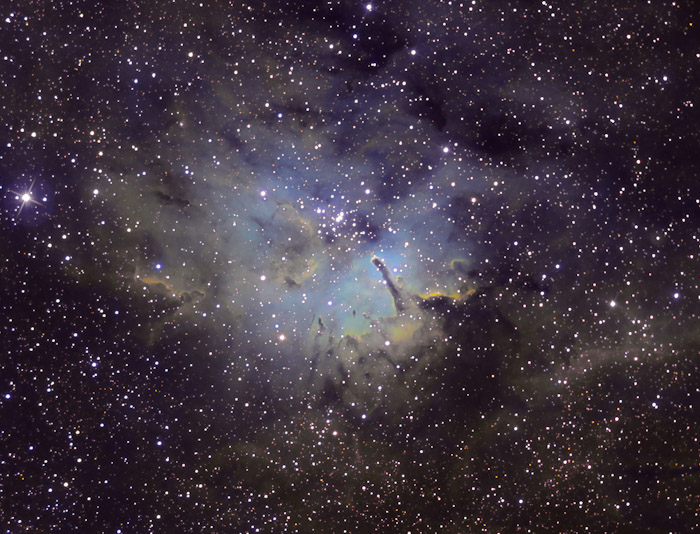 Jeff (lacomj)
NGC6823 Emission nebula and star cluster. Narrowband Image with HSHO filters as LRBG. Image data acquired from Virginia City, Nevada (outside Reno) USA on the nights of 7/10 and 7/11 2012.
Full-sized image of NGC6823 at Flickr.
Equipment
Boren Simon 8" Powernewt with ASA f/2.8 2KORRR reducer/corrector
SBIG ST-8300M CCD camera with FW8-8300 Filter Wheel (LRGBHOS) @ -10C
Orion Mini Autoguider Guide Scope w/Fishcamp Starfish guide camera
Atlas EQ-G mount
Image Details:
705 mins total exposure (11.75 hrs)
Luminance: Hydrogen: 73x300s
Red: Sulfur-II: 32x300s
Green: Hydrogen-alpha: 73x300s
Blue: Oxygen-III: 36x300s
Image acquired using Equinox Image, with guiding through PhD. Preprocessing (darks, flats) prepared using Nebulosity. Stacking and post-processing performed using PixInsight, Adobe Lightroom, and Adobe Photoshop.
Film Astrophotography's Finalist - Nebhunter: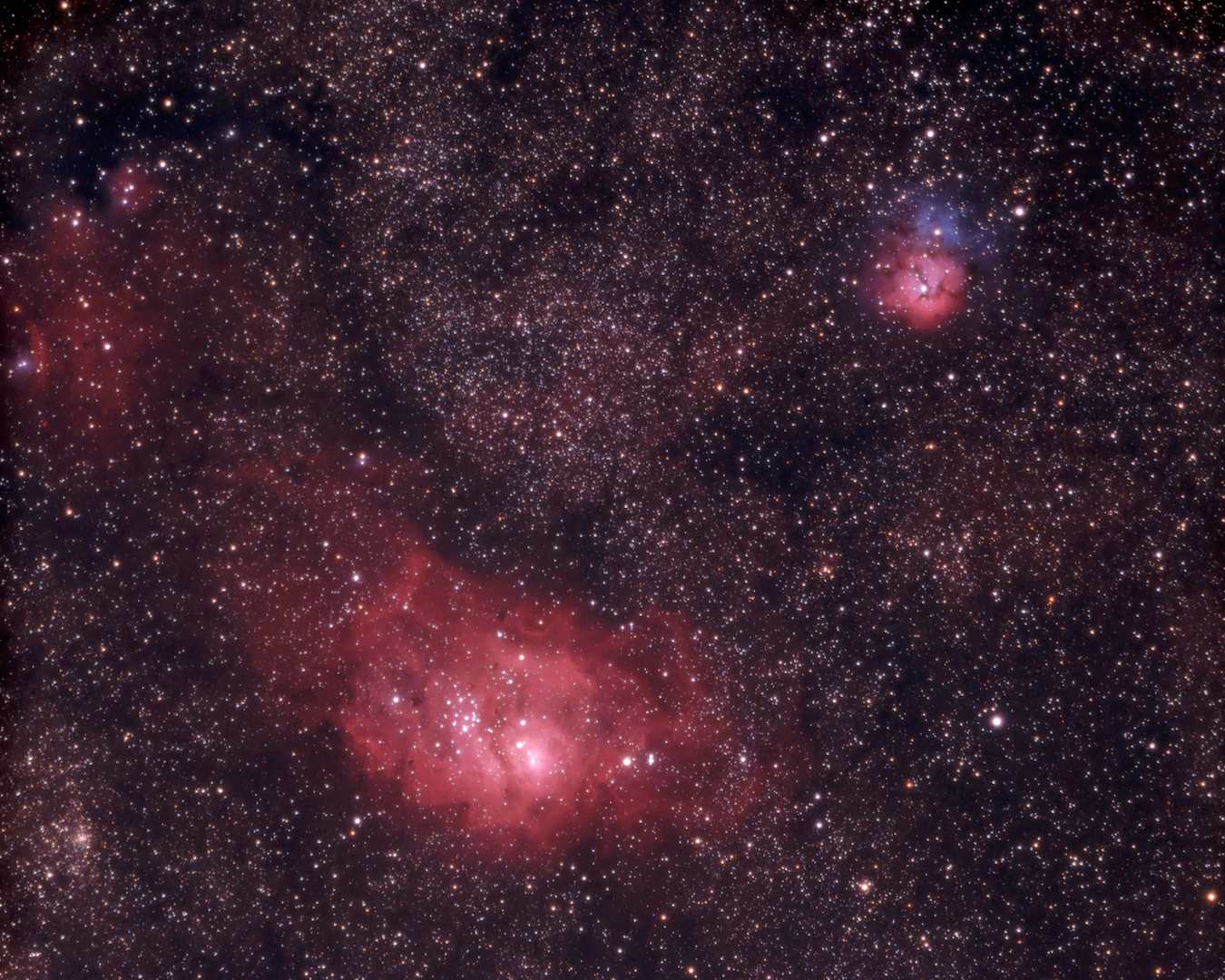 M8 M20. Tec 140 with field flattener - Pentax 67 camera Kodak E200 film - 90 minute exposure developed N + 1.5 push. Losmandy G11 mount auto guided with an ST-4. Taken June 13 2012 @ 01:30 hrs. Canon 9000f scanner with Silverfast V8 & CS4 for processing. Travelling Wilbury Observatory in West Lorne, Ontario. Link to full size file:
http://www.pbase.com...image/144799836
DSLR & Digital Camera Astro Imaging & Processing's Finalist - Yoddha:
M17 - Swan nebula
Imaging: WO ZS 110 triplet + WO FRIII 0.8x, Modified 550D, EM-200, APT (Astro Photography Tool), PHD
Guiding: WO ZS 66SD, DSI 1 Pro
Subs: 19x7min = 2h 13min, ISO 1600, no calibration - only dithering
Processing: DSS, PS CS3
Location: Rozhen (1730m ASL), Bulgaria
Bigger version
CCD Imaging & Processing's Finalist - Bill Snyder: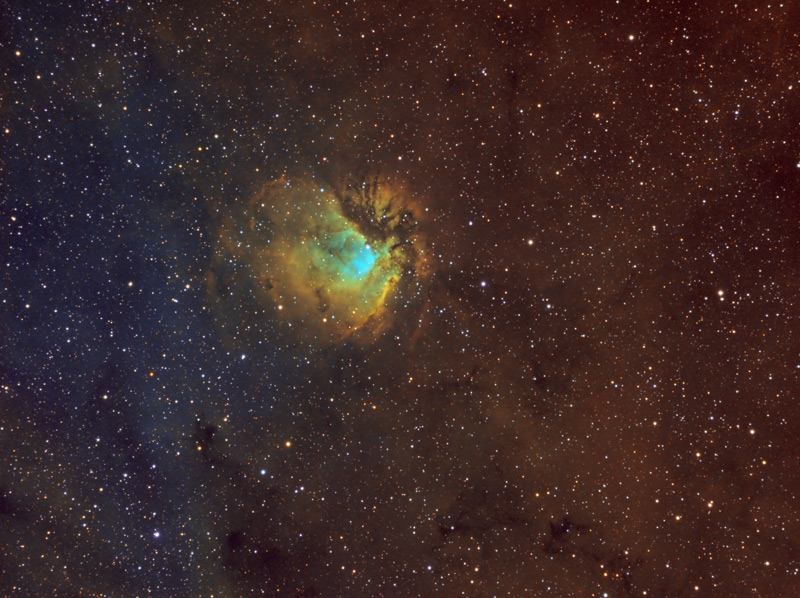 Sharpless Sh2-112
Scope TMB130mm
Camera Apogee U8300
Mount Atlas EQG
Filters Astrodon Ha5nm OIII3nm SII3nm
Exposures Ha600min OIII300min SII220min
Taken from Connellsville Pa. USA
FullSize Image Here
Solar System Imaging's Finalist - bunyon: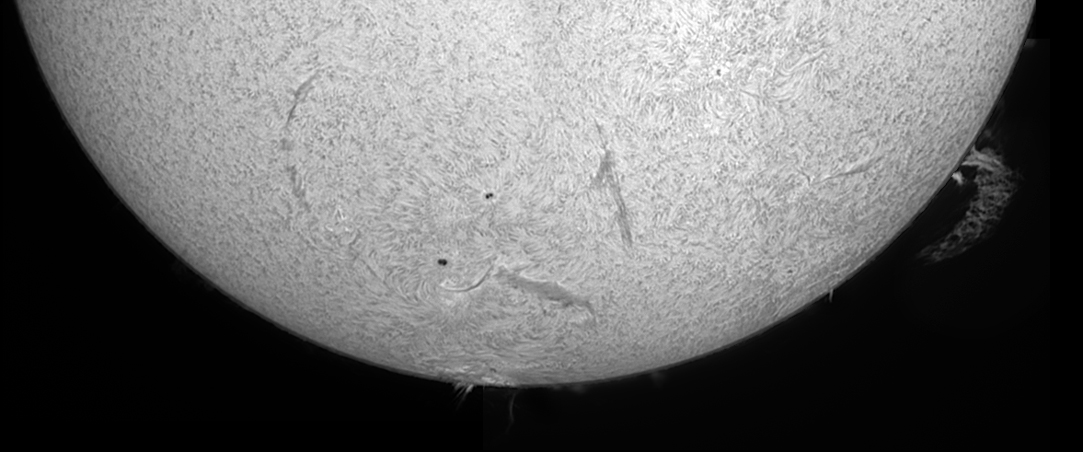 This is a three frame mosaic taken through a PST with 3x Barlow and Flea3. Imaged the morning of July 26.
Sketching's Finalist - Roel: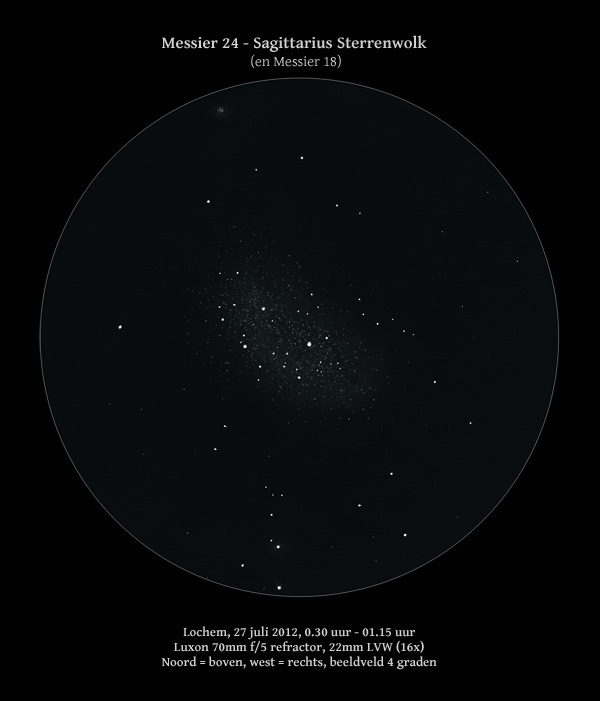 Hereby I would like to submit my sketch of M24 I made this week.

A few nights ago I went on a trip to my favourite observing site 20 miles from my home. Because of the warm summer evening temperatures I did not travel by car but tied everything onto my little 1971 Honda moped and drove off to Lochem, The Netherlands. In my backpack I carried a very cheap 70mm refractor that I can use on my photo tripod.

M24 doesn't rise very high at my lattitute (52N), but was well visible in the tiny refractor at 16x. A very nice widefield view.

I sketched the brightest stars with a black pen and used a sharp 2H graphite pencil for the "mist" of unresolved stars.

In the north-northeast corner of the sketch M18 is visible as a tiny open cluster.

Good Luck to all our finalists!

&nbsp