Welcome to the August 2012 Cloudy Nights Imaging/Sketching Contest poll!
Each month the best images selected from the individual Cloudy Nights Imaging and Sketching forums will be presented for the userbase to vote on. The winning entry will be posted on the front page of the CN website for all to admire! At the conclusion of the poll, the entry with the highest total will be the winner of the contest..
Please choose your favorite from the entries below. The poll will remain open through September 18th at midnight.
Here are the entries for August!
Beginning and Intermediate Imaging's Finalist - Mike7Mak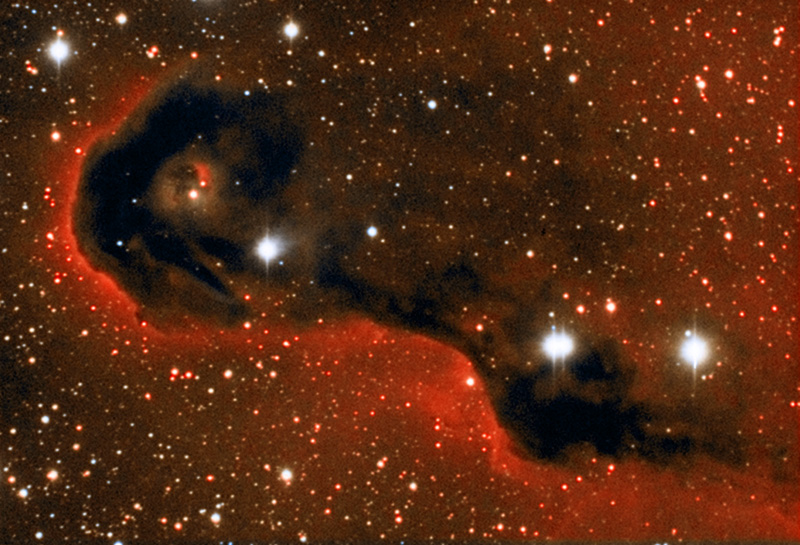 [IC 1396 the Elephant Trunk Nebula
August 19, 2012
Dutchess County, NY
24 x 5 minutes L (CLSccd)
18 x 5 minutes Ha bin 2x2 (12nm)
12 x 5 minutes O3 bin 2x2 (12nm)
Combined in LHOO
LX200gps 7" Mak w/Antares .5 reducer
SBIG ST-402me
Nebulosity 3 + Photoshop 6
Film Astrophotography's Finalist - Nightfly:
The Dark Nebulae of Southern Ophiuchus
Date: July 10, 2012
Location: Flanders Pond Observatory, East Sullivan, Maine
Sky Quality: SQM 21.3 Average Transparency.
Camera & Lens: Pentax 67 with 300mm f/4 @ f/5.6 Tiffen Haze-1 Filter.
Exposure: 60 Minutes continuous exposure on Fuji Acros 100.
Guiding: Camera piggyback atop vintage 8" Meade 2080 SCT Manually corrected via hand controller and reticle eyepiece.
Post Exposure: Film developed in Kodak Xtol 1:1 standard development. Negative scanned via an Epson V600 with post processing done in Adobe Photoshop.
Click Image for larger (1280 x 1024) version.
DSLR & Digital Camera Astro Imaging & Processing's Finalist - sabin_fota: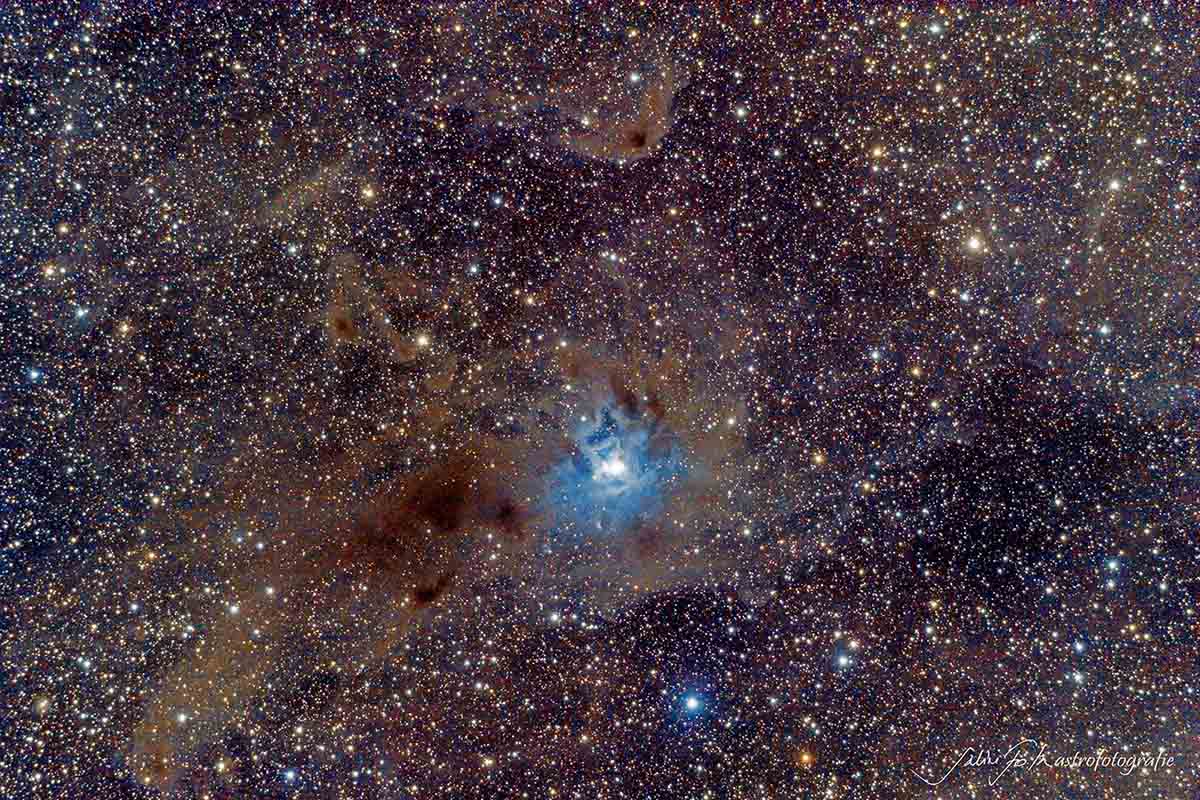 NGC7023 - Iris Nebula, taken with pure DSLR, unmoded/uncooled on almost pitch black sky.
Date: 11-18-19.aug.2012
Location: Muntele Mic, Romania
Telescop: Megrez 90mm APO, f/6,2 la F=558mm
Camera: Canon 50D unmoded, uncooled, P-FLT4 reducer at F=432 mm controled by APT
Filter:
Guiding: TS 8x50 cu Alccd5 controled by PHD guiding
Mount: CGEM
Exposure: 62x300" - 310'
ISO: 800
Software: DSS, PixInsight, PS
high resolution
CCD Imaging & Processing's Finalist - Mike Wiles: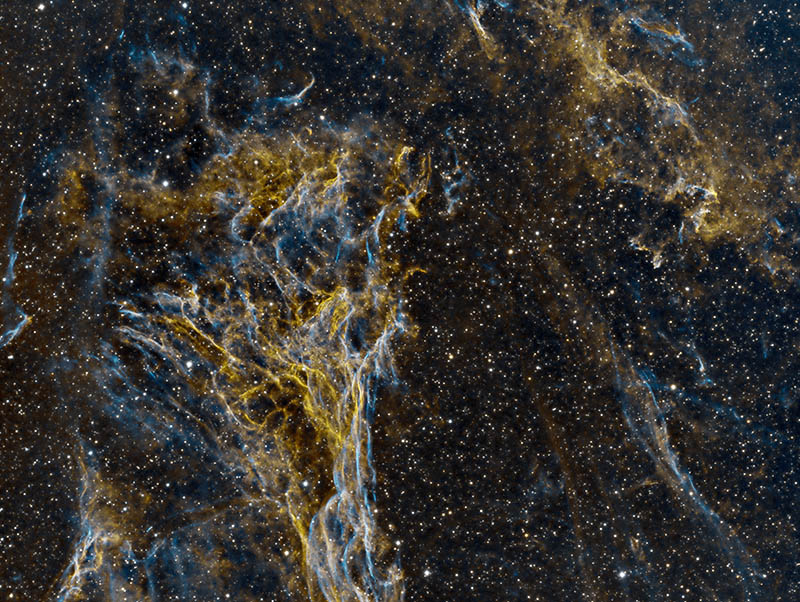 Date: August 2012
Location: Goodyear, Arizona
Sky Quality Suburban Light Pollution - ZLM 5.2
Telescope: Explore Scientific ED127CF Refractor - 127mm f/7.5 Carbon Fiber Triplet
Mount: Astro-Physics AP900GTO CP3
Camera: SBIG ST-8300m and SBIG FW8-8300 filter wheel
Guiding: SBIG ST-i Mono and SBIG OAG-8300 off-axis guider
Exposure: 7 hours
(Ha: 7 x 30 min, OIII 7 x 30 min)
Capture: Maxim DL 5.18
Calibration & Processing: PixInsight 1.7
Looks like it's Veil Nebula month.

At this summer's Grand Canyon Star Party a friend and I were looking at Pickering's Triangle around midnight from the veranda of the North Rim Lodge through a 20" Obsession. I was so blown away by the detail in the background around Pickering's Triangle that I knew I had to image it soon. This is the result of that effort. Image was shot as a bi-color narrowband by mapping H-Alpha to the Red Channel, OIII to the blue channel and then H-Alpha and OIII were blended at a ratio of 50%/50% to generate a synthetic green channel. Processed entirely in PixInsight. A larger image can be seen at
Astrobin
.
Solar System Imaging's Finalist - Burak Yakut:
UV-RG(%50R+%50UV)B(UV)
Orion Atlas 10" f4.7@f23.5
PGR Flea3 Firewire Mono
Astrodon UV - R
UV channel 1000 frame
R channel 2500 frame
Bakirkoy-Istanbul-Turkey
Sketching's Finalist - maroubra_boy:
Hello all,

A sad time has befallen our hobby with the passing of Neil Armstrong. I never imagined as a little boy that I would be writing a tribute to him. And these words are not easy either.

Last Saturday night I managed a session with a good mate, both of us sketching the Moon. We never could have imagined what was happening on the other side of the world at the same time. What had been a very productive and happy time turned into a sorrowful one in a few short hours.

From my last sketch, I was determined to focus on the area around either one of the poles. Whatever took my fancy would become my subject. The spectacular crater Moretus caught my eye, and two hours later the sketch below appeared.

What most impressed me was the shadow flooded crater floor with its brilliantly white, massive and tall central peak surrounded by the silent blackness. Careful inspection showed a terraced internal crater wall, highly textured and fractured, as well as very crated too.

The whole scene was very dramatic with the foreshortened lunarscape, long, long shadows, and an impressively long leading edge of singularly illuminated peaks far beyond the terminator proper. By the time the main body of the sketch was done, I just couldn't finish it without adding the position of the south pole and an extension of the south east limb with the irregular 'horizon' of the Moon.

This sketch will forever be a "remember where you were when…?" occasion with the passing of Neil Armstrong.

Neil, every time I look through a telescope, I become an astronaut too…

The world has lost a true hero. Humble, graceful, peaceful.

Alex.

Object: Crater Moretus to South Pole

Gear: C8, 8" SCT

Gear: 9mm TMB Type II Planetary, 222X

Date: 25th August, 2012

Location: Sydney, Australia

Media: Soft pastel, charcoal, white ink and china graph on A5 size black paper.

Good Luck to all our finalists!

&nbsp