Welcome to the September 2012 Cloudy Nights Imaging/Sketching Contest poll!
Each month the best images selected from the individual Cloudy Nights Imaging and Sketching forums will be presented for the userbase to vote on. The winning entry will be posted on the front page of the CN website for all to admire! At the conclusion of the poll, the entry with the highest total will be the winner of the contest..
Please choose your favorite from the entries below. The poll will remain open through October 15th at midnight.
Here are the entries for September!
Beginning and Intermediate Imaging's Finalist - Mike7Mak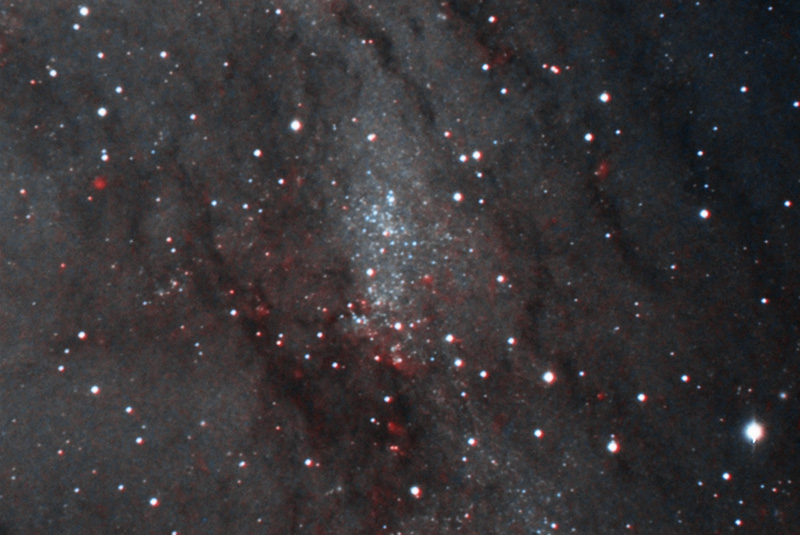 NGC 206...Star cloud in the Andromeda Galaxy.
11-12 Sept 2012
Dutchess County, NY
LX200gps Mak 7" w/Antares .5 reducer (1500mm fl)
ST-402me w/Xagyl filter wheel and Astronomik filters
21 x 10 min L (ir/uv)
8 x 15 min Ha bin 2x2 (12nm)
12 x 15 min O3 bin 2x2 (12nm)
Processed with Nebulosity 3 and Photoshop 6
Film Astrophotography's Finalist - Nightfly:
Click Image to larger size (1280x1024)
Milky Way Mid-Rift
Features the area centered around Brocchi's Cluster with the constellations Sagitta and Vulpecula. Also revealed are the delicate tendrils and knots of various dark nebulae that comprise the Great Rift.
September 11, 2012
Location: Flanders Pond Observatory, East Sullivan, Maine
Sky Quality: SQM 21.42 Average Transparency.
Camera & Lens: Pentax 67 with 200mm f/4 @ f/5.6
Exposure: 30 Minutes continuous exposure on Fuji Acros 100.
Guiding: Camera piggyback atop vintage 8" Meade 2080 SCT Manually corrected via hand controller and reticle eyepiece.
Post Exposure: Film developed in Kodak Xtol 1:1 standard development. Negative scanned via an Epson V600 with post processing done in Adobe Photoshop.
CCD Imaging & Processing's Finalist - David Rosenthal: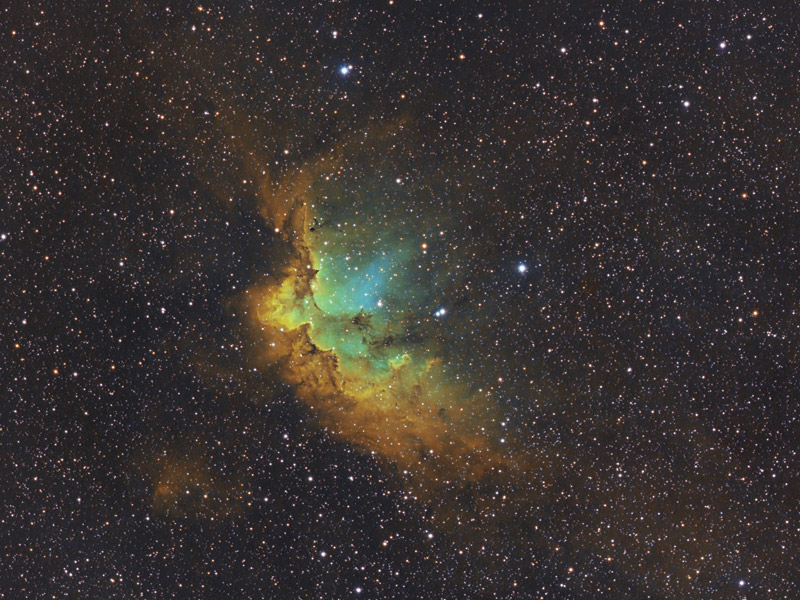 Here is my entry for September.
Target : NGC7380 (The Wizard Nebula)
Dates : 9/17, 9/19 & 9/21/2012
Location:
20 miles outside New York City
Optics : Borg / Pentax 125SD @ f/4.6 [Oasis #7878]
Camera : SXVR-H18
Filters : AstroDon 5nm Ha, OIII, SII
Guiding : Off Axis, Gemini Direct, SX ExView Camera
Mount : Losmandy G11 Gemini I on an AP Wood Tripod
Exposure: R:G:B = SII:Ha:OIII = 10*1200:9*1200:8*1200
Software: MaximDL, Registar, PSCS5X64
1280 X 1024 Version
http://www.pbase.com...201604/original
Sketching's Finalist - Michael11:

This is my entry: A Triptych of Globulars

Objects from left to right: M2, M79 and M75

Drawing details: graphite pencil sketch on a white paper, scanned and inverted in Photoshop

Instrument: Skywatcher BKP250 Newtonian on NEQ6 mount

Eyepieces: 5mm Vixen LVW and 8mm Televue plossl

Location: Negev desert, Israel

Date and Time: september 15th 2012, 00:00-04:00

Link to a larger version

Good Luck to all our finalists!

&nbsp