Okay, here goes... scope has been put away for too long, and finally got it out and am trying to learn how to get images. It seems I have an enormous amount to learn, but guess I have to crawl before I can fly. Last night was my first attempt to image Andromeda (seems like a popular first image... discovered that after last night's shoot). I am running Fedora Astronomy, and have the stacking software, am learning about dark frames, bias frames, etc. But, still crawling. This image was through an ES127 APO Triplet, on a NEQ6 Pro, Canon T3i with no modifications. Exposure was 1 minute at 12800 ISO, only tracking with what the mount provided. Exactly one exposure, processed in GIMP.
I also managed to get a pretty good shot of M33, considering I couldn't even see it in the finder...
M33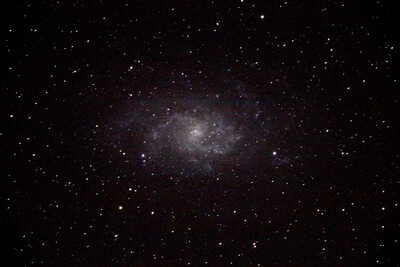 Edited by KF4DAO, 21 October 2020 - 12:37 PM.