Welcome to the January 2014 Cloudy Nights Imaging/Sketching Contest poll!
Each month the best images selected from the individual Cloudy Nights Imaging and Sketching forums will be presented for the userbase to vote on. The winning entry will be posted on the front page of the CN website for all to admire! At the conclusion of the poll, the entry with the highest total will be the winner of the contest..
Please choose your favorite from the entries below. The poll will remain open through February 20th at midnight.
Here are the entries for January!
Film Astrophotography's Finalist - Michal1
Hello, here is my submission for January.
Bigger
(2.1 Mpix) and
biggest
(3.2 Mpix) versions.
Milky Way in Perseus and Auriga. Photographed by Michal Bilek (Michal1) near the Votice town in the Czech Republic.
Setup: Pentax 6x7 camera, EQ6 mount, Kodak E200 film 120 format, Takumar 105mm lens @ f/4, exposure time 40 min (continuous), scanned on Nikon 9000 Coolscan at 2500 DPI.
CCD Imaging & Processing's Finalist - alpal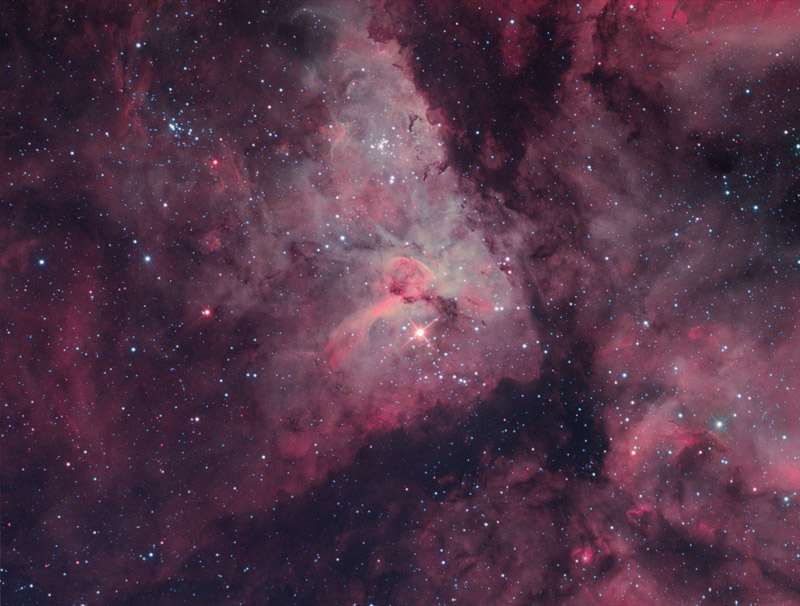 Eta Carinae NGC 3372
Full frame.
55 minutes total integration time.
1 x 10 minutes Ha as Luminance binned 1x1 blended 50%.
3 x 5 minutes each of RGB binned 2x2.
FWHM under 3.5 arc seconds.
Location - outer suburb of Melbourne Australia 29th Jan 2014.
8" f6 Newt, NEQ6 modified mount, QHY9 mono camera.
Astronomik 2" CLS-CCD filter in front of all 2" filters.
PHD guiding with Lodestar & TS9 OAG, Baader RCC coma corrector,
DSS, FITS Liberator, PS CS5.
Larger version on flickr - 1,920px × 1,453px, 3.0 MByte.
see here:
http://www.flickr.co...074866/sizes/o/
Sketching's Finalist - Asbytec
Here's my entry for Jan 2014 sketching contest.

I chose this one because it was the most unique so far this season. The Io transit shortly after opposition was amazing in that I suspected being able to observe Io eclipse it's own shadow. It was also faintly visible against the SEBn.

The festooning was pretty nice, but the cloud features in the north were quite nice even if LRS-1 was missed. Some of the rifting in the SEB was unique, as well, in that it's not often observed. Neither are the ovals in the SSTeB preceding the GRS. It was a great night worthy of sharing.

This sketch was made beginning 1700UT on 8 Jan from Luzon in the Philippines. Seeing was good to excellent, transparency was average. Equipment used was a 150mm MCT on an undriven EQ mount. Magnification was 240x with 8mm TMB II.

I'd prefer to submit the sketch in my avatar, it is more detailed and maybe a little better rendered. This one is more unique, so it was a tough choice. I hope I chose well.

The write up is here.

Good Luck to all our finalists!

&nbsp