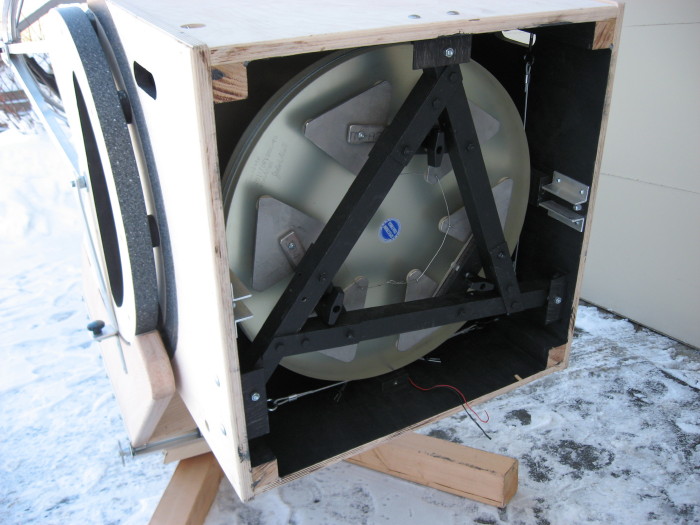 Well let me start a war by saying PLOP makes a gross assumption which invalidates the whole program. It assumes that the supports for the triangles are infinitely stiff. They are not. the two bolt rung also deflects alot differently than the one bolt rung.

If you use this program

http://metalgeek.com.../deflection.php

the aluminum tube you propose yields a deflection of .0016" deflection when the scope is pointed straight up. with a 25 lb load and a 30inch fixed span. it also gives you a .8 lbs/ft weight

If you use 2" tube steel with a 0.0625 wall you get a deflection of .0004", and a weight of 1.7 lbs/ft.

Again both values pointed straight up, and they taper off towards 0 pointing at the horizon

In essence your sell would weigh 4.5lbs more in steel, (which is no big deal because you will need tailweight for a 29 F4.5 anyway), and it will be cheaper.

I will post in the next day or so the way I made my 24's that uses a no weld mirror cell, that can be made with only a hand drill and a center finder.
I appreciate your comments and don't consider them a hostile action. I do question a couple of your statements.
I don't see how bending of the triangles invalidates PLOP. I believe the purpose of PLOP is to determine the optimum placement of the support points. The purpose of a triangle is to distribute the force equally from its central support point to the three outer points. The triangle is free to flop about its central support point. If the triangle bends a little, it is of no consequence as long as the bending doesn't collapse the whole structure.
I don't see that a deflection of .0016" would cause any problem. I don't intend to use the scope for imaging and I will simply refocus if there is deflection. I'm more concerned about loss of alignment when the tube tips between vertical and horizontal, and that's why I avoided the usual "ladder" frame (two points on one rung, one on the other). On my 20" there is a very slight change in alignment from vertical to horizontal, visible with a laser collimator but showing no effects in the eyepiece.
Above is a photo of my mirror cell in the old 20" mirror box; I've subsequently rebuilt the scope out of aluminum but kept the same cell.