What a dork! I totally forgot to post the poll! Sorry for the delay!
Who has brought us the best
M13
? Vote for your favorite from the following entries:
AdirondackAstro
Here is my image taken in the morning hours of June 8, 2014.
Imaging telescopes or lenses: Celestron XLT 150
Imaging cameras: Canon 350d modded
Mounts: Celestron Advanced GT CG5
Software: DSS, Photoshop
Accessories: Orion StarShoot AutoGuider, Intervalometer
Location: Saranac, NY
All other details about the image can be found on the link to the image on astrobin.
jhayes_tucson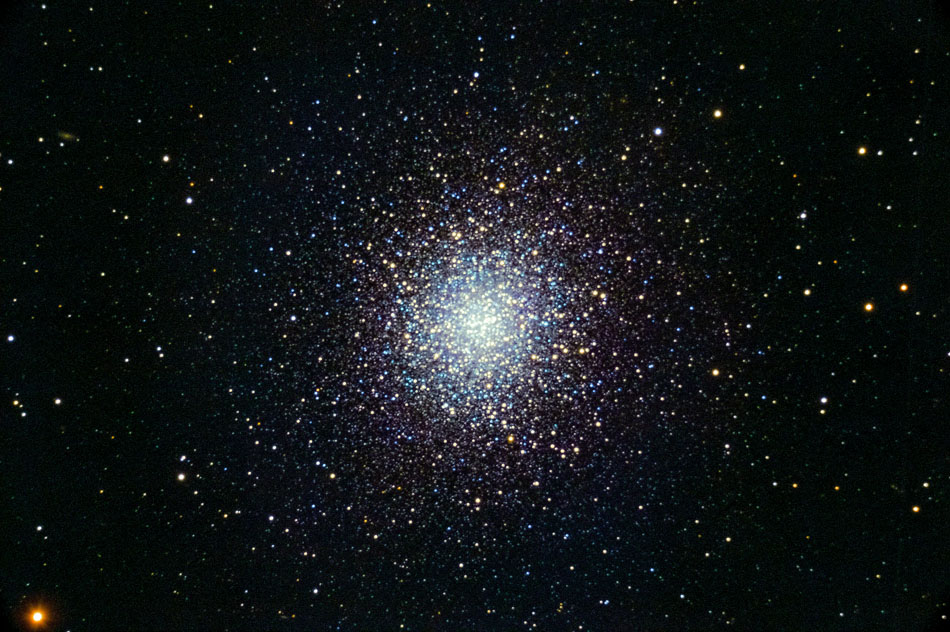 I'm heading out of town for the rest of the month, so here's an image of M13 that I took on June 9th. This is 16, 3 minute subs at ISO 800 with a modified Canon 6D on my C14 at the F/11 Cassegrain focus. Guided with a Vixen VMC95L and a Celestron NexGuide V2 on a GCE mount. Stacking and processing with PI and PS (lights only.) The hi-res version is also available at:
http://www.astrobin.com/101362/B/
The seeing was maybe only 4/10, so I think that the C14 should do better under more stable conditions, but with only minimal sharpening, this image is "close." Enjoy...
John
exmedia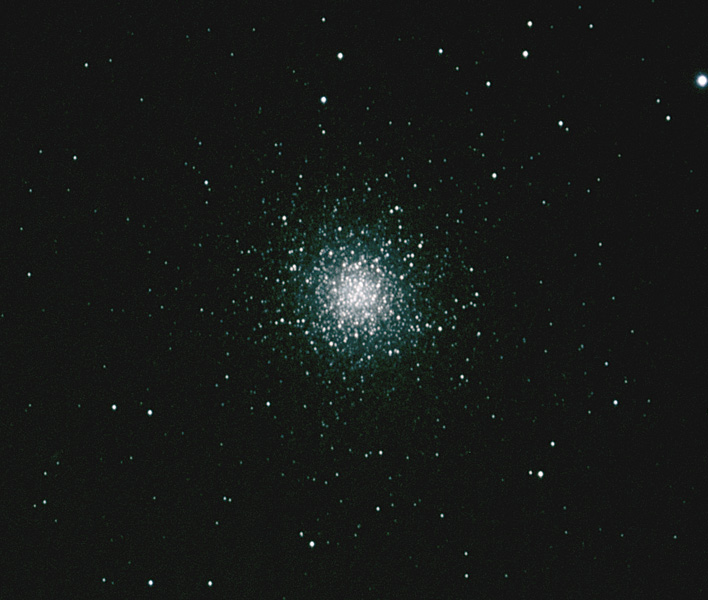 Captured June 8
Scope: ES102 apo, f/5.6 reducer-flattener; filter: Orion Skyglow; camera: stock Canon T3i; guiding: AT50GS, SSAG, PHD; mount: AVX
59 one minute lights @ ISO800, darks in camera, 36 t-shirt flats, 25 bias frames, all captured with BYEOS. Shot from my White Zone (Orange County, CA), processed in Nebulosity 3 and PS CS2
tim57064
Here is my submission,my first capture of M13. Taken 5/17/2014
Equipment used:
Celestron 80 ED f/7.5 main imaging scope
Canon 650D DSLR
Orion 80ST ,Guide Scope
Orion Sarshoot Autoguider
Orion Atlas EQG Mount
35X20" 800ISO Guided
5 Darks
No flats or bias
DSS,Elements 12,PHD
Moon Age 17.16 days
Bortle Dark-Sky Scale 5.0
Taken at Hawk/Grandpa's House Observatory
Tea,South Dakota
http://astrob.in/99142/0/
I know this doesn't even come close to others on here,yet here you go.
NewAstronomer
Here is my attempt, June 8:
Equipment
100mm ED Skywatcher Pro @ f/7.65
ZEQ25GT
Canon 500D stock, no mod
QHY5L-II + Orion 50mm guide scope
Software
BYEOS + Star Tools
Frames:
42x120"
No darks, dithering
No flats or bias
Red Zone, street light over backyard always causing gradient issues
diurnal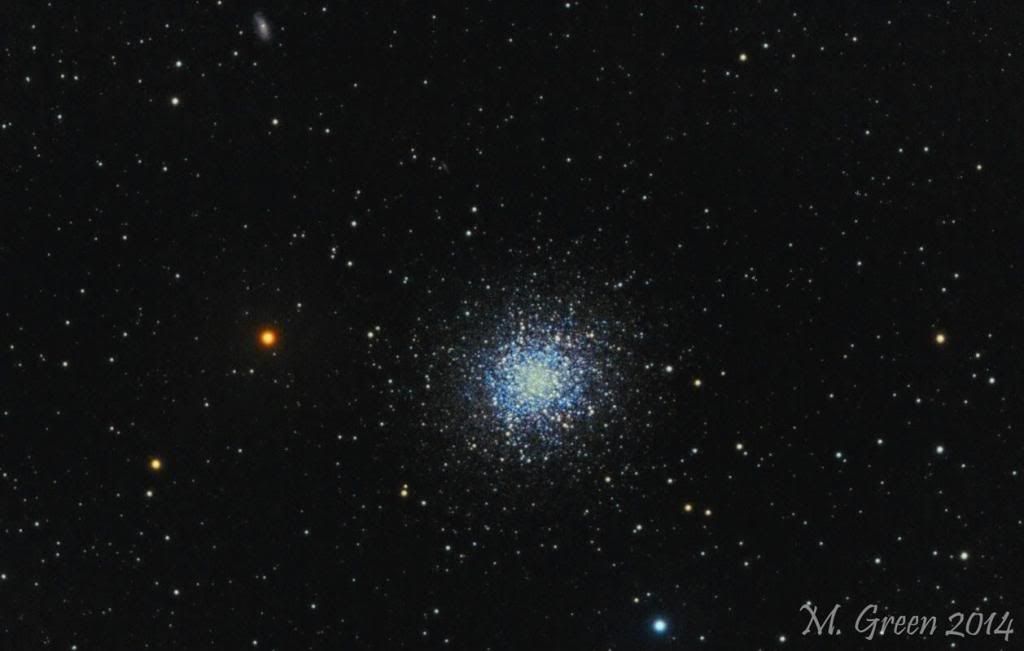 Great Globular Cluster M13
Location: Montgomery, AL
Bortle sky:5
Imaging telescopes or lenses: StellarVue 115mm APO Refractor
Imaging cameras: Canon 60 DA
Mounts: Astro-Physics 1100GTO
Software: Photoshop CS, PixInsight, BinaryRivers BackyardEOS, Phil Harvey Dark Master
Accessories: Orion ST80 80 MM
Resolution: 3492x2221
Dates: May 10, 2014
Description
HDR many different sub exposures
Higher resolution:
EJN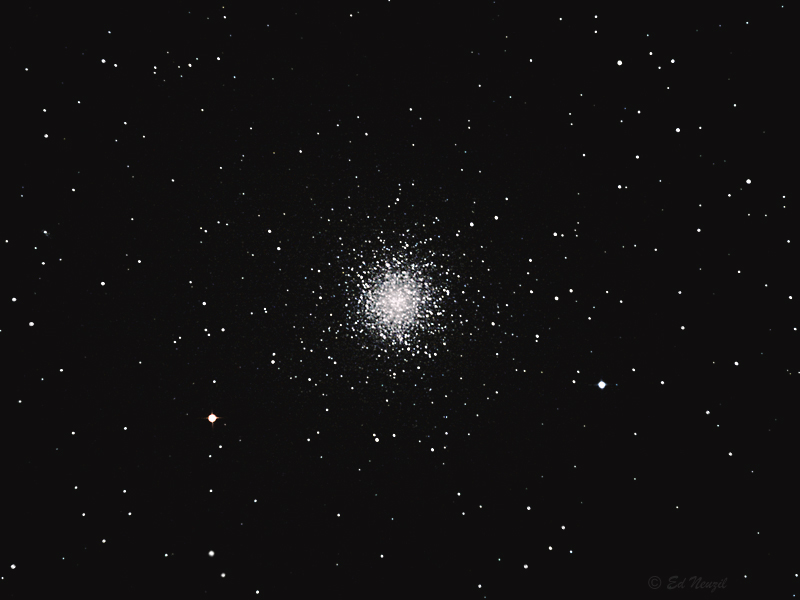 Probably kind of futile, but this was taken with modest (cheap)
equipment from a white zone. This was my 3rd attempt of M13 overall,
1st with the scope used.
May 23, 2014
Camera: Canon 400D unmodded
Scope: Celestron Omni 6" f/5 Newtonian, no coma corrector
Mount: Mizar, 1980's vintage
52 x 10s subs (subs are short due to limitations of the mount & L.P.)
Camera control: EOS Utility
ISO 800 w/In camera noise reduction
Darks, flats, bias: none
Processing: DSS, PS CS2
Location: Chicago Suburbs
thetopham
6/22/14
Camera: Canon T3i Brent Oliver Baader Mod
Scope: Williams Optics GTF 81mm with built in field flatener
Mount: Celestron AVX with ADM mounting block
17 x 30s iso 800
Camera control: Nebulosity 3
ISO 800
Darks, flats, bias: none
Processing: DSS, PS CS6
Location: Carpinteria, California
BrianOttum
http://www.cloudynig...419-M13_vsm.jpg
Six Hours of M13
75x300" @ ISO 800
Canon 5DmarkIII (modded)
10" f/5 Newt, Baader MPCC
WO98FLT w/SSAG and PHD
Paramount MX
Personal Remote Control Scope
High & Hot NM Desert

May 31, June 1, June 2

Camera cooled within homemade box

12 Darks, 12 Flats, 12 Bias

No dithering

High Resolution Campos http://astrob.in/103...gallery/get.jpg

Here goes my M13 captured on May 31st

11x180 sec. @ 800 ISO

Canon 450D full spectrum

200mm f/4 Altair astro newtonian with Baader MPCC coma corrector

EQ6 go to mount

No flats, darks or bias, only dithering used.

SMigol https://s3.amazonaws..._2014_Final.jpg

It's been a while since I've submitted an image to the challenge. Here's my effort from the last two nights of testing prior to heading to Adin, CA for GSSP.

This image is a sum of 18 exposures at 1200 seconds each at 100 ISO.

Standard setup: Stellarvue SV4, Pentax K10D (modified and cooled - and broken shutter), SSF6 flattener

Filter: IDAS HEUIB II

Mount: Losmandy G11 with Gemini 2

Guiding scope: Stellarvue SV70ED with Orion SSAG

Guiding: Maxim 5.24

Exposure control: Star Labs DSLR Shutter and Pentax tethering software

Calibrated in Maxim with 10 darks, 21 flats, and 260 bias

Stacked in DSS 3.3.3 beta 51

Processed in PixInsight 1.8

Larger

on Flickr

|

on Astrobin torsinadoc http://www.cloudynig...601515-m13c.jpg

Here is my submission

39x180s

+darks, flats, bias

+dithering

Explore Scientific 102 APO

Canon T3i (unmodified)

AVX Mount

Yellow zone

Capture and processed in BYEOS and Pixinsight

Higher resolution image

http://astrob.in/928...gallery/get.jpg martl http://www.cloudynig...on_DBEbe2kl.jpg

A somewhat mishap try, after 7 frames clouds rolled in and my gear was soaked with rain. 7x7min ISO320 with 6Da.

Larger field:

http://www.astrostam...e.php?pos=-1497

CS

Martin

iverp http://www.cloudynig...14-05-09 sm.jpg

Integration: 15x90sec lights only

Camera: Canon T3i unmodified

Imaging Scope: AstroTech 72ED

Mount: Meade LX200 unguided

Processing: Deep Space Stacker, GIMP 2.9

Location: Brookings, SD

http://astrob.in/104...gallery/get.jpg KapHn8d

Here is my M13 from last night:

http://astrob.in/104...gallery/get.jpg

Imaging telescopes or lenses: Orion EON 130mm ED Triplet APO

Imaging cameras: Canon 1Dx

Mounts: Orion Atlas EQ-G

Guiding telescopes or lenses: Orion ShortTube 80

Software: BackyardEOS, Adobe Photoshop CC, Pleiades Astrophoto PixInsight, Stark Labs PHD Guiding

Filters: Orion SkyGlow

Accessories: Orion 2" Zero-Profile Prime Focus Camera Adapter, Orion T-ring for Canon EOS, Orion Star Shoot Auto Guider, Orion 5-Position Filter Wheel, Orion EZ Finder Deluxe II Reflex Sight, Orion RockStable Anti-Vibration Pads

Integration: 10 lights and 6 darks - 120s each at ISO800

*

&nbsp