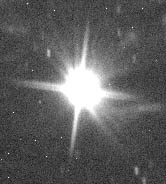 I have an 8" F 3.8 Newt that I'm playing with. I was setting up the collimation on it and when on a bright star I am very happy with the nice concentric rings through focus and while I am no expert at collimating reflectors, I *think* it looks pretty good. HOWEVER, when I tighten up the focus I notice an extra flare between the normal four spikes from the spider. Any bright star in the image shows this extra flare. My first thought is that I just need to tweak the collimation a bit to bring this "flare" into the middle but tweaking collimation ends up making everything else bad.
Using a Hotech laser collimator I made sure that the laser is landing dead center on the mirror (the mirror is marked) but other than that I don't know how to make sure the secondary mirror is physically and properly centered. I am looking for something that could be obstructing the light path but the only thing that comes to mind are the nuts that hold on the finder scope bracket but they seem to be hidden below the line of the tube support ribs.
Well anyways, please take a look at this video and let me know what I'm doing wrong.
Youtube http://youtu.be/vMD10bBxwrE
attached is an example of a quick image I did last night. I cropped out the bright star to show you how it looks very similar to what i see when using a laser to collimate.
Edited by Whichwayisnorth, 06 August 2014 - 05:49 PM.