BillP's thread on "classics" got me thinking about all of the dozens of instruments I've owned over the years, and which, were I asked to identify one of them above all the rest, my favorite would be, and why.
Per the title, it's the TEC 140. It ain't the biggest, nor the rarest, nor the most expensive instrument I've owned. But it is the best.
But why?
A little about me. I've been observing since the early 1970s. I've owned more than 50 telescopes and have more than 15 currently. The largest I have ever owned is 16". The smallest is 60mm. I own or have owned Mak Newts, achromats, ED doublets, apochromats, SCTs (both Edge and non-Edge), MCTs (both Gregory and Rumak), D-K's, Dobs and Newts. Focal ratios have ranged from f/4.3 to f/17. I am purely a visual observer. I don't do binoviewers either.
Of all of these instruments used over a four decade period, for me the TEC 140 reigns supreme. Oh TEC how I love thee! Let me count the ways...
The TEC is the contrast king.
The TEC is smooth. The smoothest optic I have ever owned. The TEC has masterfully coated surfaces (see invisi-glass image below). The TEC lacks 4 of the superfluous light-scattering, contrast-robbing surfaces that an air spaced triplet or SCT are burdened with.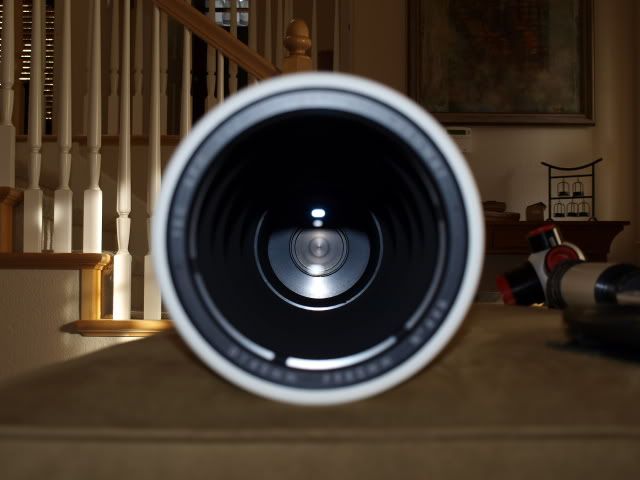 The TEC is light and compact.
TEC weighs just 19# bare and is scarcely a meter long with dew shade retracted. It can live happily and easily on an NEQ6/Atlas/CGEM. Anyone can carry it in any vehicle. Anyone can install it in the mount saddle easily.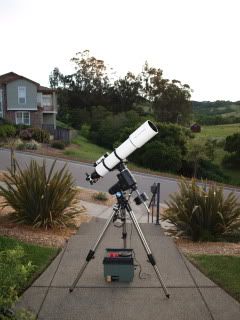 The TEC is ready to observe when you are.
The TEC design cribs off of the design cues of the earlier Zeiss APQs. It is an oiled contact triplet. The not only graces it with superior contrast on account of fewer scattering surfaces, but also rapid acclimation. There has never been a session, in any season, at any elevation or in any environment where the TEC was not producing excellent visual images from the moment I remove the front lens cap and take my first peek to the moment I take it down and put it back in its case. While others with wide air-gapped triplet lenses and enclosed catadioptrics are still busy making excuses for their scopes, the TEC owner is well into his or her observing list for the session.
The TEC is affordable (not cheap) and available.
Today new TEC 140s go for $5700. When they debuted a decade or so ago, the retail price was around $4600. The TEC in 2014 Dollars is actually cheaper than it was in 2004 Dollars by around $250. Now $5700 is a lot of money for most of us. But for a large apochromatic triplet, it really isn't all that much. For a 6" APM/LZOS triplet you'd pay a little shy of twice that. For a 5" APM/LZOS triplet, you'd pay around 35% MORE. For around the same price you could get a 100mm LZOS triplet. Switching from Euros to Yen, matters are even worse for the competition. A 6" Takahashi TOA will cost you double the TEC. The smaller TOA-130 will cost you $1500 more than the TEC and still leave you hanging with a second-rate focuser to replace.
When I purchased my TEC the wait was about 6 months. The wait for new TEC 140s is now almost 12 months. Still, for a bespoke item, masterfully crafted by a single team under a single roof, a 12 month wait is minimal. More on TEC's business model advantages over its peers shortly.
The TEC is smart.
The TEC 140 design is not only thermally superior and contrast-superior as discussed above. It is also smart by optical design. The peak design Strehl is 0.990 at 546nm where the eye is most acute and sensitive, with a design Polychromatic Strehl of 0.920 from 436nm to 656nm. The gentle f/7 focal ratio, in part, makes this possible. Designing any optic is an exercise in compromises, balancing inversely correlated virtues against one another. TEC's particular solution to the design problem results in a scope that is sublime for any purpose, affordable, portable and convenient.
The TEC is *made*, not just *assembled*, by TEC.
TEC is a small business located in Colorado, USA. TEC scopes are made, end-to-end, by TEC's small Colorado team. TEC has no cost-levying middlemen in its model. It does not procure (and provide margin for) the lenses from an OEM lens maker and then integrate them into tube assemblies of other origins as do APM/LZOS, Takahashi and Televue (and Astro-Tech, William Optics and Stellarvue do, for that matter). The design, execution and QC all happen under one roof by a handful of skilled workers whose sole job it to make TEC telescopes. The level of control in such a model is an order of magnitude higher than in the integrator models used by others. Yuri Petrunin is the man businessmen like Vic Maris and Marcus Ludes want you to believe them to be. (

Kidding, kidding, kidding...not.)

TEC 140 - not just the best real world refractor but the best real world astronomical telescope, all things considered. An instant classic.

- Jim

&nbsp