Just wrote an Android App for bluetooth control of LN300 video camera. This works with the "LN300 bluetooth control modification" I created a few days ago. http://"LN300 blueto...l modification"
This was written with MIT App Inventor for Android. I make no guarantees and claim no liability if this crashes your phone. Use at our own risk. That said, it seems to work great on my old 2.2 Froyo Android phone. You have to pair with bluetooth device in Android settings->bluetooth before you run this program and link.
I was unable to attach Android App to this post since limited by 500K and this .apk is 1.3meg. If you want it, email me and I'll send it to you. If you send me your gmail address, you can directly load program to your Android phone from my responding email. May put it in Google Playstore for free download, if I can figure it out.
Here are a couple of pics. Works awesome!
FYI, should work with Mallincam Micro EX and AVS DSO-1 if you have the RS485->RS232->Bluetooth converters.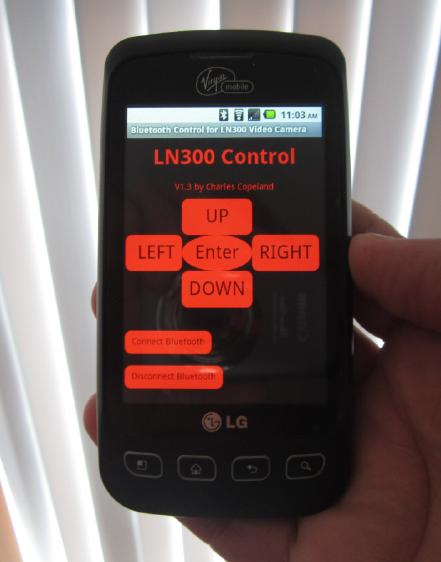 Edited by Charles Copeland, 21 September 2014 - 12:13 PM.