Hi,Derek
Thank you.
About for FC-65, it was converted from my cloudy TS-65P triplet made around 1972.FC-65 lens unit is compatible for TS-65P barrel.and TS-65P is famous for cloudy lens.Most of old Takahashi refractor is suffer from degradation of the coating.Maybe, baking temperature was not so high to keep lens shape accuracy.Indeed TS-65P veiwing was so sharp at that time.Ironically All of non coat fluorite element had never been cloudy.Nowadays Takahashi developed hard and longtime lasting coat for all lens element.TOA,TSA or FSQ is better choice. One problom is their paintings.Older grey green or black is far more better than current ivory green.
It's same of Triplet fluorite 90F made for Takahashi first apo.The picture was my 90F in short time owned.Previous owner had been sent to the famouse repolish shop to clear up cloudy 90F.But visual performance had badly changed.At least worse than my FC-76.so,90F returned to the previus owner and he sent to Takahashi.
Tkahashi checked ill lense shape and changed new element for it.but,Note that spare lens is not perfect.At that time their lens had variation in the quality.They select each lens for better pairings.so it is not certain that changed element could be the best.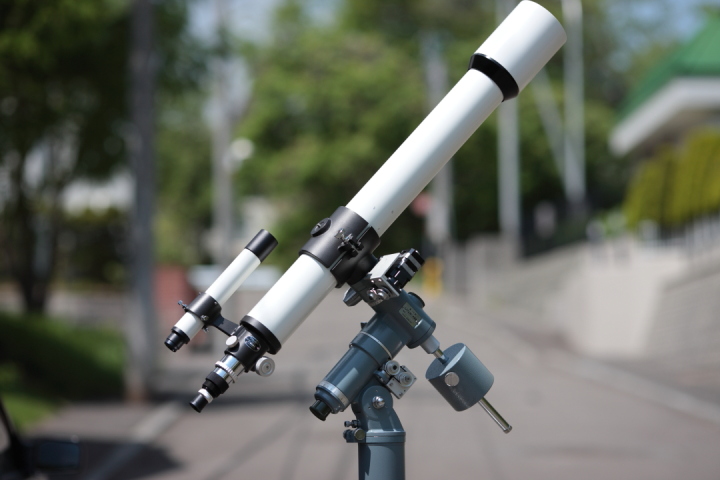 Generally, repolish will go worse in any lens.especialy in a urtra wide lens of 35mm format.If you hope it better,all element should repolish for the correction.After that I never buy a repolished lens.Reason for the degradation of the coating is humidity and some gas of the fluorite element,Tkahashi said.Japan have rainy season,Tokyo or Osaka is not the best places for keeping telescopes.My FC-65 was from Osaka,it is slightly bigining to the degradation on the edge.Reducer of FC-76D is fit for FC-65,Takahashi said.I mainly use FC-65 for astrogragh.I am thinking it's enough,and very pleased of it.
Regards
Hiromu
Edited by n2068dd, 14 December 2014 - 02:08 AM.