A break in the cloud cover yesterday, so I seized the opportunity to have a closer look at the south Imbrium bassin called Sinus Aestuum, the "Seething Bay" (or "Bay of Billows", as Rükl poetically call it).
This is an interesting area with several "DMD" (Dark Mantle Deposit) pyroclastic areas : plains and hills covered in dark ash from fire fountaining eruptions of nearby vulcanic vents.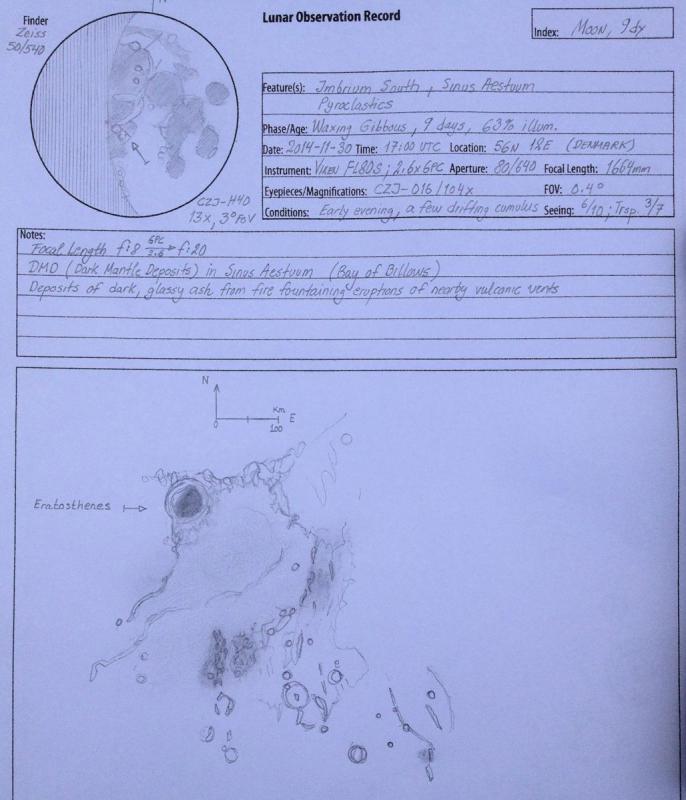 Extended areas with "dark matter" was clearly seen in my classic 80mm Vixen refractor, noticeably N of Scrhröter and E of Bode C.
Also a smaller (ca. 20x20km) distinctly dark area south of the E part of the Hyginus Rille. -- Afterwards I checked with Rükl, and he shows a pair of domes / shield vulcanoes in this small area, which I guess would be the source of the ash eruptions. I didn't see (or look for) these in my 80mm, but I plan to do so next time I get the chance (and possibly bring out my 100mm classic refractor too) !
Allan