.
22-24 Day MOON
Daytime view of Orientale Basin
Here's a more detailed identification of the main features around the Orientale Basin, as viewable here from Earth. I've used a rather harsh increase in contrast to bring out the details more clearly for closer inspection, so please bear with that...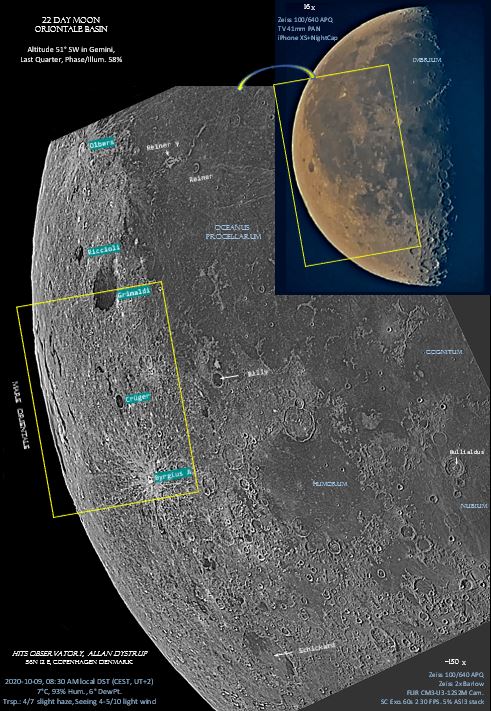 *click*
The first basin ring #1: the Inner Rook Mts. can be seen as a range of bright mountain peaks bordering Mare Orientale towards the E, and it can be faintly traced right at the limb in the far distance beyond the Mare.
Outside ring #1 is seen the long lava-filled trench Lacus Veris, enclosed by basin ring #2: the Outer Rook Mts. This ring can be traced from the crater pair Petit and Nicholson at the S end, up along the E shore of Lake Veris, and then seen clearly in ragged profile at the lunar limb NW of the Orientale basin.
The outer ring #3: the Cordillera Mts. can be followed from the crater pair Wright and Shaler at the S end, up N past Krasnov and Eichstädt, enclosing the trench with Lacus Autumnis, before bending W past the crater Schlüter A. The Cordilleras is an up-warped scarp facing away from us, so there are no dramatic peaks or mountain ranges seen in profile here...
-- Allan