That's maybe because I like to use this great telescope, or it's because I like challenges but,... it's certainly not the best optical combination for this observation.
On 11 December, I finally found a corner of pure sky above the 24-inch reflector made by Olivier Planchon. To observe Uranus, the speed is definitely too high: f / 3.3 d, so we had to use very short focal EP to reach the useful magnification (Nagler 3.7 and 2.5) !.
If you look at my watercolor you can see a somewhat elongated comet hair that diffuse around the planet, that's exactly how we see the planet area in the field, this is probably linked to a not 100% perfect collimation, but still. I get the impression that these big collimating tubes, it is not a piece of cake.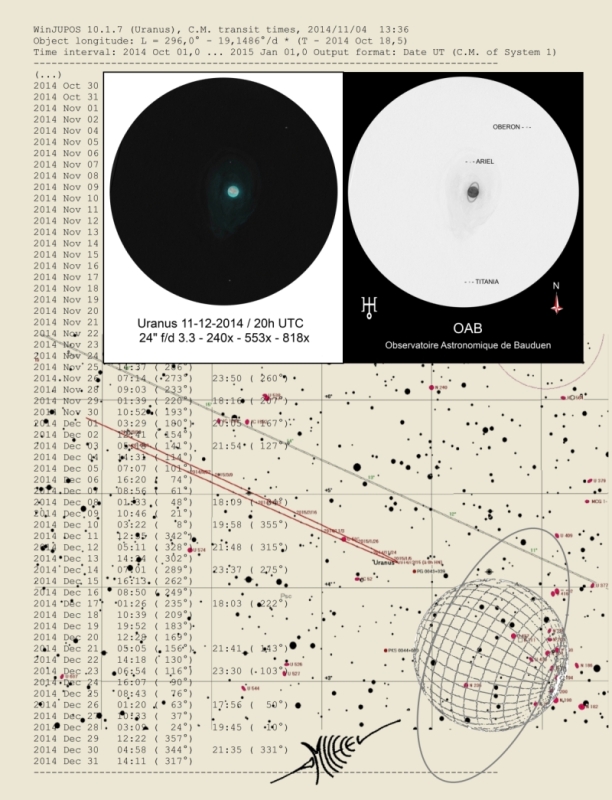 To do this watercolor I sketch some images on site and completed while in the workshop using inversion technique to obtain the desired color. At the end I made the composition.
However, we can say two things:
1- We observed three satellites of Uranus, Oberon, Titania and Ariel, this last one being a bit lost in the lights of the planet
2- the disk of the planet was not uniform as seen in a small telescope or some images. It's very difficult to confirm, but a diffuse zone clearer was observed in the upper atmosphere of Uranus, is that an artifact, I do not know? Anyway the main direction of the light area is perpendicular to the direction of the cloud bands of Uranus.
After watching the transit timetable of the storm raging there for the moment, the clouds was planned to be on the meridian 7h30 before or 9h00 after our observation. Is this a large drift, our vivid imagination, the effect of collimation? or an artefact?
I'm waiting for your remarks.
The timetable is here : http://www.cloudynig...-december-2014/
Michel