Hello Everyone.
I have been struggling with my Celextron AVX mount for sometime now. There seems to be a horrible RA PE. I have PE trained it several times. each time it appears to have no effect. below is the imaging setup I use. Also attached is a PHD log of my RA PE. Any help/ideas would be very helpful. With the current RA PE it is impossible to get any imaging done. I used celestrons PECTool's program to train the AVX mount. and PHD2 for guiding.
System setup:
> C8 edge
> Edge .7 FR
> Orion 50mm guide scope
> AVX mount
> SXVR-H9 CCD (http://www.sxccd.com/trius-sx9)
> starlight express lodestar (http://www.sxccd.com...star-autoguider)
>
> with the above setup, i get the below stats:
>
> Results:
> FOV: 21.70' x 16.21'
> Resolution: 0.94"/pixel
> Area: 351.8 sq'
> Focal length: 1422mm
> Focal ratio: f/7.0
> Total OTA weight = 22 pounds ish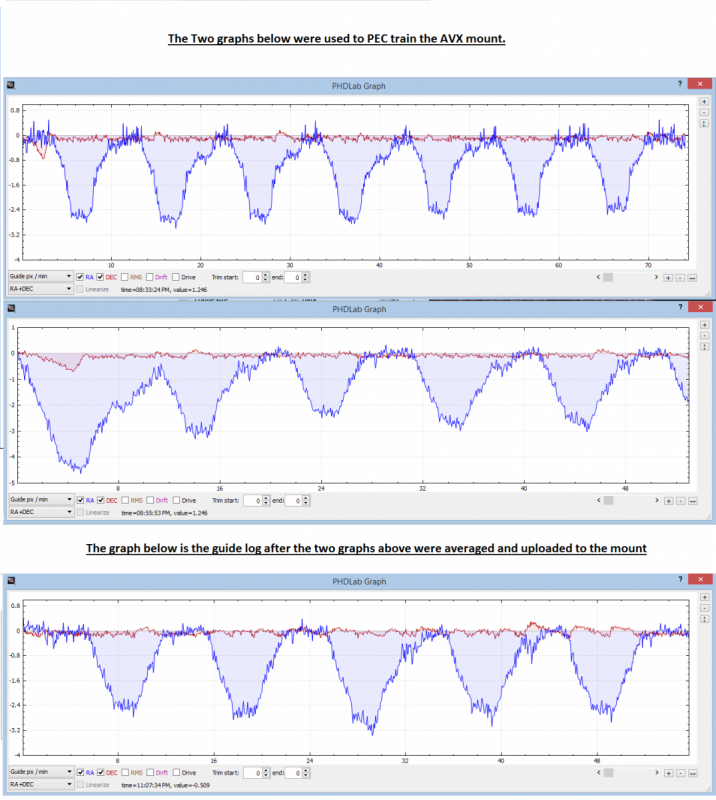 I have been in touch with celestron support, I hope they allow me to send the mount in for repair as it is still under warranty. However i know there are alot of experts on this forum so I thought I would ask for help here too.
Edited by Matt_TN, 25 January 2015 - 12:50 PM.