Welcome to the January 2015 Cloudy Nights Imaging/Sketching Contest poll!
Each month the best images selected from the individual Cloudy Nights Imaging and Sketching forums will be presented for the user base to vote on. The winning entry will be posted on the front page of the CN website for all to admire! At the conclusion of the poll, the entry with the highest total will be the winner of the contest..
Please choose your favorite from the entries below. The poll will remain open until February 1st.
Here are the entries for January!
DSLR and Digital Camera Astro Imaging and Processing forum finalist : jerry10137
M42 - Captured 9/25/2014 - 9/27/2014 by Jerry Keith at the 2014 Okie-Tex Star Party
Scope: Sky Watcher Esprit 100
Mount: Takahashi NJP
Guiding: Orion SSAG Magnificient Mini Autoguider
Camera: Gary Honis Modified Canon T3i @ 800 ISO
Capture: Backyard EOS Premium
Exposure: 6 Hours. HDR Combine using multiple exposure lengths
Processing: PixInsight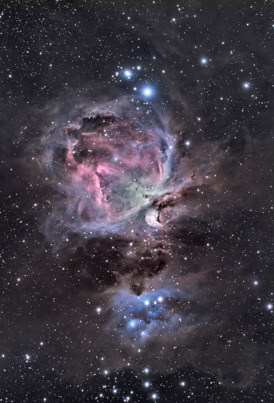 CCD Imaging and Processing Forum Finalist: alpal
The Tarantula Nebula NGC 2070
Full frame.
4 hours 5 minutes of total integration time.
A mixture of Ha LRGB.
6 x 10 minutes Ha as Luminance binned 1x1 used as 30% Luminance & 50% Red
12 x 5 minutes each of Luminance binned 1x1 blended 30% with RGB Luminance.
15 x 3min Red binned 2x2
13 x 3 min Green binned 2x2
13 x 3 min Blue binned 2x2
FWHM approx 3.5 arc seconds.
Location - outer suburb of Melbourne Australia 12th Dec 2014.
8" f6 Newt, NEQ6 pro modified mount, QHY9 mono camera.
Baader 7nm H-Alpha Filter.
Astronomik 2" CLS-CCD filter in front of all 2" filters.
PHD guiding with Lodestar & TS9 OAG, Baader RCC coma corrector,
DSS, FITS Liberator, PS CS5.
Largest version available on flickr - 1,920px × 1,484px, 2.5 MByte.
see here:
https://www.flickr.c...in/photostream/
Sketching Forum Finalist: Roel
Drawing of crater Pythagoras:
On the evening of January 3 the skies finally cleared and my 3″ Polarex Unitron was quickly set up in the backyard. Crater Pythagoras on the northeastern limb of the Moon looked particularly nice – like a deep rocky bowl in the lunar surface. Seeing conditions were fair, so I pumped up the magnification to a crazy (for a 3″) 200x. It still gave a pleasant and sharp view and sketching was quite comfortable with the crater looking big in the eyepiece.
Pythagoras is a 130km wide impact crater with staggering 5km high terraced walls. The central peaks (I could see two of them) are also pretty huge: 3,5km high! Imagine the panoramic view from the top op one of those mountains….
Sketch made with a pastel pencil on black paper, through a 3″ Polarex Unitron at 200x (Baader 6mm BGO). The image is mirror reversed.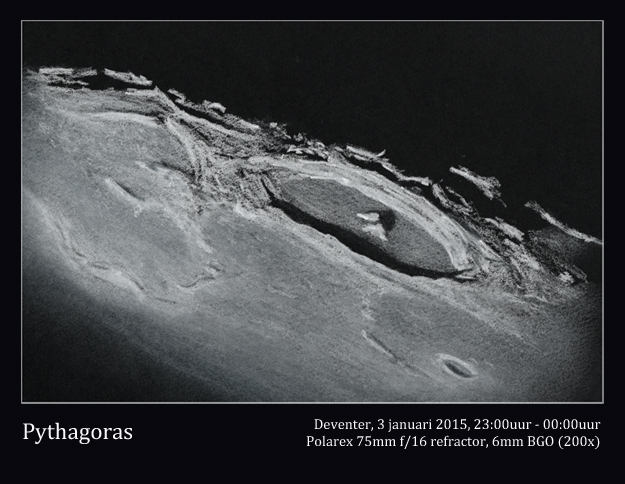 &nbsp