I now have TWO portable "Observatories". Well, wind-breaks, really, but I'll call them observatories nonetheless.... I only had one but... well, read on....
Many of you know John Love, of Texas - he's a CN'er but I forget his handle (his ham radio calls, I think...) Anyway, he sells excellent shelter kits where he provides tarps, corner and T-fittings, bungees, tie-downs etc. for certain sized Wind shelters. The buyer merely has to go to the hardware store to buy 1" electrical conduit to fit and, voila, a portable wind break/observatory. ( I think he will sell you the conduit, too) I saw his shelters at the Okie-Tex Star Party last fall and negotiated the purchase of a 10'x10'x7'high shelter right away. I've had quite enough wind at Star Parties ruining otherwise clear nights over the years, Thanks Very Much....
When I got home I purchased the conduit which only comes in 10' lengths. For the eight 7' vertical poles (4 corners and centre of each wall) I had to cut off 3' of "waste" ends and put them aside. I assembled the shelter in the backyard and, goodness gracious, it is huge! Beautiful!!! I'm a tall guy and the 10'x10' floor plan will be very nice for me, tables, chairs, sofa, TV, wet bar, lava lamp etc. Scope too.....
Now this size will be fine at MOST star Parties like Okie, TSP etc. and at my club's dark sky site but I think it is a bit much for the rather crowded Winter Star Party where space is at a premium. And the WSP is a windy place!!! I need a shelter there too. So I looked again at the 3' long extra 'waste' pieces of conduit.....
John sent 'straight-through' joining fittings as part of what I ordered. I could join 2 of the the 'waste' pieces to make 6' . Hmmmm, use the 7' verticals from the big shelter as horizontals.... YESSSSSSS!! a 7'x7'x6' high 'mini shelter which won't be obtrusive at the WSP!!!
I put the 7'x7'x6' frame together in the living room (why, yes, I am single....) to measure the size of tarps I would need and ordered the tarps. The tarps, black on the inside and white on the outside, arrived today so I set the whole thing up today, again, in my living room.
I sat inside and pictured my scope and me and a table in it. I see no problem......
Pics: Outside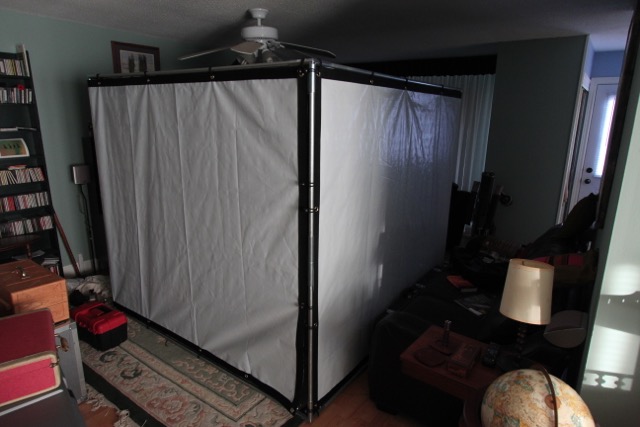 Inside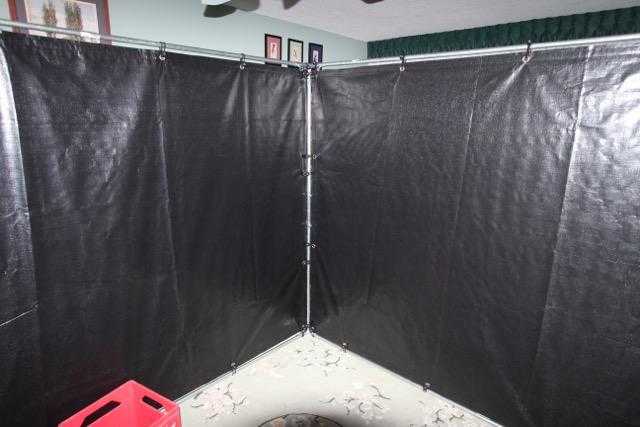 Dave