Product tested: Avalon Fast Reverse mount with StarGo and Geoptik HERCULES tripod.
I've had this mount in my possession for testing and evaluation for a few months now. I've been testing beta firmware mostly and imaging with several different optical tubes from my light weight 80mm refractor to a 8" imaging Newtonian from Explore Scientific.
The tripod is simply beautiful. Solid, strong, and designed so well that I couldn't find anything that I didn't love about it. The attention to detail was amazing! Very easy to level, the levers that are used to tighten the tops of the legs can be repositioned to prevent cable snags. The 2" and 1.25" holes cut out of each leg are a nice touch for visual astronomers as it presents a really nice place for eyepieces. The center tray has 3 2" holes and 5 1.25" holes for eyepieces and a little triangle for throwing filters or a battery. Stainless brackets and bolts hold everything together and the whole thing doesn't weigh as much as I thought it would at only 14.3 pounds. A very nice soft carrying case makes it easy to carry to your dark sky location or for storage.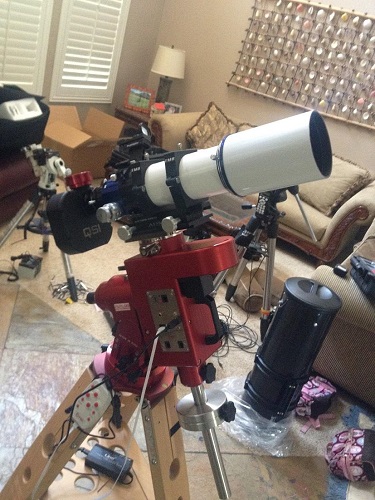 Well I couldn't stand there admiring the tripod forever so I went ahead and set up the mount and then installed my refractor and got it balanced. Reading the manual and looking online I saw that there were no gears in this system. Belts and pulleys only!! No worm, no spur gears, no loud coffee grinder sounds!
I am not sure what I'll do at 3am when I don't have to cringe because I am slewing to a new target. Even in the dead of night, with my very quiet neighborhood, I can barely hear this thing whir along at full speed.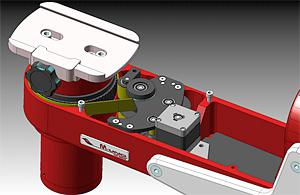 With no gears and only using toothed belts and pulleys, there is no backlash at all. There is no reason to ever open up the mount and re-lube or adjust anything. They use very high quality belts which claim there will be no stretching or deforming. If you, for whatever reason, decide you want to play with the belt tension you can do so from outside the mount. Each axis has a small screw with a locking nut that allows you to adjust tighter or looser. I have no idea why you'd want to do that but I suppose under extreme environmental conditions you may want to adjust it.
This mount comes with an illuminated polar scope which I put to immediate use. I love polar scopes and when they work, they work really well. Polaris is easily observable in my back yard which looks North so in a few minutes I had Polaris correctly positioned. I will say I am not a fan of this type of polar scope. This is the kind where you rotate the RA until the big dipper is in the same position in the polar scope as it is in the night sky, then you put Polaris in the little circle. I prefer the way that iOptron has their polar scopes in the CEM60 I tested and the ZEQ25 that I own. Makes things a lot easier on me. After setting the pole alignment I verified it using PEMPRO 2.8 and did 10 minutes of drift alignment in each axis. After 10 minutes I was pleased to see I managed to get the alignment under an arc/minute of drift. Typically I find that Celestron's ASPA gets my mounts at about 2-4 arc/minutes on the first try and I tested the LX850 from Meade and I would get anywhere from 30 arc/seconds to 1.5 arc/minutes with its built in drift alignment routine. My ZEQ25, when using the polar scope only, I would get it at about an arc/minute as well.
Because I typically shoot in narrowband I am often interested in long exposures of upwards of 20 minutes. Polar alignment is always something that I pay extra attention to but I was pleased with where it was so I left it alone.
The next thing I did was re-checked balance and then I lined up the home position marks that are etched on the mount then powered on the mount. Worth noting that there is no home sensor on these mounts. You are required to line up the etched marks.
One thing I will have to get used to is the hand controller. Maybe I should say lack of hand controller. This mount is designed to be run with a computer of some type. Either a laptop or a tablet will work fine. The mount has built in blue tooth so you can connect your tablet and use it for go-tos and alignments.