Courtesy of a friend, I have managed get my hands on a modded Sony A7S (full frame sensor) for a few days to run a batch of tests and also compare it with my modded (APS-C) Canon 550D (Rebel T2i) and 350D (Rebel XT) cameras which I presently use for astrophotography.
The tests were performed in Airplane mode (i.e. battery draining Wi-Fi switched off) with all noise reduction switched off and RAW files created
As other reviewers have commented, there is a definitely a sharp drop in read noise between ISO 1600 and ISO 2000. This can be clearly seen in Thierry Legault's graph: http://www.astrophot...s_measures.html
My measured read noise figures at ISO 1600, ISO 2000 were 4.2e RMS and 1.4e RMS which are not much different to those obtained by Thierry and they certainly confirm this interesting behaviour.
At ISO 2000 I measured the gain to be 2.1e-/ADU which means that unity gain is round about ISO 4000.
For calculating relative RGB sensitivity of the cameras, a 2" Baader IR/UV filter was used in the imaging train. For measuring relative H-alpha sensitivity, a 2" Baader H-alpha filter was used. I used a uniformly lit computer monitor as the target. It's not ideal but it has a standard brightness, unlike daylight.
The Canon 550D has always disappointed me because my measurements show that although the green channel collects 1.3x the number of photons per unit area than the 350D, the H-alpha sensitivity is identical.
My test show the Sony A7S collects 2.3x the number of photons per unit area than the 350D in the green channel and 2.0x in H-alpha. This is a great result!
To get an idea of thermal noise requires the dark current to be measured. Taking 2 hours of continuous 5min exposures at an indoor ambient temperature of 20C allows the sensor temperature to warm up and stabilise. It is also typical of the type of imaging I perform - many hours of continuous imaging to extract the faintest detail. After 2 hours I measured the following dark currents:
Canon 350D (Rebel XT) 0.5e/pixel/sec
Canon 550D (Rebel T2i) 0.4e/pixel/sec
Sony A7S 0.13e/pixel/sec
If the dark current is instead measured in terms of unit area then the Canon 550D is actually noisier than the 350D but the A7S is thermally much quieter, by a huge margin.
When a dark frame is examined, the pixel noise seen is mainly caused by the hot and warm pixels. The following image shows how well dark frame subtraction removes this noise: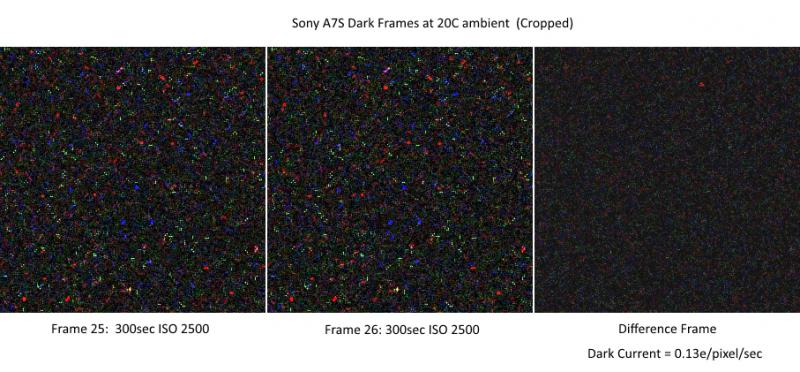 There are certainly some niggles with the Sony A7S:
- The Raw format is only 12 bit and to make things worse it is compressed (though the compression artefacts will probably never be seen at the optimum ISO of 2000-4000). Why not an uncompressed 14 bit or 16 bit format?
- There is no integrated astro acquisition software available at present. There probably never will be without using Wi-Fi control because that is the way Sony is heading. However a combination of PHD Guiding, PHDMax and Sony Remote Camera Control means that at least the all important dithering can be done.
I think I'm prepared to work around these limitations to gain such a huge increase in performance:
- High quantum efficiency
- Extremely low read noise
- Very low thermal noise
Mark
Edited by sharkmelley, 29 March 2015 - 01:44 AM.