Welcome to the March 2015 Cloudy Nights Imaging/Sketching Contest poll!
Each month the best images selected from the individual Cloudy Nights Imaging and Sketching forums will be presented for the user base to vote on. The winning entry will be posted on the front page of the CN website for all to admire! At the conclusion of the poll, the entry with the highest total will be the winner of the contest. Since only two entries qualified for the finals this month and they were in the same forum, instead f just having a run off in that forum I will place them both here for a general vote.
Please choose your favorite from the entries below. The poll will remain open until April 2nd.
Here are the entries for March!
DSLR Forum: BrianOttum
Since I just bought a new Subaru in January, I figured I would shoot M45. Taken over 3 nights in mid-February.
Canon 5D mkIII (modded)
Homemade TEC cooler box
10" f/5 Newtonian w/Baader field flattener
4" APO with Orion SSAG and PHD
Paramount MX and TheSkyX
40 x 300" frames
ImagesPlus for calibration, align & stack
PS CC for endless tweaking
Personal remote control scope at Rancho Hidalgo, NM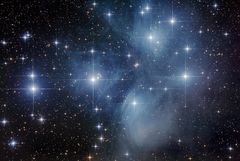 DSLR Forum: RRod
Here is a picture of the Rosette Nebula taken over 3 nights this month (luckily, the whole week was clear).
This picture is a combination of RGB and Ha data.
RGB: Mod Canon Xsi (Baader filter). 2.5h total (50X180s) ISO 1600 +20 darks +20 flats
Ha (7nm Baader filter): Mod Canon Xsi B&W full spectrum. 7h total (21X1200s) ISO 1600 + 10 darks +20 flats
Orion EON 80mm F6.26+ TRF2008 reducer (400 mm focal length)
50mm miniguider with Orion SSAU
Losmandy G11 G2
Images were calibrated and stacked with DSS
Processing Photoshop CS3 and Carboni tools
Green Bay, WI



&nbsp